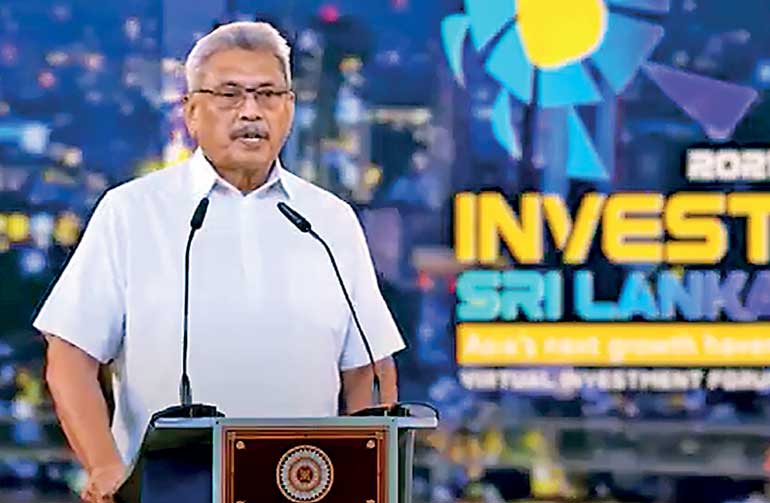 President Gotabaya Rajapaksa addressing the inauguration of the virtual SLIF yesterday
---
The full text of the President's address
---
Inaugurating SLIF, informs international investors Govt. is proactive and pro-biz
Says SL on the cusp of national transformation
Committed to double national output to $ 8,000 GDP per capita by 2030; maintaining policy stability and consistency within a stable macroeconomic environment
Govt. prepared to proactively support truly transformative investments across multiple sectors
Insists significant opportunities exist and can provide tremendous returns to both foreign and local investors
SLIF goes live via YouTube due to overwhelming demand
Stating that the Government is proactive and pro-business and Sri Lanka is on the cusp of national transformation, President Gotabaya Rajapaksa yesterday invited global companies to join this journey by investing in the country.

"The Government of Sri Lanka is proactive and pro-business. We will look very favourably upon investments that can have a transformative impact on our economy as well as our national profile, and we will do our utmost to create an enabling environment for the success of such investments," the President told the inauguration of the three-day virtually-held and multi-stakeholder-organised Sri Lanka Investment Forum (SLIF).

"We now stand on the cusp of a national transformation that can not only uplift Sri Lanka but have positive impacts on the entire region while creating tremendous value for investors across multiple sectors and through diverse instruments. I invite you to join us on this transformational journey by investing in Sri Lanka," Rajapaksa said.

"My Government is prepared to proactively support truly transformative investments," the President reiterated, whilst listing a host of attractive new opportunities in multiple sectors of the Sri Lankan economy.

Dubbed as Asia's first and largest virtual investor forum, the event, according to organisers, has drawn 4,000 participants, including 1,500 investors, over 100 speakers across 120 sessions. Due to the overwhelming response, Day One was live streamed via YouTube LIVE as well in addition to Dialog TV and Peo TV broadcasting live.
Prime Minister Mahinda Rajapaksa will kick off Day Two whilst State Minister of Money, Capital Markets and Public Enterprises Reform Nivard Cabraal will be the Chief Guest on the final day. Sri Lanka Investment Forum is organised by the Board of Investment, Colombo Stock Exchange and the Ceylon Chamber of Commerce with support from multiple private sector companies.

In his keynote, President Rajapaksa said the Government has ambitious plans to unleash a decade of transformational and rapid economic growth to double national output from its current level to $ 8,000 GDP per capita by 2030.

"Our unique geostrategic position, political stability, robust institutions and social infrastructure, educated and capable workforce, and high quality of life are some of Sri Lanka's current strengths. We will leverage on these to set the platform for our growth target," he said, adding significant improvements to infrastructure are continually being made.

"We are deeply committed to maintaining policy stability and consistency within a stable macroeconomic environment," Rajapaksa said, and reiterated how the legal and regulatory frameworks were being refined to ensure greater responsiveness, transparency, and security for investors. "Unnecessary bureaucratic red tape is being removed and procedures are being streamlined to ensure greater ease of doing business," he said, adding: "As President of Sri Lanka, I am determined to see these changes through and to further improve our already welcoming environment for investment."

The forum was told there are significant opportunities across many economic sectors in Sri Lanka that can provide tremendous returns to foreign and local investors alike.

In the President's list of new investment opportunities or sectors that Sri Lanka is inviting foreign investment included the Colombo Port City, transhipment and logistics, organic agriculture, animal husbandry and fisheries, tea, rubber, and coconut, power generation – especially renewable energy, adding value to raw materials, manufacturer of electronic components, ICT, tourism, healthcare and higher education.

Yesterday's proceedings at the Investment Forum also featured addresses by Justice Minister Ali Sabry, State Minister Ajith Nivard Cabraal, Secretary to the President Dr. P.B. Jayasundera, Board of Investment Chairman Sanjaya Mohottala, Securities and Exchange Commission Chairman Viraj Dayaratne PC, Colombo Stock Exchange Chairman Dumith Fernando and Sri Lanka Association of Software and Services Companies (SLASSCOM) Chairman Channa Manoharan.

Among many panels, one of the highlights was the panel discussion that featured Central Bank Governor Prof. W.D. Lakshman, Treasury Secretary Sajith Attygalle, World Bank Country Director Faris Haddad-Zervos and Boston Consulting Group Managing Director and Partner Prateek Roongta.

All the concluded sessions will also be available for playback at the convenience of viewers on the event website.

SLIF 2021 is supported by the following partners and sponsors: International Finance Corporation (Knowledge Partner), Boston Consulting Group (Strategic Partner), Port City Sri Lanka (Flagship Project Partner), Microsoft (Technology Partner), HSBC (Banking Partner), Asia Securities (Platinum Sponsor), Shangri-La (Hospitability Partner), SLASSCOM (IT-BPM Sector Partner), FairFirst Insurance (Insurance Partner), Dialog ( Communication partner), Citibank (Gold Sponsor), CAL (Gold Sponsor), NSB Fund Management (Silver Sponsor), CT CLSA (Silver Sponsor), NDBIB (Silver Sponsor), Melstacorp (Bronze Sponsor) and Softlogic Stockbrokers (Bronze Sponsor).

See Page 4 for the full text of the President's address