GR secures 2019 Presidential Election convincingly with 52.25% of votes
Secures 1.3 m votes over closest rival Premadasa
Wins big in Sinhala-dominant provinces but does badly in North and East
Vows to be President to all Sri Lankans; deliver on Election manifesto
Says all due elections will be held on time
Swearing-in today at Ruwanwelisaya in Anuradhapura
PM Ranil Wickremesinghe among invitees
By Chandani Kirinde
Starting a new chapter in Sri Lanka's political history Nandasena Gotabaya Rajapaksa (70) will be sworn in today as the Seventh Executive President having securing a resounding victory on Saturday.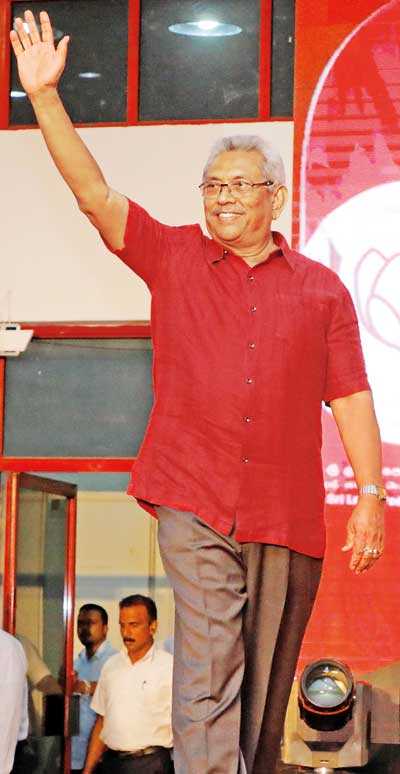 President-elect Rajapaksa was declared winner by Election Commission Chairman Mahinda Deshapriya last afternoon after he won an emphatic victory in the Saturday's Presidential Election, securing 52.25% of the vote. The margin of 1.3 million more votes was convincing and defied pre-election doubts that he could surpass the 50% plus mark.


In spite of a highly polarising election result which saw Rajapaksa sweep through Sinhala-dominant districts but lose badly in the North and East, he struck a conciliatory note in his first address to the people soon after being officially declared the winner.

"I am well aware that I am not only the President of those who voted for me but also the President of those who used their vote against me. I know well that I am bound to serve all Sri Lankan citizens irrespective of their ethnicity or religion. I ensure you that I will conduct myself accordingly," said the Sri Lanka Podujana Peramuna (SLPP) candidate Rajapaksa.
He will take oaths as the Seventh Executive President of the country at a ceremony to be held within the precincts of the Ruwanweliseya in the sacred city of Anuradhapura this morning. Prime Minister Ranil Wickremesinghe is among the invitees and he will attend with several UNP MPs.

Rajapaksa secured nearly seven million votes (6,924,255) of the 13,252,499 million valid votes that were cast at the election and placed himself in an unassailable position early on. In the final result he ended with a lead of over 1.3 million votes. His closest rival National Democratic Front (NDF) candidate Sajith Premadasa secured only 41.99% (5,564,239) of the votes.


Rajapaksa won all districts (16 out of 22) outside the North and East and Nuwara Eliya and secured between 65 to 70% of the votes in all predominantly Sinhala areas from the Southern Province, the North Central and North Western Provinces, Uva, Sabaragamuwa, Matale and Maha Nuwara districts in the Central Province as well as the Colombo, Gampaha and Kalutara Districts.

Rajapaksa along with his brothers former President Mahinda Rajapaksa, former Speaker Chamal Rajapaksa and former Minister Basil Rajapaksa arrived at the EC in Rajagiriya around 3 p.m. last afternoon to hear the official announcement of his victory. NDP candidate Sajith Premadasa as well as many of other candidates too were present where Deshapriya announced the winner.

In his speech to the candidates, Deshapriya said that democratic institutions and processes can only be strengthened if political parties and their supporters take an active interest in doing so.


He called on the President-elect to use his tenure in office to shore up the confidence and faith people place in democratic institutions. "This is not a responsibility that falls on you alone. It is the responsibility of all the people of the country to do so," he said.

Deshapriya also urged Rajapaksa to ensure that the long-delayed Provincial Council Elections are held soon to which Rajapaksa said he would ensure all due elections are held on time.

A small but enthusiastic crowd of SLPP supporters gathered outside the EC to greet Rajapaksa as he left the premises after hearing the official confirmation of his victory.

Flaying the national flag as well the SLPP flag, the crowds cheered Rajapaksa and lit firecrackers as he stepped out of the EC where he briefly greeted his supporters before leaving the premises. Elsewhere people celebrated Rajapaksa victory by mid-afternoon.