Writes to President's Secretary Dr. P.B. Jayasundera seeking GR regime's stance on US MCC $ 480 m grant program
Says Cabinet appointed evaluation committee in December but no details of final report despite lapse of six months
With polls looming, says Govt. should clarify their view for public's benefit
Recalls before Presidential Polls SLPP backed cancellation then walked back on their stance and expressed willingness to negotiate
The Janatha Vimukthi Peramuna (JVP) yesterday wrote to President's Secretary Dr. P.B. Jayasundera demanding the Government clarify its stance regarding the $ 480 million Millennium Challenge Corporation (MCC) grant and whether it will be signed by this administration.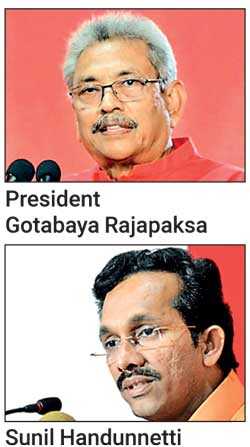 The letter signed by former JVP parliamentarian and Committee on Public Enterprises (CoPE) Chairman Sunil Handunnetti called on the Government to clarify its stance on the proposed MCC agreement. The letter recalled that following the election of President Gotabaya Rajapaksa the Cabinet had appointed a committee to evaluate the MCC projects and agreements but despite the lapse of six months, no information has been forthcoming by the Government.
"With elections coming up, speculation is once again rife that the Government may be partial to the MCC grant. On 21 January the Government said in Parliament that it had appointed a committee to evaluate the MCC agreement and the four-member committee was appointed following a Cabinet decision on 18 December," Handunnetti said in the letter.

The Committee was chaired by economist Prof. Lalithasiri Gunaruwan. Its other members were former Transport Ministry Secretary D.S. Jayaweera, Nihal Jayawardena PC and architect Nalaka Jayaweera.

The Cabinet decision made by the previous Government on 29 October 2019 to sign the MCC Compact agreement will be put on hold until the Committee makes its recommendation, Cabinet spokesman Minister Bandula Gunawardana said at the time.

Subsequently, on 28 February, Gunawardana at a Cabinet briefing told reporters that an interim report had been handed over the evaluation committee to President Gotabaya Rajapaksa recommending that the agreement should not be signed in its existing form. However, Gunawardena said the Government was willing to renegotiate the agreement.

"The MCC agreement featured prominently in the run up to the Presidential Elections during which the Sri Lanka Podujana Peramuna said they will refuse to sign the agreement but once polls were over said they were willing to consider it.

"It has been more than six months since the Committee was appointed but there are no details in the public domain of what their decision was. Therefore on behalf of the public, I request the Government make clear its stance on the MCC compact and the final decision of the Committee."