---
Talks on future cooperation during delegation visit
Wants SL to partner for early warnings
Says meeting with Govt. extremely useful
Praises Govt. support given to IRT
INTERPOL has provided Sri Lankan law enforcement authorities access to dozens of databases, including one with records of over 50,000 foreign fighters and terrorists, in the aftermath of the Easter Sunday bombings.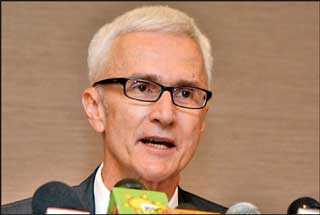 Interpol Secretary General

Jürgen Stock speaks to Sri Lankan media yesterday in Colombo

- Pic by Upul Abayasekara


Discussions were held between the Government and INTEROPL yesterday with the aim of greater cooperation, training and transfer of expertise and technology to Sri Lankan law enforcement in the future.

The information came to light at a press conference held yesterday where INTERPOL Secretary General Jürgen Stock and members of the Sri Lanka Police addressed the media regarding the INTERPOL visit to the island.

The visit, the first official visit by Stock since taking office, underscores the cooperation between the global law enforcement facilitating body and Sri Lanka after the 21 April events.

Stock said he hoped that the discussion would lead to mutually-beneficial long-term relationship between INTERPOL and Sri Lanka law enforcement.

"We want Sri Lanka to be partners in early warning," he said, explaining that gaining access to INTERPOL databases would allow Sri Lanka to be vigilant to local threats and also to share critical information and act as an early warning mechanism for the rest of the world on possible future threats.
With 194 member countries, INTERPOL provides a range of training, capacity building and facilitating programs to law enforcement worldwide.

Stock described his meeting with the Sri Lankan Government as being "extremely useful and we look forward to continued strong cooperation in the future".

He thanked the President, Prime Minister and the Acting IGP for inviting an INTERPOL Incident Response Team (IRT) in the aftermath of the attacks and pointed out that the IRT was the first foreign assistance team on the ground.

INTERPOL also gifted two medallions which were presented to the President and the Prime Minister to mark the occasion, a spokesperson said.

Stock said they had had excellent cooperation with the local law enforcement agencies and thanked them for sharing information which led to an INTERPOL Red Notice that resulted in the identification, arrest and repatriation of one of the alleged ringleaders – Ahamed Milhan Hayathu Mohamed in the Middle East.

"IRT on the ground working alongside investigators also meant that any international requests for information in relation to the investigation could be made instantaneously – as well as checks against our global databases," he said.

The IRT had arrived in Colombo on 23 April and its team had included specialists in counterterrorism and explosives, forensic technicians and analysts, among others.

"We also helped to identify victims and share the information with foreign counterparts in line with international standards," Stock explained.

Further, the IRT had assisted its local counterparts to analyse nearly one terabyte (1TB) of data recovered from suspects and crime scenes.

Stokes emphasised that INTERPOL's role was to act as a facilitator for Police cooperation and it could not force any country to arrest and extradite individuals. He was responding to a query about the issuing of Red Notices and extradition of individuals sought by Sri Lanka. He further said that he would not comment on specifics nor the status of the ongoing investigation as that was a matter for the local authorities.

Commenting on terrorism and radicalisation, he pointed out that the threat of terrorism was global and law enforcement could not focus on any one ideology or region.

"With any form of extremism, the fundamentals are the same. The attacks are often carried out in a similar fashion – soft targets and high-powered weapons," he said, explaining that there were common elements – the individuals are highly radicalised, they have access to weapons, including explosives, and they are mobile, with access to resources whether online or through direct contact.

He stressed on the need for greater cooperation to prevent such terror attacks in the future.

Stokes also highlighted the need to address organised transnational crime and illegal online activity, pointing out that online radicalisation was a key concern and that many terrorist groups took to organised crime to fund their activities.