Keen to draw inflows to stock market in short-term

Wants strong foundation to ensure investment growth over next five years

Govt. to explore foreign and local PPPs, BOT for infrastructure projects

Keheliya confident of revenue generation, despite Rs. 550 b stimulus impact

Singapore FTA, H'tota Port deal, ETCA and MCC on cards for renegotiation after General Election
By Charumini de Silva

The Government yesterday said they will reintroduce tax concessions to boost Foreign Direct Investments (FDIs), as well as renegotiate all existing and proposed bilateral and investment agreements, some of which may take place after the General Elections.

"We will structure Sri Lanka to be comparatively advantageous for any investor, and reintroduce tax concessions for investors looking at investment opportunities in the country," Investment Promotion State Minister Keheliya Rambukwella told journalists.

He said they hope to renegotiate all bilateral agreements post-General Election next year, including the Hambantota Port deal with China, the Free Trade Agreement (FTA) with Singapore, the Economic and Technology Co-operation Agreement (ETCA) with India, and Millennium Challenge Corporation (MCC) Compact with the US.

"We made many comments and submissions to Parliament on some of the areas of these agreements, which were seriously disadvantageous to Sri Lanka. We need to revisit and renegotiate all of these, and I hope the international community will look at it in the right spirit, and perhaps turn it around to be a win-win agreement where both countries benefit," he added.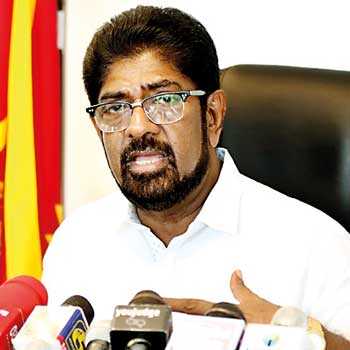 Investment Promotion State Minister Keheliya Rambukwella
The State Minister noted that irrespective of the size of the economy, any agreement signed between two sovereign nations should be given the same status, and it has to be a win-win treaty.

"It is a question of placing facts before the other party, and asking them if they were in our position, what would they do? I believe there will be a lot of cooperation extended by the international community, because we are not going to do this haphazardly or randomly," Rambukwella stressed.

Reiterating that trade agreements are not bad tools, he said the Government will forge ahead with the FTA with China following the General Election next year, while outlining that FTAs are a great mechanism to attract much-needed foreign exchange to the economy, but that it must be dealt professionally.

When asked about the Government's position about the controversial MCC Compact, he said they will surely review it, as there are certain aspects that they cannot agree upon.

Rambukwella also said the Government will shortly disclose the actual FDI figures, as the previous regime had manipulated the numbers.

"We all know that there was no cooperation between the Executive and the Legislative during the past four years, and this was a key reason why investors lost confidence in the economy. Although big ticket investments were announced, we are aware of how they tried to negotiate even before the investors committed themselves. This reflected badly on Sri Lanka's investment climate," he pointed out.

Noting that there are no quantified targets given for the Ministry to achieve in the next four months, he said the prime focus during this period is to streamline investments and the facilitation process to attract FDIs, and lay a strong foundation to ensure long-term investment growth over the next five to ten years.

However, he said the Government was keen to draw foreign individual investments (FIIs) through the stock market in the short-term.

The State Minister asserted that the Government will also explore foreign and local private-public-partnerships (PPPs) for infrastructure projects.

"The infrastructure projects such as Norochcholai coal power plant and Southern Expressway have already made money than anticipated. We need to turn around the underperforming State-Owned enterprises (SOEs) to be able to market those as viable PPP projects to international investors. They can partner to build roads, power plants, and other infrastructure development projects by way of build–operate–transfer (BOT) basis," he outlined.

Rambukwella further expressed confidence on growth and fiscal management despite the Rs. 550 stimulus impact on the economy.

"As promised, we have initiated some actions immediately after the election, which will ease the burdened general public by way of reducing taxation. The Government will lose about Rs. 550 billion worth of revenue annually by the reduction of taxes announced last week. Some are arguing on how the Government is going to compensate the revenue loss with the tax cuts, and these taxes depend on the size of the economy. Right now our economy is at $80 billion, and if you apply 5% tax, you are still collecting $4 billion, so this simple theory will be practiced by our experts in the financial sector," he said.

Assuring that the new officials of the Board of Investment (BOI) will be soon announced, the State Minister said ease of doing business will be a key focus of the Ministry, to ensure that BOI operates as a one-stop-shop (OSS) than a non-stop-shop.