Tenders to be called in two weeks for gas deposit discovered by Cairn India
Says if extraction successful, enough gas to power 300MW plant for 20 years
Aims to begin production by 2023, minimum investment required $750m
CEB and Power Ministry in talks to formulate purchase agreement
Next round of bidding focused on M1 in Mannar Block and C1 in Cauvery Basin
Seismic study of east shore for possible oil completed, data processing likely to take five months
By Charumini de Silva

In an attempt to spur investment, the Government will call for international tenders within the next two weeks for a 2,924 square kilometre offshore M2 Block in the Mannar Basin to develop the gas discoveries and potentially produce electricity by 2023, a top official said yesterday.

"We have an upcoming bid round for the M2 Block in Mannar Basin relinquished by Cairn. There are two existing discoveries in that block and our intention is to develop the first discovery – Dorado well, which can be used to generate gas to produce electricity. We estimate the deposit has 350 billion cubic feet of natural gas that is enough to setup a 300 megawatt power plant for a period of 20 years. We are planning to call for international tenders this week and if the tender round is successful by 2023 we can have production happening," Petroleum Resources Development Secretariat (PRDS) Director General Vajira Dassanayaka told journalists in Colombo yesterday.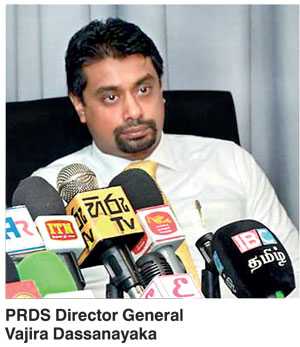 He said to develop the M2 Block an investor would at least require $750 million as a start-up capital, while also noting that it could depend on the proposal they put forward.

"The M2 Block 3D data and 2D data that has been collected needs a lot of time to interpret, we have given a lead time of four months to submit the offers," Dassanayake added.

The PRDS Director General also said Government officials yesterday had a meeting to finalise the tender on the M2 Block and is in discussion with the Ceylon Electricity Board (CEB) and Power Ministry on an agreement to buy the gas for power generation.

According to him, the next round of bidding will be focused on the M1 Block in Mannar Basin and C1 Block in the Cauvery Basin. "We have also received investor interests for M1 and C1 shallow water blocks. Soon after floating the M2 tender we would be able to go for another bid round," he stated.

In addition, Dassanayake pointed out that they have successfully completed a seismic joint study with French oil and gas company Total, off the east coast to evaluate any prospective oil resources.

"We have successfully completed the data collection in JS-5 and JS6 two weeks ago and we have sent the collected data to Kuala Lumpur in Malaysia to be processed in the technical centre owned by subsidiary of US firm Schlumberger. As it is time consuming to interpret the data, processing will take around five months," he said.

Sri Lanka sign agreements with Total and a subsidiary of US firm Schlumberger in May 2018 and the physical explorations began on 2 September. The French multinational integrated oil and gas company, Total has already given their pre-commitment to acquire data in JS5 and JS6 blocks.

He stressed that the cost of seismic surveys to encrypt seismic data in JS-5 and JS-6 blocks were estimated around $15 million. The 50,000 sq km seismic data acquisition is the largest survey carried out by in the history of oil and gas exploration in Sri Lanka.

Further, PRDS has planned to acquire air-borne gravity, gravity gradiometer and magnetic data in Cauvery and Mannar basins on multi-client basis.

"The recommendations to the Cabinet to enter into an agreement with airborne gravity and magnetic survey to be carried out in the Mannar Basin as well as in Cauvery Basin to obtain seismic data on shallow water has been submitted. We are just waiting for the Cabinet nod within the next two weeks. We feel that due to the gravity magnetic data we have received from satellite, we feel that there is a gravity anomaly in these areas. So, this gravity magnetic will give results and give better info whether we should proceed with seismic data which is expensive and to see if there is any potential of us having petroleum resources in the onshore areas," he added.

PRDS believes with the commencement of the seismic operations, they will have a full-fledged geophysical database by April next year.

Dassanayake also stressed that by August they want to go for a major licensing round, which will be the third largest licensing round in the country.