Key initiative under President's vision of reviving stalled or underperforming and underutilised State-owned ventures; enhance tourist attractions of Colombo and boost investor confidence
Selendiva Investments incorporated under purview of Finance Ministry
Hilton Colombo, Grand Hyatt Colombo and Grand Oriental Hotel initial ventures to be brought under this new entity
Selendiva as holding company to be listed with Treasury owning 51%, public 15% and institutional investors 34%
Move confirms Govt. preference for PPPs for revival instead of privatising State-owned ventures and investments
Hilton Colombo to refurbish 250 rooms out of 382 rooms initially; total investment to be $ 10 m
Hyatt which is only 53% complete with Rs. 22 b spent, has resumed work and plans to commence operations partially in one year's time
Heritage property GOH to be revamped and expanded in stages with pedestrian development to make this a top tourist attraction
---
By Nisthar Cassim
---
The Government has set up a dedicated property development and investment entity to realise the vision of President Gotabaya Rajapaksa to revive stalled State-owned or underperforming ventures initially in the hospitality sector.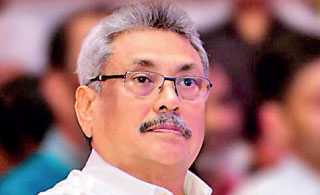 President Gotabaya Rajapaksa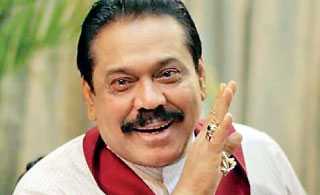 Prime Minister and Finance Minister, Mahinda Rajapaksa
---
The entity 'Selendiva Investments Ltd.' has been incorporated under the purview of the Ministry of Finance with three Treasury nominees Director General – Public Enterprises P.A.S.A. Kumara, Director – External Resources Visakha Amarasekere and Deputy Director – Public Enterprises R.A.L. Udayakumara on the Board chaired by urban development specialist Nimal Perera. The other Board Member is Waters Edge Chairman/CEO and top professional Rohan Fernandopulle.

The three ventures to be brought under Selendiva initially are Hotel Developers (Lanka) PLC (owning company of Hilton Colombo), Canwill Holdings Ltd. which owns the under construction Grand Hyatt Colombo – hotel and residences; and Grand Oriental Hotel (GOH).

Treasury owns 100% shares of Hotel Developers and GOH is owned by Bank of Ceylon (BOC), whilst Canwill Holdings shareholders include Sri Lanka Insurance Corporation(SLIC), Litro Gas and Employees Provident Fund (EPF). Shares will be issued to SLIC, BOC, Litro Gas, and EPF once the valuation and consolidation process is completed on a pro rata basis of the asset values, and the balance shares will be held by the Treasury.

The move confirms the new Government's stand that State-owned enterprises will not be sold or privatised but revitalised via Public Private Partnerships (PPPs) and better management. The previous Government initiated to list some of these ventures for sale though there wasn't significant progress.

Once the three ventures are brought under the holding company through a consolidation of assets after Government valuation, Selendiva will initially have three fully-owned subsidiaries. Selendiva as holding company will be eventually listed on the Colombo Stock Exchange with the Treasury retaining 51% majority stake but would offer 15% to the general public and 34% to institutional investors.

At present the Government's chief valuer is doing a fresh valuation of these three ventures and assets for transfer to the holding company Selendiva.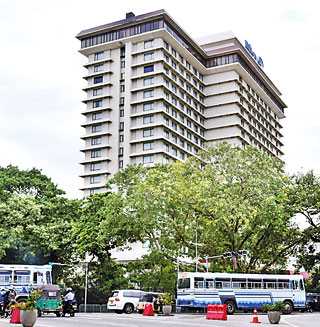 Hilton Colombo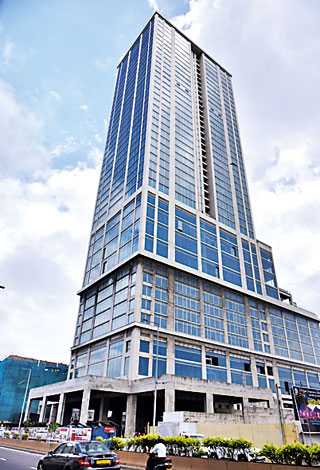 Grand Hyatt Colombo
---
Apart from reviving stalled or underperforming State ventures to be profitable via Selendiva, President Rajapaksa is keen on enhancing the attractiveness of the city of Colombo for tourists and boost investor confidence.

President Rajapaksa also expects these underperforming State ventures to independently operate without Government financial assistance moving forward, by converting them into efficient operations by appointing top professionals and industry specialists so that they will be a future income stream to the Government through dividend payments.

Among initial tasks of Selendiva is to immediately take all initiatives to fast-track the construction works and to commence a partial operation of Grand Hyatt Colombo within one year from now with a minimum of 200 guestrooms with all amenities including a presidential suite room, and to continue with the balance completion by late 2022.

The 47-storey complex houses 458 guestrooms and 100 serviced apartments. Stalled for several years, the project is only 53% complete despite a staggering investment of Rs. 22 billion by State entities. The project cost at completion was to be around Rs. 50-60 billion.

Sources said within a year's time Grand Hyatt Colombo will be put into operation with 16 floors with 200 rooms plus the 31st floor to include the Presidential Suite, along with restaurants, spa, pool and gymnasium. Main contractor Maga Engineering has been remobilised whilst global chain Grand Hyatt, which has signed a 20-year management deal, has been updated on the new move as well.

For Hilton Colombo, the initial move is the refurbishment of 250 rooms out of 382 rooms with the total project to entail an investment of $ 10 million.

The heritage property Grand Oriental Hotel which has 84 rooms will get a facelift apart from being expanded in phases whilst preserving the original architecture. Given the view of the Colombo Port in front, the pedestrian facilities in and around GOH will be vastly improved to make the area and surroundings a tourist attraction.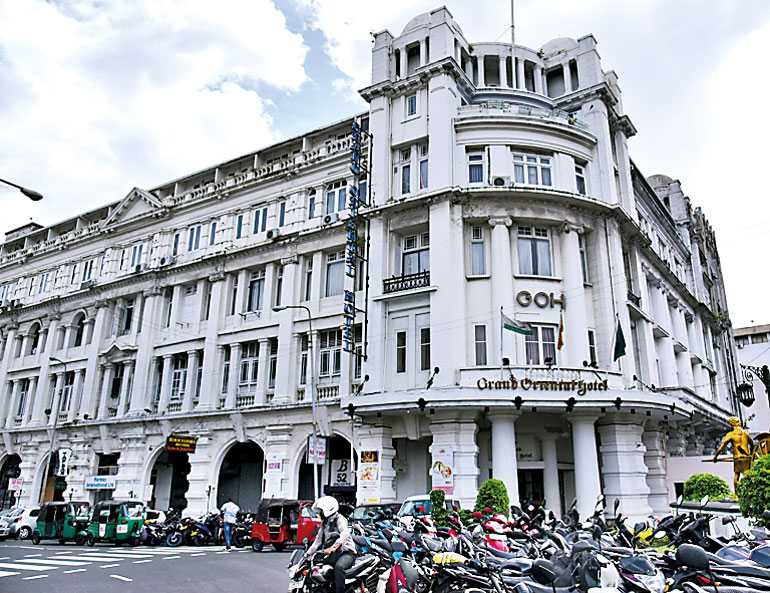 Grand Oriental Hotel – Pix by Ruwan Walpola
---