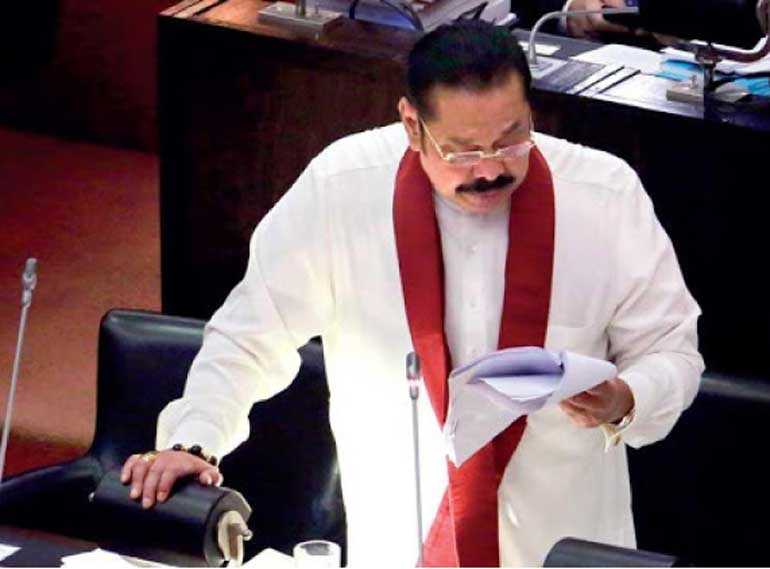 Prime Minister and Finance Minister Mahinda Rajapaksa presenting the Budget 2020 in Parliament
---
Finance Ministry lists out Budget proposals to be rolled out
Preferential 3% and 7% housing loans for public sector
Solar power loans at 4% interest for public sector and SMEs
$ 100 m worth of working capital loans for COVID-hit SMEs
Rs. 500,000 for young entrepreneurs at 4% interest
Up to Rs. 10 m for public workers to invest in mid-range apartments
Extension of 'Agrahara' insurance scheme
Govt. says even though no direct salary hike in Budget, measures will bring earnings to public sector
---
Signalling intent to turnaround sluggish growth by boosting demand the Finance Ministry yesterday said it would immediately begin implementing a slew of Budget proposals targeted at providing relief to public sector workers, Small and Medium Enterprises (SMEs), youth, dairy farmers and students.

This initiative will be spearheaded by the Budget proposal to introduce a maximum interest rate on mortgage-backed housing loans obtained by salaried employees from licensed banks. Accordingly licensed banks will charge only 7% per annum for such loans.

A statement released by the Finance Ministry said housing loans already obtained or pending can be obtained at 3% interest for the first Rs. 500,000 and a maximum interest rate of 7% from Rs. 1 million to Rs. 3 million. "Under this measure a public servant who has taken a housing loan of Rs. 2 million will get a monthly relief of at least Rs. 2,500 and for a year this would be Rs. 30,000. Therefore, even though there were no direct salary increases in the Budget, these measures nonetheless translate to a Rs. 2,500 pay hike for public sector employees," the statement said.

In addition, public sector employees can get loans at 4% interest to install solar panels.

SMEs seeking to invest in rooftop solar can avail themselves of this same facility from 1 January, the Finance Ministry notice said.

"Through this measure a public sector employee can obtain a loan of about Rs. 750,000 at a very reasonable interest rate to be repaid over 10 years. If a 5KW solar panel is installed after paying the interest on the loan, the worker would still earn about Rs. 3,000 per month. This low interest scheme will be carried out by 10 banks and related institutions countrywide."

The Government will also make provisions to make available $ 100 million worth of working capital loans to COVID-19 hit SMEs so they can continue their businesses.

The 'Agrahara' insurance scheme has also been expanded so public sector workers are insured up to Rs. 700,000 and if they are hospitalised for COVID-19 will get a daily allowance of Rs. 3,000 for 10 days under the insurance with no change in the premiums.

"Young entrepreneurs can obtain up to Rs. 500,000 at 4% interest with no collateral and only based on their business proposal. This scheme will be rolled out by the Regional Development Bank (RDB)."

Dairy farmers can also borrow up to Rs. 1 million at preferential interest rates to develop their business while public sector workers can obtain up to Rs. 10 million at a maximum interest rate of 6.25% to purchase State-constructed apartments in urban or suburban areas. These loans have a repayment period of 25 years and will be given by Bank of Ceylon, People's Bank and National Savings Bank.

The Finance Ministry further said Buddhist monks studying in pirivenas, students and other members of the clergy living in low income rural areas will receive vouchers to purchase shoes.