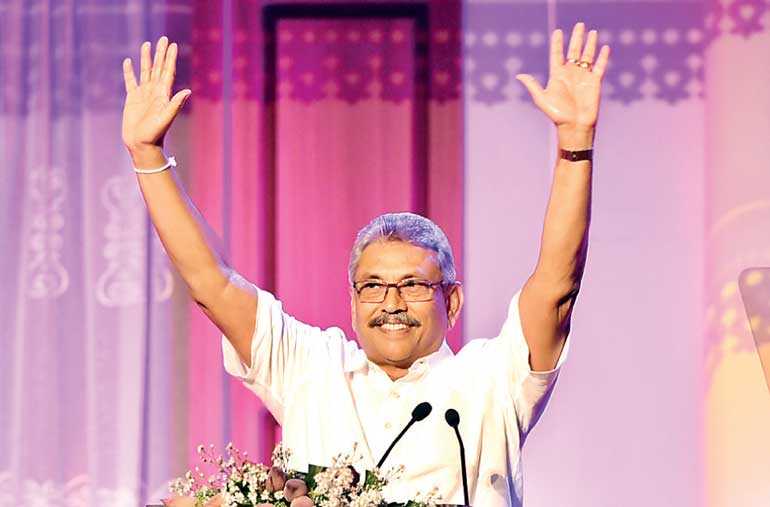 Gotabaya Rajapaksa
---
US Government publishes June quarter list of people who lost citizenship

Gota's name missing from new list covering period of claimed renunciation


Sri Lanka Podujana Peramuna (SLPP) Presidential candidate Gotabaya Rajapaksa's name does not appear on the official US Government publication "Quarterly Publication of Individuals, Who Have Chosen To Expatriate", or renounce US citizenship, in the 2nd quarter of 2019, covering 1 March to 30 June.

Rajapaksa claimed that he received official confirmation on 3 May from the US Government that he was not considered a US citizen, effective 17 April. The Presidential hopeful also shared a document through media organisations that he said establishes this fact.

The United States Government, in its Federal Register, which is the equivalent of the Gazette published by the Sri Lankan Government, publishes a list of US citizens who have lost or given up their citizenship in the previous quarter every three months. The most recent filing, a seventeen-page document, dated 7 August 2019 and covering the 2nd quarter, during which Rajapaksa claims he lost his US citizenship, does not contain Rajapaksa's name.

The summary of the document states that the "listing contains the name of each individual losing United States citizenship, with respect to whom the Secretary received information during the quarter ending 30 June 2019." The former Defence Secretary's name also did not appear in the previous listing, covering the period from 1 January 2019 to 31 March 2019.

Daily FT previously reported serious questions raised by immigration officials and law enforcement authorities about the basis on which Rajapaksa was issued a new Sri Lankan National Identity Card, which he used to obtain a passport that did not mention his dual citizen status.
Investigators also discovered that there are no files at the Immigration Department that explain how Rajapaksa purportedly applied for, and obtained, dual citizenship in Sri Lanka after Mahinda Rajapaksa took office as President in 2005. The then-US citizen told the Supreme Court in 2015 that he came to Sri Lanka in 2005 to help his brother's election campaign. Daily FT also revealed that he was illegally registered to vote in Sri Lanka, despite being a foreigner, in the 2005 election.

Gotabaya Rajapaksa requested and received an early discharge from the army in August 1991, and migrated to the US, where in January 2003, he renounced his ties to Sri Lanka and swore allegiance to the United States. He became Defence Secretary on 24 November 2005, while still a US citizen. On 30 November 2005, his Ministry granted him dual citizenship, according to computer records entered in January 2014. Aside from the digital records and a suspicious entry in the Register of Dual Citizens, there is no evidence available at the Immigration Department of a dual citizenship certificate being issued to Rajapaksa in terms of the Citizenship Act.

Two civil society activists, Prof. Gamini Viyangoda and Chandragupta Thenuwara, last week filed complaints with Police headquarters, requesting urgent action on the alleged irregularities in Rajapaksa's citizenship and passport paperwork, and his voter registration. However, Daily FT reliably learns that political pressure from within the Government has prevented the Police from taking any action to begin an investigation.

According to Article 91 of the Constitution of the Democratic Socialist Republic of Sri Lanka, no person can contest the Presidency or serve as President if they are a citizen of any country other than Sri Lanka.