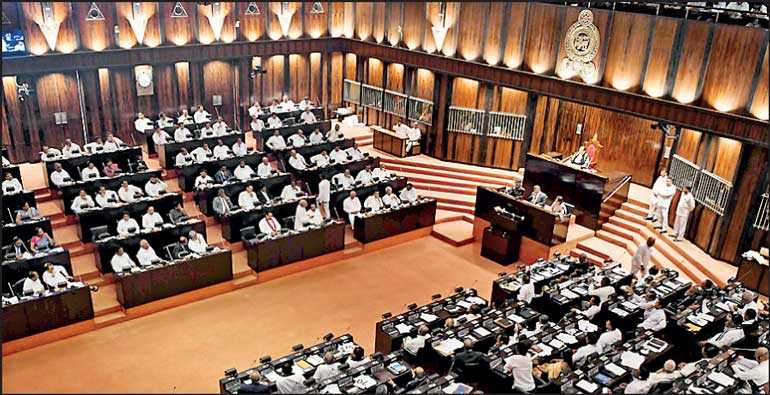 ---
President issues Gazette notification under powers vested by Article 70 of Constitution to dissolve P'ment
General Election fixed for 25 April
Nomination period between 12 and 19 March; first meeting of new P'ment fixed for 14 May
EC to issue election related Gazette notifications today with names of recognised political parties, Code of Conduct etc.
Only 16 Cabinet Ministers to remain in office while State Ministers, MPs will cease to hold any positions, privileges
By Chandani Kirinde

President Gotabaya Rajapaksa yesterday dissolved the Parliament and fixed 25 April for the next General Election, fuelling concerns Sinhala-Tamil New Year month will be effectively unproductive.

The President also fixed the date for the new Parliament to meet for 14 May and the period between 12 and 19 March as the nomination period, during which nomination papers will be received by the Returning Officers for candidates contesting the election.
The Gazette notification dissolving the House was issued by the President hours after the current Parliament completed four-and-half-years of its five-year term under powers vested in him under by Article 70 of the Constitution and under the provisions of the Parliamentary Elections Act No. 1 of 1981. The President is empowered to dissolve Parliament only after the completion of four-and-a-half years after the enactment of the 19th Amendment to the Constitution.

The Election Commission will issue the Gazette notifications relating to the election today including the names of recognised political parties, the Code of Conduct for candidates as well as the media during the campaign period.

The current Cabinet of 16 ministers will remain in office the interim period but all State Ministers and Members of Parliament will cease to have any of the privileges as well as facilities afforded to them while in office.

Karu Jayasuriya who served as Speaker of the Eighth Parliament and guided it through some of the most tumultuous challenges faced by the Legislature said in a tweet last evening that "despite odds, it (Parliament) has been able to withstand unprecedented pressure and strengthen democracy during its term". "Now, it's important not to regress, but to further strengthen it democracy," he said.

The first meeting of the Eighth Parliament was held on 1 September 2015 after the General Election held on 17 August. The United National Party (UNP) won 106 seats in the 225 Legislature while the United People›s Freedom Alliance won 95 seats.

The Illankai Tamil Arasu Kachchi (ITAK) won 16 seats, the People›s Liberation Front (JVP) won six seats while the Eelam People›s Democratic Party and the Sri Lanka Muslim Congress won one seat each.

The 2015 General Election was the first to be held after the enactment of the 19th Amendment to the Constitution which saw the term of Parliament reduced from six years to five years.

A total of 16,263,885 are eligible to vote at this year's Parliamentary Election, about 270,000 more than those who were registered to vote at last November's Presidential Poll, EC Chairman Mahinda Deshapriya said.

The 2019 electoral list will be used for the election while for November's Presidential Poll, 2018 list was used.

A total of 196 MPs will be directly elected from the 25 districts to Parliament while 29 will be appointed from the National List.