61 votes in favour, 152 against
Ranil supports motion
All SLPP MPs rally behind Gammanpila to vote against motion
---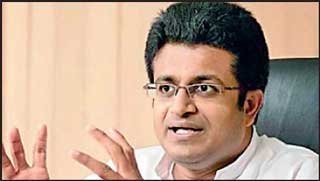 Energy Minister Udaya Gammanpila
---
The no-confidence motion against Energy Minister Udaya Gammanpila was defeated by a majority of 91 votes, with 152 voting against the motion and 61 in favour.
The Samagi Jana Balawegaya (SJB), which moved the motion, along with other Opposition party members, including UNP MP Ranil Wickremesinghe, voted in favour of the motion.

All SLPP MPs, including those who were publicly critical of Gammanpila over the recent fuel hike, voted against the motion.

SLPP MP Wijeyadasa Rajapakshe was absent during the vote which was taken at the end of the two-day debate.

The no-confidence motion alleged that Parliament had lost faith in Gammanpila for failing in his duty of obtaining Cabinet approval for the recent fuel price hike, as well as his failure to pass on the benefit of global oil price reductions to the public.

It also alleged that while world oil prices had been falling since March last year, fuel prices in the country had remained the same with consumers not allowed to benefit from the falling prices.