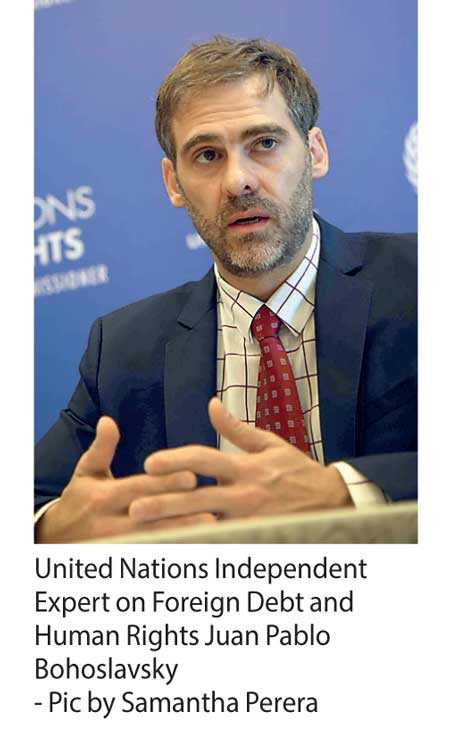 Calls on Govt. to re-examine military budget allocation
Says social and economic rights should be included in new Constitution
Against trimming social security for debt servicing
Raps Govt. and IMF for not conducting human rights impact assessment on reforms
Slams VAT increase as having disproportionate impact on poor
Believes PPPs should not replace Govt. obligations to provide education, healthcare
By Chathuri Dissanayake

As the Government prepares to present Budget 2019, United Nations Independent Expert on Foreign Debt and Human Rights, Juan Pablo Bohoslavsky, yesterday called for a fresh take on policies that would boost domestic demand, re-examine military spending and renegotiate debt repayments to expand fiscal space for sustainable development.

Concluding a nine-day visit, Bohoslavsky sounded warning bells over the country's debt vulnerability, noting that a significant portion of international borrowing was channelled to debt financing.

"Debt vulnerabilities of the country need to be managed with extreme care," he warned, outlining recommendations including re-examining military spending given the "social changes the country has undergone" since the war ended nine years ago.

"There are at least three complementary options that deserve to be considered. First, boosting domestic demand through various channels, including progressive tax reforms, expanding social benefits and increasing minimum wages, among other measures; the resulting improvement in GDP growth would increase fiscal revenues. Second, opening the discussion on whether the military budget reflects the fundamental changes the country has undergone in the last years, in particular in the fields of peace and economic development. And third, renegotiating the debt with creditors in order to expand the fiscal space to boost domestic demand and generate revenues to ensure that nobody is left behind. Fiscal, monetary, economic and social policies need to be fully consistent," he said.

Bohoslavsky also spoke strongly against excluding social and economic rights from the new Constitution, highlighting that it was an obligation on the part of the Sri Lankan State to ensure that these rights were protected by the new Constitution being drafted as well.

Warning against any cuts in social spending to repay increasing debt, the Rapporteur also raised concerns over Sri Lanka's strategy to stabilise the economy by strengthening the fiscal and external sectors, as recommended by the IMF, by rationalising social security benefits.

Noting drawbacks in health and education Budget allocations in 2017, Bohoslavsky cautioned of a possible regression in the sectors.

"Trying to achieve fiscal adjustment by reducing public expenditure in education, health and social transfers actually hinders long-term development and may have negative effects on social and economic stability," he said.

Speaking on recent reforms leading to the rationalisation of energy and farming subsidies and a transparent fuel price formula with plans to introduce a similar system for electricity pricing, the Special Rapporteur said he was concerned about the impact of such measures on the livelihood of fishing, farming and other rural communities.

"It is my view that such cuts should at least be compensated through cash transfers targeting those in need and ensuring that they reach the beneficiaries in a timely and efficient manner. Investments in the rural economy should be directed at supporting the livelihoods of these small-scale producers including technology transfers, market access and physical and natural resources, so they will be resilient against these subsidy reductions."

Bohoslavsky observed that neither the IMF nor the Government had conducted a human rights impact assessment on the economic reforms implemented, which he said was "of paramount importance from a human rights standpoint."

"In my view, while maintaining macroeconomic stability is an important concern, this aim should not prevent human rights assessments of these planned reforms, in line with international human rights standards."

Bohoslavsky noted that none of the international donors that had financed projects in Sri Lanka, including the World Bank, Asian Development Bank or the governments of Japan and India, had carried out proper human rights impact assessments on the projects they finance. Although some have carried out impact assessments, he said that it was not very clear against which legal standards such exercises were undertaken, urging the Government to put in place a proper framework for Human Rights Impact Assessments.

"I advise the Government to close this gap by passing robust legislation on this matter based on existing international human rights standards. Enhancing transparency, consultation and participation of potentially affected people is essential. These procedural aspects of the process should also be established and duly regulated by law," he said.

"International human rights law should be taken more seriously by international donors in order to foresee the consequences and impacts of the project they finance," he insisted.

He also warned against the Government's approach to establishing public-private partnerships in social sectors such as education and health, stating that such partnerships "should not replace the Government's primary obligation of ensuring economic, social and cultural rights equally among everyone and its obligation in allocating maximum available resources."

While commending the Government on its effort to streamline taxes, he called for further measures to be taken to broaden the tax base and curb money laundering. He also advocated that the Government close the legal gap that exists to enlist the help of the banking system to curb tax evasion.

In his preliminary report he also raised concerns over increases in VAT noting that "the cost of such tax is borne by the poorest part of the population." According to the report in 2017 the Government raised 56.5% more revenue from VAT than it did in 2016.
Moratorium on microfinance loans needed: UN expert
Govt. action to curb abusive microfinance practices insufficient Issue a national problem, wants Govt. to provide affordable credit
Says women psychologically and physically abused by microfinance lenders
Calls on Govt. to introduce laws to prevent abuse, impose interest cap
Government measures to address countrywide indebtedness were insufficient, UN Independent Expert on Foreign Debt and Human Rights, Juan Pablo Bohoslavsky, said yesterday, calling for a moratorium on payments.

He proposed the Government establish a proper legal framework to regulate microfinance institutions to cap interest rates and prevent abusive collection practices. The moratorium would prevent vulnerable groups, particularly women, from exploitation and abuse by lenders.

Noting that borrowers, who are largely women, had been driven to extreme measures such as providing sexual favours and selling kidneys to deal with the pressure of repaying microfinance loans taken by them, Bohoslavsky urged the Government to take measures to curb the exploitative practices of microfinance companies.

He commended the debt write-off announced by the Government for borrowers who had failed to pay installments for three months, but noted that the scheme was insufficient given the abusive methods employed by creditors to recover loans which do not allow for long delays in payments.

"One of the problems is that given the pressure lenders can put on debtors, collectors do not usually allow for long delays in payments so a number of women, including the most vulnerable, may not find relief through this program. Besides, the microcredit and abuses have not been limited to those regions," he said, stressing that it had become a national issue.

Bohoslavsky also noted that microfinance companies have engaged in psychological and physical abuse in some of their recovery methods and called on the Government to take action against such practices.

Noting that the Government should take immediate action to cap interest charged on microfinance loans, which at present rates can be as high as 220%, the Special Rapporteur said a proper legal framework should be established to regulate the microfinance industry where lenders assess the credit risk of their loans and regulate and restrict the actions they can take to collect the loans in line with international human rights standards and provide victims with the right to request the return of the money as compensation.

Further, he stressed that some of the borrowing which has been taken to finance consumption calls for the Government to take measures to address the current economic situation of vulnerable groups.

"This is a State's responsibility because the poor cannot be forced to pay for public goods via private microcredit," he said.

Bohoslavsky recommended making available concessionary credit through public banks where "even a normal interest rate would represent a dramatic improvement for poor borrowers."

Further, he said the option of cooperative financial initiatives to enhance the microcredit industry with a purely social goal should also be considered.

In this regard he welcomed the move by the Government to carry out a pilot cooperative financial scheme in the north to provide credit to those in need and by charging reasonable interest rates.