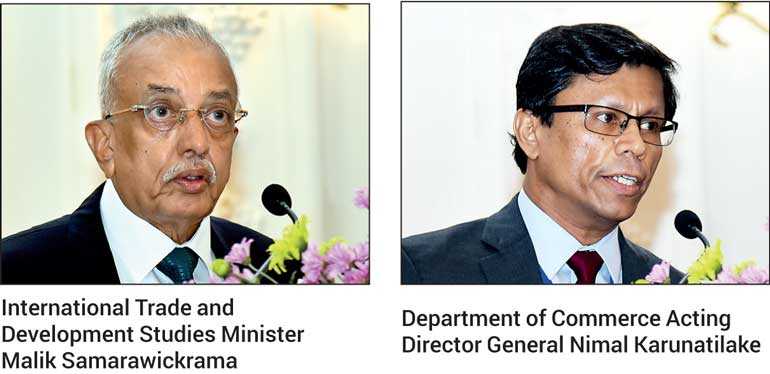 ---
GSP+ could be phased out by 2023 with SL becoming upper-middle income country

Currently 58% of all exports receive benefits from GSP+ facility

All EU preferential trade programs to be evaluated during next 18 months

Apparel makes up 60% of EU exports

Minister confident of meeting 2019 export target of $ 18.5 b

Govt. seeks clarity on issue, wants to continue engagement with EU
By Uditha Jayasinghe

Exporters will have to evolve past preferential trade access to the European Union (EU), which has helped exports withstand the impact of the Easter attacks, as they could be phased out as early as 2023 due to Sri Lanka becoming an upper-middle income country, officials said yesterday.

Addressing a seminar titled 'Sri Lanka's Exports to the EU: Impacts of GSP+', Department of Commerce Acting Director General Nimal Karunatilake acknowledged the challenge Sri Lanka could face with the World Bank raising Sri Lanka's categorisation to upper-middle income status from lower-middle income status in July this year.

He pointed out that the EU only allows countries to have GSP+ access for two years after they reach upper-middle income status with a grace period of one more year before countries are typically removed from the program. In addition the EU could within the next year and a half revaluate the their preferential access schemes including GSP+, which could result in unexpected challenges for Sri Lankan exports.

The seminar was organised by the Delegation of the European Union to Sri Lanka and the Maldives, the European Chamber of Commerce of Sri Lanka (ECCSL) and the Department of Commerce.

As of 2018 as much as 58% of all Sri Lankan exports benefit from some form of preferential access due to GSP+ and the EU remains the country's largest export market. Even though the UK has expressed willingness to keep tariff rates unchanged when they leave the EU, Sri Lankan exports could still experience some upheaval, experts have pointed out.
"We would appreciate more clarity on this issue from the EU. If we continue to be categorised as upper-middle income we will be out of GSP+ by 2023. We have to look at the vulnerabilities and see what alternatives are available to us," Karunatilake said.

He also appealed to EU officials present at the seminar to assist with resolving the rules of origin challenges on apparel, pointing out that even through Sri Lanka had presented a proposal with Indonesia to the EU, it is yet to be approved. He also said measures to coordinate with South Korea were unlikely to be practical as they do not have a body to certify the origins of raw materials from that country.

However, Sri Lanka remains optimistic of opportunities presented by GSP+, insisted International Trade and Development Studies Minister Malik Samarawickrama.

"Sri Lanka has gone through some challenging events and the bright spots like GSP+ have helped bolster exports. We can be proud that in 2018 Sri Lanka had a record year for exports. We achieved $ 17 billion in merchandise and services exports. For 2019 we have set the target of $ 18.5 billion and despite the setbacks we have faced I'm sure we can achieve this target. This will be 33% more than what was achieved in 2015. Our exporters have done well and remained resilient."

He pointed out that since the resumption of GSP+ concessions in 2017 the value of Sri Lanka's total exports to the EU market in 2018 recorded a growth of 5% when compared to 2017. As a result Sri Lanka's GSP+ utilised exports recorded a year-on-year recorded a growth of 1% in 2018.

"As much as 50% of our total exports to the EU utilised the GSP+ facility in 2018 and overall utilisation of GSP+ preferences has increased marginally from 54.8% in 2017 to 58.1% in 2018. We certainly need to do better," he said outlining measures taken by the Ministry to encourage companies to produce more goods covered under GSP+. The apparel sector which accounts for over 60% of exports to the EU.

Sustainable Development Senior Advisor Nicolaos Zaimis addressing the gathering explained that all EU preferential tariff programs including GSP+ will be evaluated in the next one-and-a-half years with EU members deciding whether to continue, adjust or end them.

"If countries become upper-middle income economies and the World Bank certifies that for at least three consecutive years that means these countries are no longer vulnerable, which is the definition of the GSP+ recognition and therefore they graduate. In a way it is good news. It means you are economically advanced. However, independent of what happens I think the work done in the context of GSP+ is good for Sri Lanka anyway. It's good for exports to the European market, overall markets and inclusive growth. I hope these reforms continue in the future notwithstanding the status of GSP+."

Pix by Ruwan Walpola