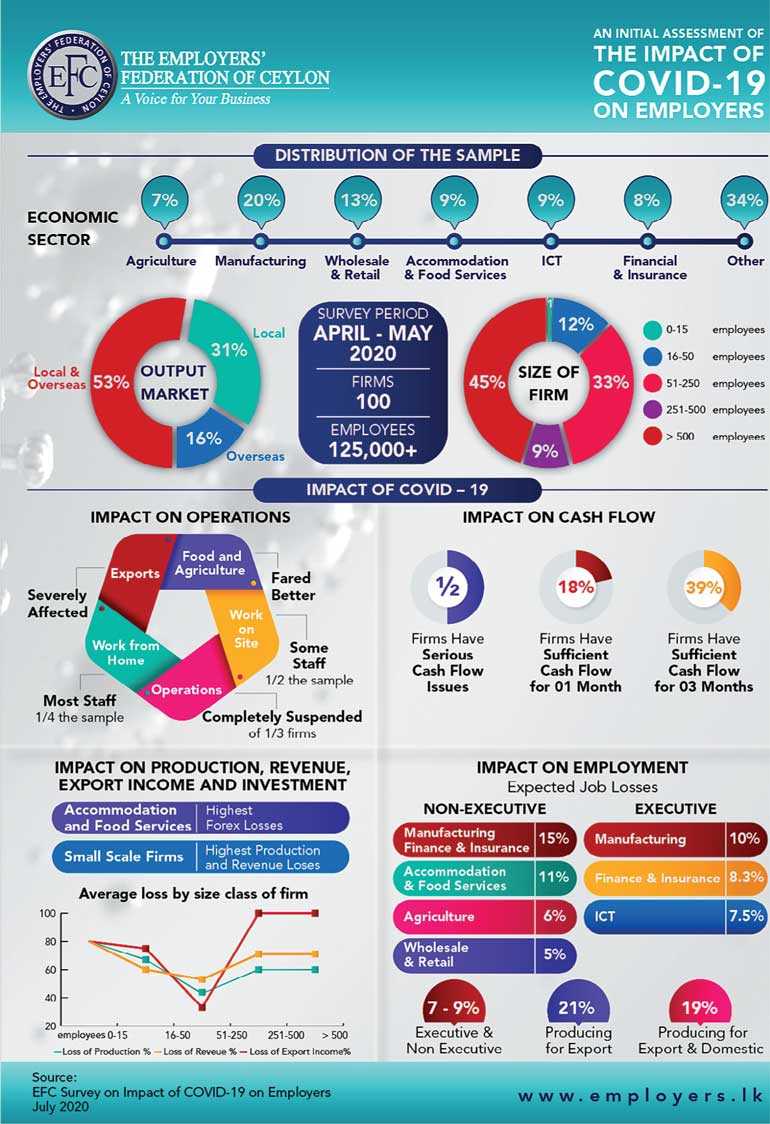 ---
Cash flow crisis, investment cuts and job losses key concerns among survey of 100 companies employing 125,000 employees
Employers make key recommendations to cushion pandemic impact and medium term reforms to make SL competitive in post-COVID era
The COVID-19 pandemic in its initial phase has triggered triple shocks of cash flow, investments cuts and job losses in the private sector, the Employers Federation of Ceylon (EFC) warned yesterday following a comprehensive survey.

The survey was conducted between 15 April and 12 May and covered 100 companies (out of 685 members of EFC) employing over 125,000 and sample.

Sectors covered included 7% in agriculture, nearly one fourth in manufacturing and construction, and around two-thirds in the services sector.

The subsectors of manufacturing (20%), wholesale and retail trade (13%), hospitality and food sector (9%), ICT (9%) and financial and insurance (8%) were also well-represented.

The survey revealed that half of the firms suffered serious cash flow issues whilst 18% had cash only for a month and 39% for three months. EFC clarified that three months indicated was March to May, suggesting that almost all 100 firms surveyed are currently going through a severe cash-flow crisis.

The partial shutdown of the country as part of measures to mitigate the spread of COVID-19 since late March till mid-May saw one-third of the firms totally suspending operations. Additionally export firms were severely affected, whilst food and agriculture sector firms fared better after being listed essential services.

Whilst one-fourth of companies surveyed enabled employees to work from home (WfH), those working on sites were impacted. In terms of impact on production, revenue, export income and investments, the accommodation and food services, these industries suffered the biggest foreign exchange loss whilst the small scale firms were impacted mostly by production and revenue loses.

EFC said exporters employing more than 250 employees lost all their earnings. This reflects COVID-19's impact on exports. Since large-scale companies account for about 95% of total export earnings, the impact on the balance of trade will be devastating. The impact on employment was evident with companies estimating future job losses both in Executive and Non-Executive grades across all sectors.

Subjective estimates of job losses by responding companies averaged at 7% and 9% for executive and non-executive staff, respectively, across the sample. The highest job losses among non-executive staff were reported in the finance and insurance, and manufacturing (15%) subsectors, followed by hospitality and food services (11%), agriculture (6%), and wholesale and retail trade (5%).

Among the executive staff, the highest job losses were reported in manufacturing (10%), finance and insurance (8.3%), and information and communication (7.5%) industries. While businesses producing only for exports estimated 21% of job losses in executive and nonexecutive cadres, those producing for exports as well as the domestic market, expected employment to contract by 19%.

EFC Director-General Kanishka Weerasinghe said that according to the National Employers' Organisation in Sri Lanka, the survey was conducted to understand the impact of COVID-19 on its members and how firms were coping with and adjusting to the crisis.

"Most importantly, the EFC sought to use the study's findings to inform policy makers about the interventions necessary to help companies manage the crisis and grow out of it," Weerasinghe said at the media launch of the survey attended by the team that was involved, including University of Colombo Prof. Sunil Chandrasiri and Dr. Ramani Gunatilaka.


All responding companies identified workforce protection to be the most important coping strategy at organisational-level, while WfH was the second most important measure, particularly in sub-sectors dominated by office-type occupations in the service sectors.

Income support for low-income workers was ranked as the third most important policy measure. Although WfH and promoting digitisation were popular options for the smaller companies in the formal sector, they were less feasible and hence less important for companies employing mostly operational level and manual level workers.

The survey also sought the perceptions of the respondents about the policy measures that the government needs to implement to help support and revive businesses. Labour market-related policies were identified as the most important area that the government needs to address. In fact, Sri Lanka's existing labour laws do not provide for pandemic-like situations, leaving a huge gap in institutional mechanisms to manage crises of this nature.

Key policy interventions suggested facilitating and promoting WfH, flexi working hours, less government intervention on salary, and other payments (particularly in the plantation sector) – introducing government-sponsored wage payment schemes, setting off the non-working days due to lockdown against employees' leave entitlements, granting permission to delay contributions to the Employees' Provident Fund (EPF) / Employees' Trust Fund (ETF) and modifications to the existing labour laws, particularly in the areas of lay off of employees, payments of salaries and other statutory entitlements.

Monetary and fiscal policy interventions were identified as the next most important cluster of interventions that would enable businesses to minimise cash flow problems and start operations again. Among such measures, employers suggested the reduction of interest rates, extension of debt moratoria and granting credit and other financial support for firms to re-start operations as possible interventions.

The fourth area for policy intervention was trade. This includes providing relief on tariffs on exports and imports of raw materials and products, the removal of CESS and other para-tariffs on the importation of critical inputs to production.

Stakeholders need to perceive the crisis as an opportunity to reset economy-wide policies and practices to help diversify products and export markets, to ensure all Sri Lankans a more prosperous and a sustainable future, EFC said quoting the findings of the survey.