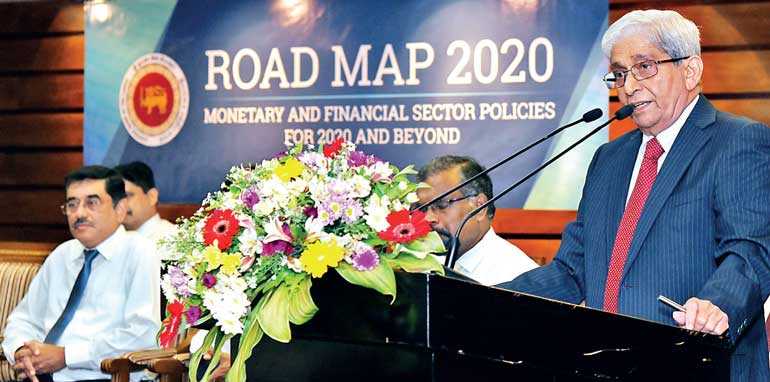 Central Bank Governor Prof. W.D Lakshman addresses the 2020 Road Map launch yesterday – Pic by Ruwan Walpola
---
New Governor stresses Sri Lanka needs innovative policies emanating from and backed by fresh thinking

Emphasises people-centric Govt. cannot ignore social and human development objectives, especially when Sri Lanka is ready for economic take-off

Already announced tax relief measures expected to stimulate economy while actively contributing to improve business confidence

Any revenue shortfall to be largely offset by action taken to eliminate unproductive current expenditures and to prioritise capital expenditure

Fiscal consolidation path remains intact and level of public debt stock remains sustainable
By Nisthar Cassim

Central Bank yesterday declared the economy is at a crossroads and could leapfrog despite challenges if reforms and right policies are pursued.

Launching the 2020 Road Map Central Bank's new Governor Prof. W.D. Lakshman clarified that though decades of policymaking have produced many improvements, the economy was at a crossroads with many tough challenges.

He listed those as below potential growth, persistence of poverty pockets, underutilisation of productive resources, inadequate expansion and diversification of exports, shortfall of non-debt creating capital inflows, large credit and interest rate cycles, and high fiscal deficits and public debt levels. According to him, these challenges have been the outcomes of policy as well as non-policy factors and need to be addressed decisively for the economy to take-off to a high and sustainable growth path. For this, Prof. Lakshman said Sri Lanka needs innovative policies emanating from and backed by fresh innovative thinking.
He recalled that developments in the past few years have shown that, at times, there was a trade-off between macroeconomic stability and economic growth. However he pointed out that whilst stability is important, a people-centric Government cannot ignore its social and human development objectives, especially when Sri Lanka is ready for its economic take-off.

"We intend to pursue our efforts to find solutions to balance these conflicting objectives of public policy, without compromising economic and price stability and financial system stability," the Governor said.

"At this juncture, Sri Lanka strives to make the next economic leap forward. There are many domestic and international challenges, much of which are of an economic and structural nature," he said.

"I strongly believe that the economy possesses the potential to overcome these challenges," emphasised the Governor and quoted the famous words of Sir Winston Churchill: "The pessimist sees difficulty in every opportunity. The optimist sees the opportunity in every difficulty."

Addressing bankers, diplomats and officials, Prof. Lakshman appealed: "Let us also begin to see opportunities in the difficulties we encounter."

"We hope, together with fiscal and other authorities, to formulate policies that will support a sustained revival of real economic activity through improved utilisation of domestic resources, both physical and human. This would help achieving the goal of the Government to create productive employment opportunities in the economy on a large scale," the Governor said.

He said the already announced tax relief measures are expected to stimulate the economy while actively contributing to improve business confidence. "Any revenue shortfall due to the changes in taxes announced recently is expected to be largely offset by action taken to eliminate unproductive current expenditures and to prioritise capital expenditures. It is expected that the fiscal consolidation path remains intact and the level of public debt stock remains sustainable," the Governor said.

Prof. Lakshman also said it was time to use the extensive human resource base built up over the years and new investments backed up by conducive medium to long-term policies, to enhance production growth and expansion of productive employment opportunities.

Such employment enhancing growth, he said, would be the most effective mechanism to eradicate poverty as well as to achieve balanced regional development.

It was pointed out that as in the past, the Central Bank will work with fiscal authorities to improve conditions of fiscal consolidation for sustained price as well as macroeconomic stability.

"We hope that the Government would take further measures to rationalise expenditure and that revenue would go up as a result of the revival in economic activity. Required reforms are expected to widen the tax base, improve tax administration and compliance."

"Strengthening State-owned business enterprises through implementing essential reforms would enhance Government revenues and reduce the fiscal burden to maintain such entities, while ensuring better service delivery for the public and the business community," Prof. Lakshman said.

In this regard, the Central Bank welcomed the ongoing efforts to improve the operational efficiency of State-owned enterprises through a streamlined process to appoint professionals to manage such entities.

Going forward, he said the production economy will be strengthened, helped by availability of required infrastructure facilities, the prevalence of conducive policy measures, attraction of export oriented FDIs, and the maintenance of appropriate fiscal and monetary conditions. "The maintenance of competitive exchange rate will also help. These will lead to a sustained improvement in the country's balance of payments position as well," the Governor added.

On the part of the Central Bank of Sri Lanka as the apex institution in money matters, the Governor assured it will continue to guide Sri Lanka to reach new heights in socioeconomic achievement.

He said that in a challenging global and domestic environment, the Central Bank has achieved a great deal in meeting its objectives of maintaining economic and price stability and financial system stability, with a view to encouraging and promoting the development of the productive resources of Sri Lanka.

"Going forward, in line with the philosophy of the new Government, the Central Bank will continue to improve its contribution for the economy to progress as an upper-middle income economy through equitable and inclusive growth of real economic activity of the country," he emphasised.

In this context, this Road Map, the 13th by the Central Bank, expects to enunciate the broad policy framework that the Central Bank intends to pursue in 2020 and the medium term, enabling all stakeholders of the economy to adjust their own future policy plans.

The Road Map 2020 was outlined under the following headings: The Central Bank's monetary policy strategy and policies for 2020 and beyond; The Central Bank's policies related to the financial sector performance and stability in 2020 and beyond and Policies Related to Ancillary and Agency Functions.