Minister John Amaratunga chairs the meeting of the Cabinet Sub-Committee tasked with spearheading quicker revival of tourism post-Easter Sunday terror attacks
---
Finance Minister Mangala Samaraweera summons urgent meeting with Central Bank Governor and commercial bank CEOs on issues connected to travel and tourism relief package post Easter Sunday mayhem

Industry insists across-the-board blanket moratorium as opposed to CB directive of "case-by-case basis" approach to banks

Similar relief sought for industry employees' loans and leases

Today's discussion follows host of issues raised at second meeting of 7-member Cabinet Sub Committee tasked with early revival of tourism on Friday

Govt.-guaranteed Travel Insurance Cover for all tourists by Sri Lanka Insurance mooted


By Nisthar Cassim

Finance Minister Mangala Samaraweera will chair a crucial meeting with the Central Bank and commercial banks CEOs today, to address concerns raised by the travel and tourism industry over the financial relief package announced last week and subsequent directive by the monetary regulatory.

The Easter Sunday terror attacks-battered tourism industry on Friday strongly opposed the apparent failure by the Central Bank to categorically communicate to the banks that the lifeline via the moratorium was "blanket".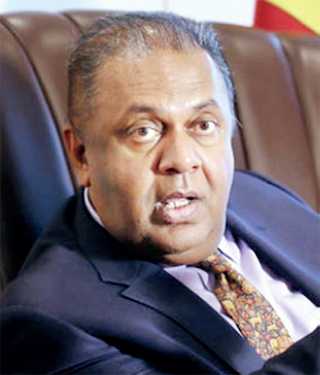 Finance Minister Mangala Samaraweera
In the Central Bank's directive signed by Director of Bank Supervision A.A.M. Thassim, it has been stated that licensed banks "may" grant a moratorium on a "case-by-case basis".

The industry argued that such wording could be interpreted as banks being given greater discretion on whether to grant a moratorium or not. It was alleged that the small and medium sector may get overlooked if and when such a discretion is applied. The banking sector's "performing exposure/lending" to tourism sector is estimated at Rs. 280 billion though some put the total figure at Rs. 400 billion.

An across-the-board blanket moratorium is what the travel and tourism industry had been appealing for after tourist arrivals plunged by 70% and widespread cancellations in May following the Easter Sunday terror attacks on three churches and an equal number of city five star hotels which killed nearly 260 including 45 foreigners and injured over 500.

This was the understanding and the spirit in which discussions were held with President Maithripala Sirisena, Prime Minister Ranil Wickremesinghe and Tourism Minister John Amaratunga-led seven member Cabinet Sub Committee.

Given the confusion and concerns, Central Bank Governor Dr. Indrajit Coomaraswamy, State Minister of Finance Eran Wickramaratne, Treasury Secretary Dr. R.H.S. Samaratunga, Director General Fiscal Policy and all bank CEOs have been invited to today's meeting chaired by Minister Samaraweera where all issues will be cleared.

The original request was either a waiver of loans or a two-year moratorium but industry was considerate in agreeing to the one-year offer.

"Though the entire industry is in crisis, we are practical. We have been genuine in making all our requests and not trying to make a fast gain in this hour of crisis," said Tourist Hotels Association Chairman Sanath Ukwatte, who was hopeful of the Finance Ministry confirming the moratorium was blanket/across the board and not on a case-by-case basis.

With 2.3 million arrivals, the tourism industry last year earned $ 4.4 billion in foreign exchange. It employs 500,000 directly,providing a livelihood for around two million people.

Another critical need is similar relief for loans and leases taken by employees, in regard to which the Government is still studying the options. The basis for this request is that employees use their basic salary for bank repayments and the families live on service charge, which is significant. "With business down, the livelihood of employees and their families is at stake," noted City Hotels Association President M. Shanthikumar.

The Cabinet last week approved a one-year moratorium of capital and interest repayment of all registered travel and tourism businesses' performing loans till 31 March 2020 in respect of outstanding credit facilities as at 18 April 2010. The banks shall convert the capital and interest falling due during the moratorium period into a term loan which shall be recovered from July 2020 onwards. A concessionary rate of interest may be charged for this facility. The rate hasn't been specified yet.

Banks on their part can maintain non-performing loans in the same category for classification and provisioning purpose during the moratorium and shall waive off the penal interest to be charged on non-performing loans during the period.

To tide off cashflow issues, the Government also announced all travel and tourism businesses could get a two-year working capital loan based on turnover at a concessionary interest rate of 3.4%. This is following the Treasury offering a 75% subsidy.

For a travel or tourism business with a turnover of less than Rs. 100 million, the maximum working capital available under this scheme is Rs. 20 million. Other slabs include Rs. 50 million for those with turnover of Rs. 100-250 million, Rs. 150 million for those with Rs. 250-750 million turnover, and Rs. 250 million for turnovers above Rs. 750 million.

Another relief is VAT for the industry being reduced to 5% from 15% until 31 March 2020. Last year VAT collection from the industry was Rs. 18 billion.

At Friday's meeting of the Cabinet Sub Committee on Tourism, a proposal to issue a Government -guaranteed Travel Insurance Cover for all tourists by Sri Lanka Insurance was discussed. The cover looked at is $ 1,500-2,000 per tourist. Industry leaders said such a move will further boost confidence of would be tourists and also place greater commitment on the Government to improve safety and security in the country.