Manufacturers say existing palm oil stocks can only last for 3 days
Write to President calling for extended time, moot licence scheme to import
Warn no relief by Govt. will compel closure of factories, putting thousands of jobs at risk
Say more time needed to trial coconut oil substitute
---
By Charumini de Silva
---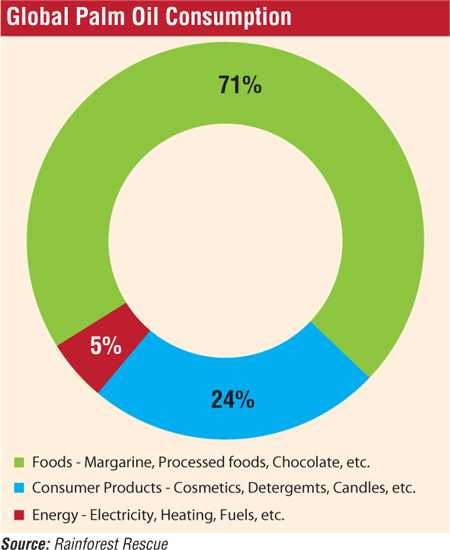 The confectionery manufacturing industry yesterday expressed concerns over its survival and security of jobs, following the "sudden" decision by the Government to ban its key raw material – palm oil imports – with immediate effect.

"The sudden decision by the Government has caused significant stress and additional burden to all confectionary, bakery and food processors severely. It affects all food processing industries, their viability and employees engaged," Lanka Confectionery Manufacturers Association (LCMA) Chairman S.M.D. Suriyakumara told the Daily FT.

President Gotabaya Rajapaksa on Monday instructed that the import of palm oil be banned with immediate effect.
The President's Media Division (PMD) issued a statement stating that the Controller General of the Department of Imports and Exports Control has been advised by the Secretary to the President Dr. P.B. Jayasundera to issue the relevant gazette order to give effect to this instruction immediately, whilst the Director General of Customs has also been informed of this decision and advised to refrain from clearing palm oil cargo at the Department of Customs.

The annual palm oil requirement for the entire confectionary industry is around 18,000 metric tons, with the monthly requirement about 1,500 metric tons.

"We only have palm oil stocks that will last for about two to three days. The decision came at the peak of our manufacturing period which is the Sinhala and Tamil New Year. Survival of the confectionery manufacturing industry is now in jeopardy with no time to arrange supply, substitutes or solution from authorities. If we are not given a solution we will not be in a position to continue business, but to close down factories that house thousands of jobs to people," stressed Suriyakumara.

Acknowledging that the Government decision to ban palm oil imports following the recent allegations levelled against Sri Lanka Customs that it had released a container of coconut oil to imports despite the quality tests suggesting that the oil contained a carcinogen known as aflatoxins, Suriyakumara said the confectionary industry had always imported quality raw materials to manufacture export quality products.

"We understand the rationale behind the decision, but it needs to be communicated with solutions at hand without jeopardising an entire industry with ad-hoc policies. To find reliable suppliers and import it takes at least one to two months. It is impossible for industries to survive without key raw materials."

Suriyakumara said the LCMA yesterday in writing requested President Rajapaksa to reconsider the ban given the risk it would have on the industry and its dependents. "As authorities have taken decisions without solutions, we as the confectionery industry requested for a license to be issued to import required quantities of palm oil in accordance with Sri Lanka Standards Institution (SLSI) which can be monitored through Sri Lanka Customs."

Last year, in a key breakthrough, the confectionery manufacturing industry agreed to join hands with the Coconut Research Institute (CRI) to develop and use coconut oil for their products instead of palm oil. "For the past nine months we have been developing coconut oil to be used in confectionary products as a substitute for palm oil with the help of the Government. However, the final product is still not finalised and we need more time for the usage of the new oil to conduct the trials in our range of products without harming the quality, taste and production line."