Army Chief Mahesh Senanayake unlikely to get extension, retirement due tomorrow
Shavendra Silva's pending appointment as successor alarms human rights circles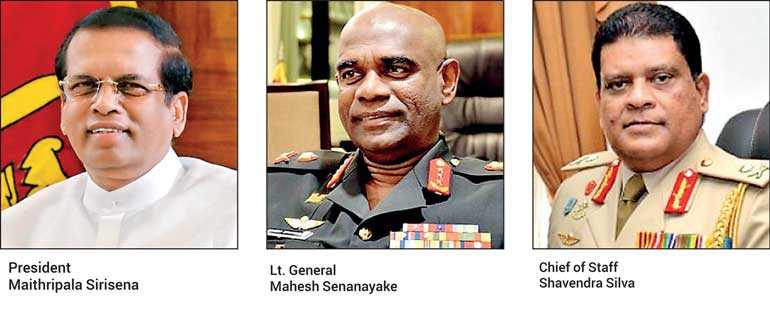 President Maithripala Sirisena is tipped to appoint current Chief of Staff Shavendra Silva as Commander of the Army today, with Lt. General Mahesh Senanayake due to retire tomorrow (18), highly placed sources said.

The appointment is likely despite President Sirisena's previous assurances to confidants and senior ministers that Maj. Gen. Silva would not succeed Army Chief Mahesh Senanayake as commander.

The controversial war-time commander is currently the number two ranking officer in the Sri Lanka Army.

Silva's pending appointment has raised concern among human rights activists and international stakeholders.

If President Sirisena makes the appointment, Sri Lanka's co-operation with the United Nation Peacekeeping Force would effectively be terminated, since the UN is prohibited from dealing with state government armed forces personnel under the shadow of war crimes allegations. About 800 Sri Lankan military personnel are currently serving on UNPKF missions overseas. The Sri Lanka Army's defence co-operation agreements with the US will also be in jeopardy, as the US military cannot deal with foreign armed forces under a cloud of war crimes allegations under the terms of the Leahy Amendment.


Silva commanded the 58 Division of the Army operating from Welioya during the final phase of the war in 2009. The UN has accused the 58 Division of grave violations of International Humanitarian Law that may amount to war crimes. The Division led by Major General Silva remains under a cloud for allegedly executing those who surrendered to the military in the famous 'white flag' incident.

In 2012, then-UN High Commissioner for Human Rights Navi Pillay told the United Nations Human Rights Council in Geneva that "there is at the very least the appearance of a case of international crimes to answer by Mr. Silva."

In the same year, Major General Silva was removed from a top United Nations peacekeeping advisory committee because of allegations against his conduct during the final phase of the war.


The Office of the High Commissioner of Human Rights Investigation on Sri Lanka (OISL) pointed to credible evidence that the 58 Division had fired artillery into the No Fire Zone that the Government had ordered civilians into to "prevent" being caught in the crossfire. Under Silva's command, the 58 Division is also implicated in several UN reports as having attacked hospitals where the injured were being treated and milk queues inside the No Fire Zone.

Major General Silva's appointment as Chief of Staff of the Army earlier this year gave rise to similar concerns but the authorities didn't reverse the decision.
31 new brigadiers
President Maithripala Sirisena yesterday promoted 31 colonels in the Sri Lanka Army to the rank of Brigadier, according to the Army Spokesperson.