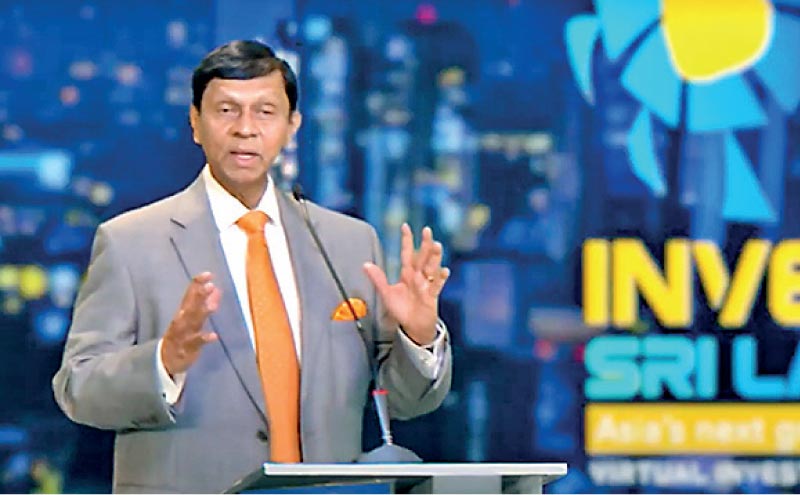 State Minister Ajith Nivard Cabraal
---
Assures mutual benefits as country aspires to grow by 6.5% and higher
Showcases list of historic achievements of SL when others doubted
Cites winning the war, sin​gle digit inflation, interest rates, depreciation and 2.5 m tourists as cases in point
Predicts policy shift towards 100% organic agriculture will be achieved
Says to deliver higher growth, hard decisions need to be made
Insists SL has, in President Rajapaksa, solid leadership to take tough decisions benefitting next generation rather than next election
Dispels the myth that Port City is meant only for investors of a particular country
Identifies Port City as part of Asia's growth story
Urges international investors not to miss taking a position in Port City
---
State Minister Nivard Cabraal yesterday urged global companies to be part of Sri Lanka's growth story, assuring mutual benefits to all including the South Asia region.

In wrapping up the three-day virtually-held Sri Lanka Investment Forum (SLIF), which saw addresses by the President and the Prime Minister among others, the Money, Capital Market and Public Enterprises Reform State Minister Cabraal made a passionate yet realistic pitch to woo the interest of over 1,000 companies attending the event.

He used historical domestic developments to tell the world that Sri Lanka has done – and can do – what was previously dismissed as "impossible" or "cannot be."

"When we spoke of achieving 8% economic growth, people said it is not possible, but we realised it in the immediate aftermath of the end of the war. When we aimed at single digit inflation people ruled it out, but it has been the case for the past 10 years. I will say the same when it comes to single digit interest rates and depreciation," Cabraal emphasised.

Other achievements Cabraal cited included 2.5 million tourists (in 2018), the first international sovereign bond, and the deposit insurance scheme.

He also recalled that when President J.R. Jayewardene wanted to compress a 30-year Mahaweli Development Program to six, there were sceptics but "he (J.R.) did it, and the same happened when the then President Mahinda Rajapaksa promised to win the war."

Bringing SLIF participants to the present day, Cabraal said President Gotabaya Rajapaksa has set a challenge to move towards 100% organic material as opposed to chemical fertiliser, in a shift towards sustainable agriculture.

To deliver higher growth Cabraal said: "Leaders have to make tough decisions. Fortunately, in President Gotabaya Rajapaksa we have one who can make such a decision. The same way the then President Mahinda Rajapaksa was strong and decisive in taking decisions to deal with terrorism, infrastructure development and economic growth, today President Gotabaya Rajapaksa has the same ability to take some tough decisions, to make a change and take Sri Lanka to a sustainable development path. We need solid leadership that looks at the next generation rather than the next election. We have that."

Noting that the target of 6.5% GDP growth in the next few years (after a 3.6% contraction in 2020) is a tough call, Cabraal said: "If all can work together, realising it is possible."

However, he admitted that Sri Lanka also needs to get the basics right along with macro fundamentals, infrastructure development, and the ease of doing business.

"These are important for a country to move forward with agility and confidence. This should be done in public private partnerships," Cabraal said, adding that Sri Lanka can and must go up to the 25th position in the Ease of Doing Business by 2025, up from its present level in the 90s.

He said to achieve a 6.5-7% growth, Sri Lanka needs foreign direct investments amounting to 3-4% of GDP to fill the gap in required overall investment.

In that context, Cabraal proactively promoted the Port City. He said Sri Lanka could have located the Port City anywhere in the island nation, but that Colombo was selected to ensure the greatest amount of reach and support the project could generate and to highlight Sri Lanka's potential to the world.

He said the Port City will contribute around $ 4-5 billion in the short-term to Sri Lanka's $ 80 billion economy, and $ 15 billion in five to six years.

According to him, the Colombo Port City project and the Hambantota port are among key projects which will take Sri Lanka forward.

"We have a great desire to make it happen," he said, adding that the Port City will unveil massive opportunities for new investment, jobs and economic growth.

Cabraal also invited SLIF participants and other global companies and investors to take a position in the Port City and dismissed the fallacy that the opportunity is only for investors of a particular country – meaning China.

"I want to dispel that myth. This is not so. With open arms we are inviting investors from all over the world. Please come and look at the potential of the Port City. Be part of something which is a part of the growth story of Asia – we don't want you to miss it."

Cabraal also said in challenging times, certain windows close, which can be discouraging.

"I can tell you when one window closes, there is always the door that can be opened. As far as Sri Lanka is concerned, we are opening a few doors providing awesome opportunities to global investors. Take advantage and be part and parcel of Sri Lanka's growth story, which will benefit investors, Sri Lankans and the region (South Asia)."

Termed as Asia's first and largest virtual investor forum, the SLIF, drew 4,000 participants, including 1,500 investors and over 100 speakers, across 120 sessions. It was organised by the Board of Investment, Colombo Stock Exchange and the Ceylon Chamber of Commerce, with support from multiple private sector companies.