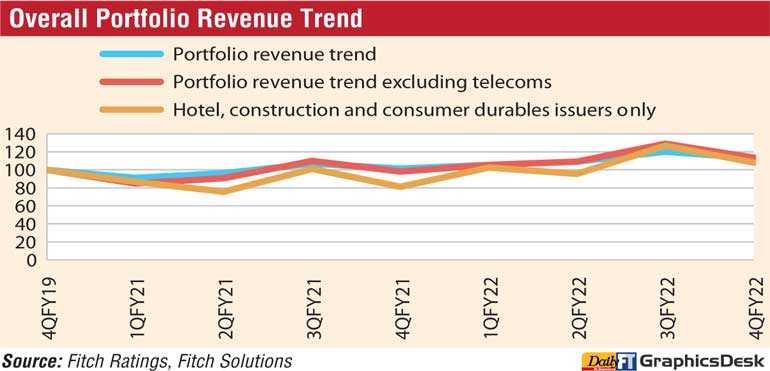 ---
Fitch Ratings yesterday warned that rated Sri Lankan corporates are set to lose around Rs. 30 billion in revenue in the financial year ending March 2021 (FY21) due to the coronavirus pandemic-led economic downturn.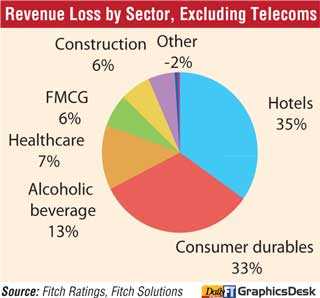 This is a 7% YoY decline in revenue compared with FY20. If the country's two large telecom companies are excluded, the revenue loss deepens to Rs. 40 billion.

Fitch has taken negative rating action on 30% of the corporates in its portfolio to reflect the impact of the pandemic, with the majority of these entities remaining on Negative Outlook or Rating Watch Negative.

This suggests the possibility of further downgrades should recovery prospects be delayed, although a faster recovery than we expect could lead Fitch to revise the Outlooks to Stable.

Fitch said the hotel sector would see the sharpest revenue decline, with projected revenue losses of around 75% YoY in FY21, accounting for 35% of the aggregate revenue fall. While demand from domestic visitors has resumed, it does not expect a meaningful recovery in hotel earnings until international travel normalises, which is at least nine to 12 months away.

Fitch-rated corporates' exposure to hotels is limited and counterbalanced by exposure to more defensive sectors.

However, hotels account for a disproportionate share of employment in the wider economy.

"We expect consumer durables retailers to account for the second-highest revenue drop; the sector represents 30% of the aggregate revenue loss. Demand for consumer durables has improved since the lockdown was lifted, primarily due to pent-up demand. However, demand may again weaken on falling disposable incomes after the initial post-lockdown enthusiasm dissipates," Fitch said.

Fitch expects telecoms and pharmaceutical distribution and manufacturing to prove resilient during the post-lockdown period, while the fast-moving consumer goods and food and beverage sectors should record a fast recovery owing to their essential nature and defensive demand characteristics.

The Special Report, 'The Road Back: Post-Lockdown Assumptions for Sri Lankan Corporates,' is available at www.fitchratings.com.