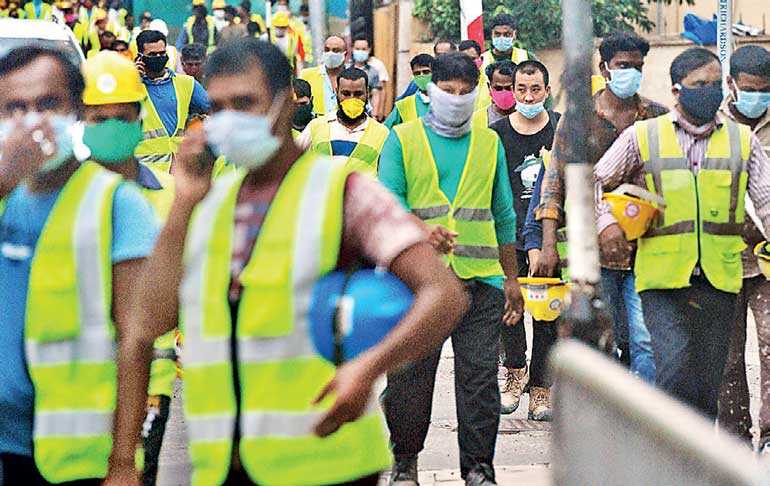 Workers wearing facemasks leave a construction site at the end of their shift in Colombo yesterday – AFP
119 new confirmed cases of novel coronavirus infections past three days propel cumulative number to 1,182
Majority of new cases are returnees from Kuwait
Sri Lanka records 10th COVID-19 death: 51-year-old returnee from Kuwait
Repatriation flight of Lankans from Qatar postponed as precaution
Close to 65,000 arrests made over curfew violations
Day-time curfew lifted in Colombo and Gampaha from today
By Shailendree Wickrama Adittiya

The long weekend saw a worrying development of 119 confirmed cases of novel coronavirus (COVID-19) in the country propelling the cumulative figure to 1,182 apart from recording the 10th fatality.

Of the 119 confirmed cases, 93 came yesterday and day before whilst on Saturday the number was 26.

The majority of the new cases were returnees from Kuwait including the fatality, a 51-year-old woman who was completing the quarantine process in Trincomalee.

The Department of Government Information issued a statement yesterday stating that the individual's death was sudden but that she had tested positive for COVID-19. The Health Promotion Bureau records Sri Lanka's fatality rate as 0.85%.

A statement by the Department of Government Information stated that 40 of them were returnees from Kuwait while the other was a returnee from Dubai. With the new cases, the total confirmed cases in Sri Lanka has risen to 1,182. On Sunday there was a record 52 persons confirmed of COVID-19.

The Epidemiology Unit said on Sunday, 1,742 PCR tests were carried out and 52 persons, including 50 overseas arrivals at quarantine centres, tested positive. It stated that 21 persons recovered from COVID-19 during the 24-hour period that ended at 10 a.m. yesterday.

The situation report by the Epidemiology Unit for 24 May stated that 21 new cases and 14 recoveries were reported during the 24 hours ending at 10 a.m. that day.

The Epidemiology Unit states that 477 patients are currently under medical care. This includes 76 at the National Institute of Infectious Diseases, 66 at the Welikanda Base Hospital, and 62 at the Navy Hospital.

In addition to this, 79 suspect patients are currently under investigation at various hospitals.

21 persons recovered from COVID-19 yesterday, bringing the total count to 695. The total recoveries include 313 Navy personnel who have been discharged having recovered from COVID-19, the Sri Lanka Navy stated. They have been directed to complete a further 14 days in quarantine.

The Sri Lanka Navy also stated that 14 persons left the Boossa Quarantine Centres yesterday having completed the quarantine process. The 14 persons were engaged in security duties aboard international ships. As of now, 193 persons have been released from the Boossa Quarantine Centre and 85 persons continue to be under observation at the centre.

With regard to repatriation flights, it was reported that the flight scheduled for yesterday to bring down Sri Lankans from Qatar has postponed after a large number of returnees from Kuwait tested positive for COVID-19.

Foreign Relations Ministry Secretary Ravinatha Aryasinha said in consultation with Sri Lanka's Acting Ambassador in Qatar Minister Dinesh Gunawardena has been instructed as an interim measure, to immediately find accommodation for those stranded, following the cancellation of the SriLankan Airlines flight from Qatar, scheduled for yesterday.

The Defence Ministry stated that a SriLankan Airlines flight carrying 181 persons from Moscow, Russia, arrived in Sri Lanka yesterday morning. On 22 May, another flight from Russia brought down 260 persons.

It was also reported by the Defence Ministry that 64,387 individuals and 18,169 vehicles have been taken into Police custody over curfew violations since 20 March. The Ministry added that Police records showed a total of 1,710 individuals and 557 vehicles were taken into custody during the 24-hour period ending at 6 a.m. yesterday.

Addressing the press yesterday, DIG Ajith Rohana said legal action has been taken against 20,000 persons and 7,000 have received sentencing as of now. He added that legal action will be taken against other persons arrested as well.

He went on to state that those who do not adhere to social distancing measures or aid such behaviour will also be arrested from today onwards. This includes customers as well as store managers and owners where social distancing measures are not followed.

"The first Sri Lankan COVID-19 patient was identified on 11 March. On 18 March, we had to impose the quarantine curfew on the Puttalam District and Kochchikade Police Division. From 19 March, islandwide curfew was imposed," he said, adding that since then, curfew has been temporarily lifted from time to time. While curfew was lifted in all other districts during daytime, it is only today that curfew is being lifted during the day in the Colombo and Gampaha Districts.

Night-time curfew from 10 p.m. to 4 a.m. islandwide will continue until further notice and inter-district travel will be allowed in all districts except Colombo and Gampaha.

While three-wheelers and cabs were allowed to operate in Colombo and Gampaha Districts for the purpose of allowing people to travel to and from work, they will now be allowed to operate as usual. However, only two adult passengers will be allowed in a three-wheeler and only three adult passengers in a car at a time.

He added that guidelines for various sectors have been published on the Health Ministry website. The guidelines include weddings and beauty parlours. He added that while massage parlours, gyms, as well as roadside restaurants and vendors selling food ready for consumption are not allowed to resume operations yet, health authorities will issue guidelines on how to prepare for the resumption of operations in the future.

"This is not an attempt at putting people in any kind of difficulty or disgrace but these measures are taken as the chances of the virus spreading through these services are high," DIG Ajith Rohana said.

He added: "With or without curfew, people must keep a few things in mind. Firstly, if you are not employed, self-employed or if you do not have any special work, stay at home as much as possible." He explained that the second but most important factor to keep in mind was social distancing.

This is vital when greeting people, he said, as people are used to shaking hands, hugging, and kissing in greeting. However, he added that these behaviours should not be practiced due to social distancing measures in place. DIG Ajith Rohana added that people must continue to follow health sector guidelines, especially on face masks and hand hygiene, and report any symptoms to health authorities.

He added that 55,000 offers have been on duty on a daily basis to monitor adherence to curfew regulations and health sector guidelines and that the number of night-time roadblocks has been increased.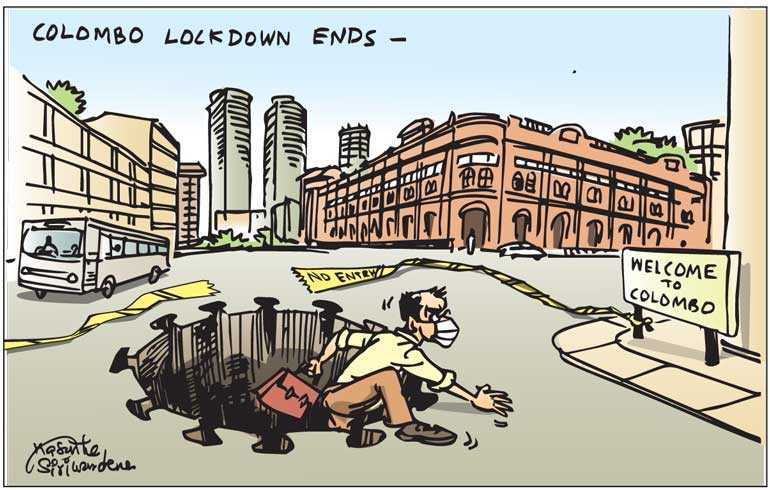 ---
Global COVID-19 cases cross 5.40 million, death toll tops 343,900
Reuters: Over 5.40 million people have been reported infected with the novel coronavirus globally and 343,900 have died, a Reuters tally shows.

Infections have been reported in more than 210 countries and territories since the first cases were identified in China in December 2019.

Following are the countries that have reported most deaths so far:
US – 97,568
UK – 36,793
Italy – 32,785
Spain – 28,678
France – 28,367
Brazil – 22,666
Belgium – 9,280
Germany – 8,279
Mexico – 7,394
Iran – 7,300
Canada – 6,424
Netherlands – 5,822
China – 4,634
Turkey – 4,308
Sweden – 3,998
India – 3,867
Russia – 3,541