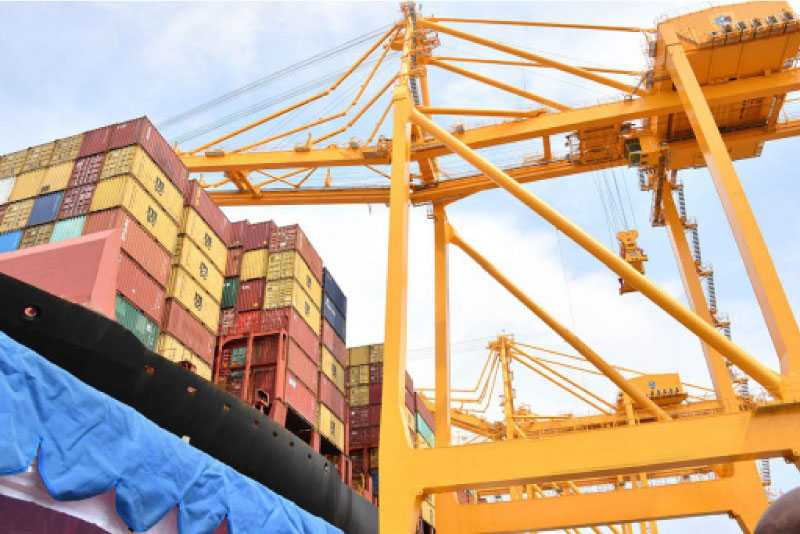 Growing number of virus cases challenges seamless operations
Employees of State-run JCT hit by dozens of patients, 200 self-quarantined, 1,000 PCR tested
Industry concerned, says at least 35 ships have bypassed port in recent weeks
SLPA says situation being tackled, private sector workers and retired personnel being drafted to replace sick workers
Expects situation will improve by weekend
---
By Asiri Fernando
---
Seamless running of the Colombo Port could be running into a squall, the shipping industry warned yesterday, as operations slowed due to the impact of dozens of State-run Jaya Container Terminal (JCT) employees testing COVID-19 positive, at least 200 others ordered to self-quarantine, and about 35 ships prevented from unloading cargo.

Shipping industry officials, who requested anonymity due to the sensitiveness of the issue, acknowledged there were concerns of more than 35 ships having bypassed the Colombo Port in recent weeks due to the delays caused by reduced workers at JCT and elsewhere. Industry stakeholders were also concerned that coordination between the three terminals could also be disrupted if the COVID-19 threat continues to spread.

"The situation at JCT is affecting container trucking between Colombo International Container Terminal (CICT) and South Asia Gateway Terminal (SAGT), and causing delays which Colombo Port cannot afford. Some containers are held up for weeks, and it may create a backlog," an industry official said.

A significant volume of the Port's container traffic, as much as 50%-60% moves between CICT, SAGT and the JCT due to transshipment requirements and any disruption to activities at JCT can have spillover effects for the entire port, he explained. The industry also requested more Government support to reduce any potential worsening of COVID-19 spread among port employees.

However, senior Sri Lanka Ports Authority (SLPA) officials told Daily FT that adequate measures were being taken to contain the COVID-19 impact and fill the gap of terminal operations specialists by bringing in private sector employees and experienced retired personnel, thereby ensuring that operations will continue smoothly.

SLPA Chairman General (Retd.) Daya Ratnayake assured that contingency plans were in place and a range of measures were being taken to address the matter. "We have been recruiting private sector personnel and recalling some experienced retired workers to fill in the gaps of key operations needed to keep the JCT operational," Gen. Rathnayake told the Daily FT.

"We conducted 500 PCR tests on Tuesday and will conduct another 500 on Thursday (today). Of the 500 tested already, 31 employees from JCT were found to be COVID-19 positive. This is not a unique problem for Colombo Port and we are taking steps to address the matter. We are confident that by Sunday, Port operations will be back to normal."

Gen. Rathnayake acknowledged that the situation at the JCT was a challenging one and that finding skilled and qualified replacement operators for the terminal's machinery was not an easy task. He also pointed out that some 200 SLPA staff members have been directed to self-quarantine at home in accordance with COVID-19 public health regulations.

"We have been in touch with shipping companies and explained the situation. We are doing everything possible to bring the Port operations to normal levels," the Chairman stressed.

A senior official at SAGT said that in spite of some delays, they remain confident that the situation in Colombo Port will return to normal in the coming days. "Any vessel bypassing us is a concern. The JCT is undergoing some issues due to manpower constraints after COVID-19 infections were detected. There are no fool proof contingencies for such situations. This situation affects many other ports regionally and internationally too," the SAGT official added.

"We think that SLPA is taking precautionary measures and trying to mitigate the impact."

According to trade union activist Prasanna Kalutharage, a number of key machinery operators of JCT have been infected or were directed to place themselves under quarantine, resulting in delays. Kalutharage pointed out it was difficult to fill specialist roles such as gantry crane operators and other critical machinery operators as they were the few qualified personnel within the SLPA or the larger industry.

Concerns over the Colombo Port were also echoed by Samagi Jana Balawegaya (SJB) Parliamentarian Harin Fernando, who took to Twitter to express his concerns and warned that continued delays could affect the Port's hub status.