$ 1 b for nine projects including solar energy, infrastructure, health and irrigation
$ 75 m in SME loans under 'Enterprise Sri Lanka'
Active portfolio of $ 4 b for 35 projects
Upbeat about FTAs, says trade deals not seen in isolation but as tools to boost growth
Views National Export Strategy and Enterprise SL as initiatives significantly contribute to mobilise more private sector investments in the coming years
Says FDIs still very low, asserts need to assist Govt. in improving Doing Business Index ranking
Concerned over low growth, but backs Govt.'s fiscal consolidation
Forecasts GDP to grow at 4.2% this year and 4.8% in 2019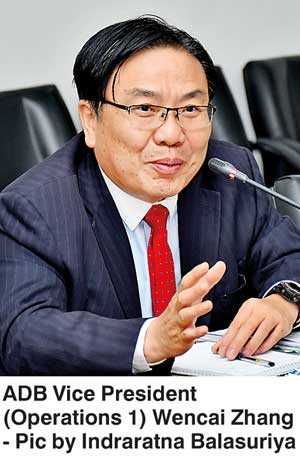 By Charumini de Silva

The Asian Development Bank (ADB) yesterday reiterated its commitment to support Sri Lanka's continued development drive to achieve inclusive growth, earmarking $ 3 billion over the next three years, in line with its renewed long-term corporate blueprint 'Strategy 2030' for a slew of projects including infrastructure, energy, health, fisheries and education.

Concluding a three-day visit to Sri Lanka, ADB Vice President Wencai Zhang reaffirmed that they would further strengthen its country-based approach to Sri Lanka. "From 2019 to 2021, our commitments will total $ 3 billion, where we plan to disburse $ 1 billion each year for development of ports, railways, roads, secondary and higher education, electricity transmission and distribution, fisheries, irrigation, wastewater management, drinking water, sanitation and support Small and Medium Enterprise (SME) projects in Sri Lanka," he told reporters yesterday.

ADB expectsto sign a total of $ 1 billion to finance nine projects during this year which include rooftop solar energy, a Mahaweli water security investment program, SME line for credit (additional financing), skill sector enhancement program, health system enhancing, elevated highway, urban project –preparatory facility, a fisheries development, science and technology and human resource development project.

As at 31 July 2018, ADB's active project portfolio in Sri Lanka stands at 35 projects with a net loan of $ 3.9 billion.

He said the country operations business plan (COBP) 2019-2021 is consistent with the strategic priorities of the country partnership strategy (CPS) 2018-20222 of ADB for Sri Lanka.

The COBP 2019-2021 reflects efforts to enhance ADB's development effectiveness in Sri Lanka by focusing on long-term engagement, ensuring project readiness, deepening partnership with line agencies and maintaining a degree of flexibility to respond effectively to the Government's evolving needs.

Based on observations, ADB expectsSri Lanka's GDP to grow at 4.2% this year and 4.8% in 2019. However, Zhang said that this growth was still relatively low compared to the regional growth of 7%.

In addition, pointing out that Sri Lanka'sforeign direct investment (FDIs) was still very low, he asserted the need to assist the Government in improving the overall businesses environment, particularly the Doing Business Index ranking in the coming years.

"I think Sri Lanka has the potential. We feel that if the Government sticks to the structure of reforms in the economy and tries to improve the Doing Business Index indicators, the country will grow faster. But the drivers of growth need to come from large public investments, private sector-led growth and improved exports," he added.

The ADB Vice President believes reform initiatives such as Enterprise Sri Lanka and the National Export Strategy (NES) will significantly contribute to mobilise more private sector investments in the coming years.

It was noted that part of the approved $ 75 million for SME credit line (additional financing) this year was also for businesses under the Enterprise Sri Lanka initiative.

"More private sector investments, improved exports, employment generation and more SME financing will enable Sri Lanka to rely more on private sector-led growth which will result in high quality inclusive growth," he stated.

Zhang commended the Government's efforts in managing macroeconomic fundamentals in the areas of trade imbalance, consolidation, tax reforms and management of external debt during the past few years.

In terms of the implications of the ongoing trade wars in the world economy and its impacts on Sri Lanka's exports, he expressed cautionover economic prospects, while noting that it was common to all developing nations.

"Increasing trade protectionism, volatile finance markets, trade wars and less global equity were challenging to all economies in the world. It is not easy to increase exports in these circumstances, but it is important for each and every country to look at ways and means on how best they can overcome these challenging situations. I feel that we still need to stick to open trade and investment policies," the Vice President emphasised.

Despite Sri Lanka no longer being eligible for ADB concessionary loans from 1 January 2019 given its economic progress and rising per capita gross national income (GNI), the ADB assured continued support through its ordinary capital resources (OCR).

"ADB's aspirations are aligned with major global commitments such as the Sustainable Development Goals (SDGs), Financing for Development agenda, the Paris Agreement on Climate Change and the Sendai Framework for Disaster Risk Reduction. Strategy 2030 recognises that the ambitious global development agenda must be tailored to specific local circumstances," he stressed.

The ADB officials also expressed confidence that Sri Lanka would benefit from the impending Free Trade Agreements (FTAs), but urged to look at them in totality without considering them individually.

Vice President Zhang met with Prime Minister Ranil Wickremesinghe, Treasury Secretary Dr. R.H.S. Samaratunga, Secretary to the President Udaya Seneviratne, Secretary to the Ministry of National Policies and Economic Affairs and ADB Alternate Governor for Sri Lanka K.D.S. Ruwanchandra and Central Bank Governor Dr. Indrajit Coomaraswamy.

During his three-day stay in Sri Lanka,Zhangvisited ADB-funded projects, including a Technical College in Mirijjawila in the Southern Province, which offers vocational training courses in various skills including information communication technology, welding, carpentry, automobile mechanics and landscaping.

He alsointeracted with students who shared their career aspirations and the opportunities offered by the Technical College.

In addition, he visited the Handapanagala irrigation watershed identified under the proposed Integrated Water Productivity Improvement Project in the Monaragala District that will assureproductive use of irrigation water for farmers.

In the village of Handapanagala, Vice President Zhangspoke to residents who had benefited from an ADB energy project that helped villagers meet the initialinvestment cost of electricity connections to their homes.