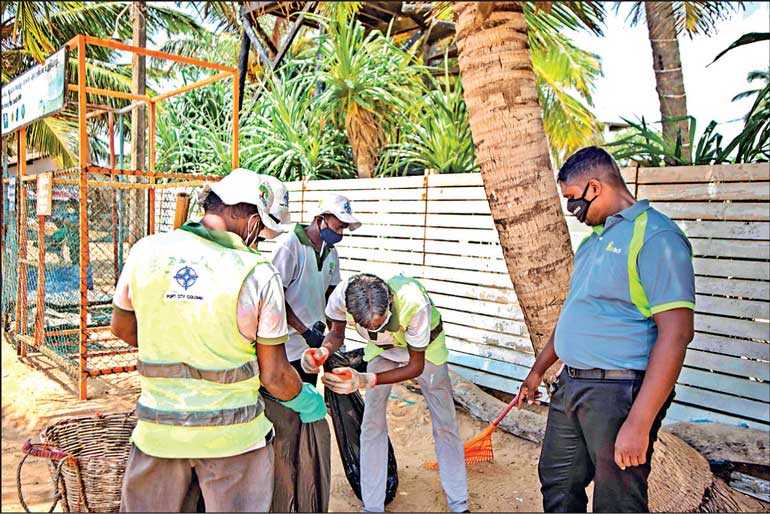 ---
Initiative led by Port City Colombo and facilitated by Wana Arana
Cleantech Ltd., Sri Lanka's pioneering leader in solid waste management solutions, recently concluded a year-long beach clean-up project covering a six km beach strip between Mount Lavinia and Wellawatte, an initiative led by Port City Colombo.

The project 'Lassana Werala' involved daily cleaning efforts facilitated by the Wana Arana Foundation, a youth environmental organisation, and concluded on 31 March with a total of 154,080 kgs of collected waste.

A significant portion of the waste collection was attributed to but not limited to plastic waste, PET and glass bottles, beer cans, fishing nets, and cigarette filters. Fabric waste, rubber slippers, tyres, Styrofoam, food waste, invasive plants, and coconut shells, husks and leaves were significant sources of pollution as well. The majority of waste collected during the beach clean-up was carefully segregated and recycled to partner companies engaged in sustainable manufacturing.

"In addition to keeping our beaches clean, our objective was to gain deeper insight into the waste and marine debris profile in one of the most urbanized shores in Sri Lanka. The waste collected during the past year was significant and paves way for our organisation to better understand the gaps in current solid waste management practices and optimise recycling and resource recovery options as a solution. We believe that collaboration is key to accomplishing mammoth tasks such as these and consider it a privilege to have been part of the 'Lassana Werala' initiative along with like-minded partners on a cohesive mission to safeguard our environment," commented Cleantech Operations Manager Gihan Chamara.

"With the World Earth Day theme for 2021 being 'Restore our Earth', we reinforce our commitment to providing innovative solutions geared towards mitigating the negative impact of people's harmful actions. We are hopeful that with the continued involvement of our communities and support from the public and private sectors, we will be able to make a difference beyond our island nation in safeguarding our environment, including the ocean that surrounds us," he added.

"The environment is where we all meet. As we all walk towards the common goal of prosperity in our own chosen directions, protecting the earth must be at the core of all our actions," commented Wana Arana Foundation Secretary Thushara Wanasinghe.

Cleantech extends its heartfelt appreciation to the Port City Colombo for initiating the 'Lassana Werala' beach clean-up. The company also appreciates the Colombo and Dehiwala Mount Lavinia Municipal Councils, the Sri Lanka Coastguard, the Coastal Conservation Department, the Sri Lanka Police and Sri Lanka Navy for the significant support extended towards effectively implementing this project.

Cleantech is Sri Lanka's pioneer and market leader in solid waste management solutions, continuously seeking new opportunities to enhance solid waste management practices in Sri Lanka and minimise final disposal of waste outputs by utilising resource recovery.