Seneviratne and Zuhair paint EZY Racing's colours at Pannala
EZY Racing's Sri Lankan Racing Duo Dilan Seneviratne and Sajaad Zuhair dominated the Pannala Race Track at the SLARDAR-AMRC Tarmac Championship which concluded over the weekend.

Fresh from their recent International Championship, won at the Asia Pacific Rally Championship, the country's most successful motor racing team went into the final race of the year with an impeccable record that boasted a win in every race they competed in, in 2015. Saturday was business as usual for Zuhair who once again claimed pole position in his SLH 1600 event and SLS1500 event, where he had a minor setback in Katukurunda a few weeks back. Seneviratne however had a much tougher qualifying session where he struggled with severe lack of horsepower to qualify last on the grid.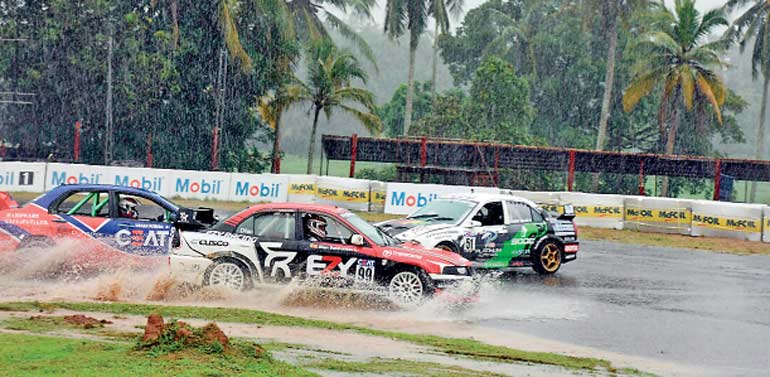 Dilan Seneviratne avoiding a possible collision


With over 350,000 fans eagerly following the team's progress on their fan page in their final performance for the year, Zuhair delivered his usual best by winning comfortably in the SLH 1600 event over Irfan Fuard who was closely followed by Shehara De Silva, the only lady driver on the grid. The experienced EZY Racing driver completed yet another win in the SLS 1500 event over Madushan Manamperuma and Nishan Wasalathanthri to win the CEAT SLARDAR-AMRC Tarmac Championship for their respective events in 2015. "It's been a phenomenal feeling to be a double champion on the tarmac," said a jubilant Zuhair after the race. "As a team, this is the first time that we decided that we will compete for a championship. Winning both the SLS (1500CC) and SLH (1600CC) championships on our first attempt speaks a lot about our team. I am very happy to have been able to deliver this to the team who has believed in me for the last six years".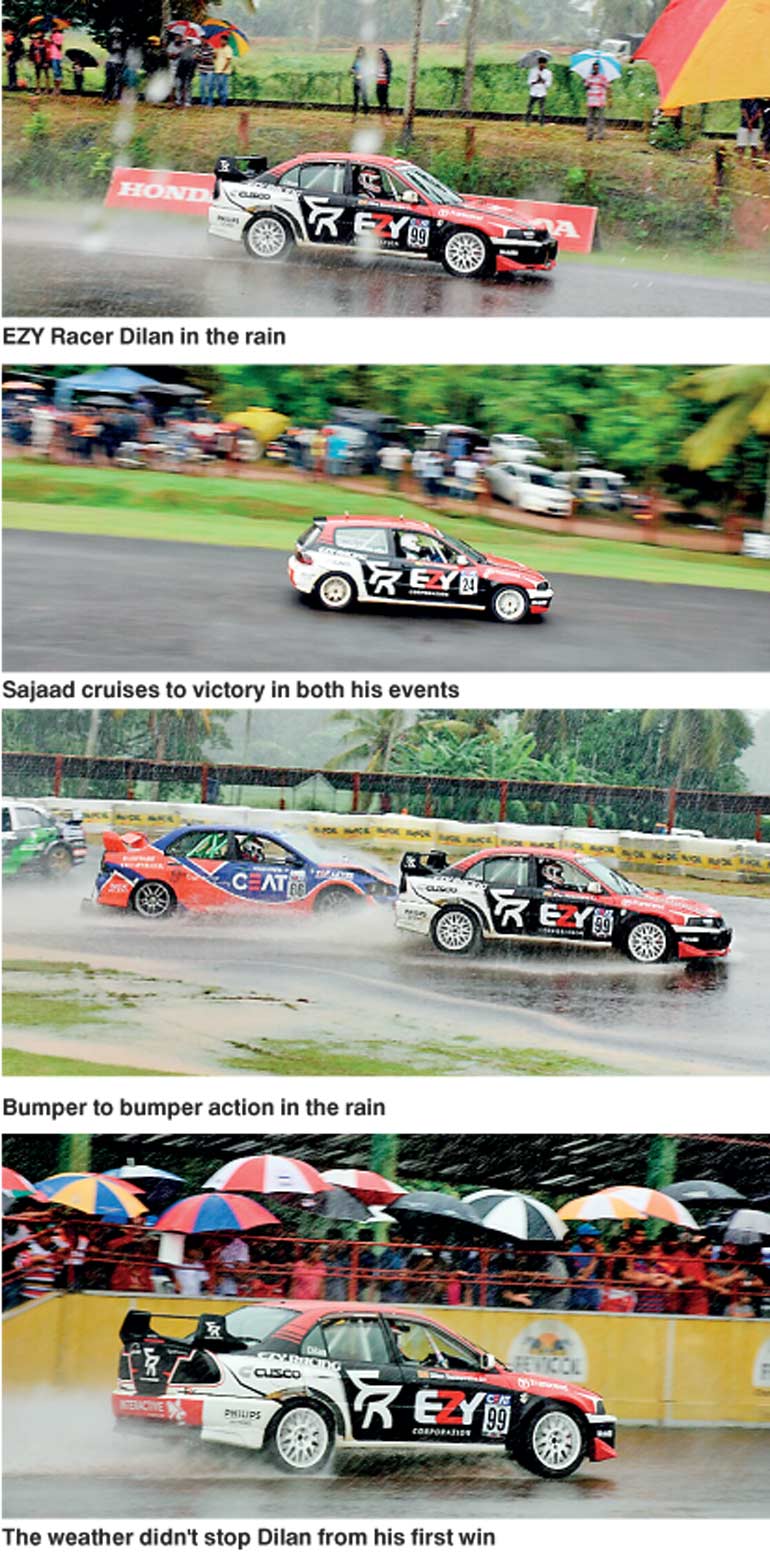 It was Seneviratne's day as heavy rains saw a scintillating race where drivers were seen demonstrating exceptional driving skills to overcome the wet conditions. With the race lead being exchanged in every lap, Seneviratne calmly awaited his opportunity to take the leading position a few laps away from the chequered flag. Having seen every driver in front of him make several mistakes that cost them the race lead, Seneviratne drove in a composed manner to taste his very first victory in the SLGT category since moving into this class two years back.

"It's an amazing feeling to have been able to win in the final race of the season. We knew we couldn't take the others on as we were a few notches down on BHP. I was hoping for rain as I had faith in my abilities and God decided to answer my prayers. Throughout the race, I was biding my time and knew my opportunity would come. I decided to control the pace at the front where I could comfortably hold on," stated an elated Seneviratne who decided to take his two-year-old son to the podium.

Zuhair, who has been a stalwart of the champion race team since its inception, was thankful to the team for the continuous support he had received to achieve this success.

Founder and CEO of the EZY Racing Shafraz Hamzadeen was full of praise for his drivers. "We are blessed to have a combination as good as Dilan (Seneviratne) and Sajaad (Zuhair). The Sri Lankan motor racing calendar is not an easy one to compete in. It's a long calendar with three race organisers running their own championships which accounts for the National Championship. It's always a difficult task to commit to such a long and strenuous calendar and I must thank Sajaad and Dilan along with their families for the time and commitment given to EZY Racing this year."

The black and red team conclude the year arguably as the best motor racing team in the country who have finished on the podium in every race locally and internationally in 2015.