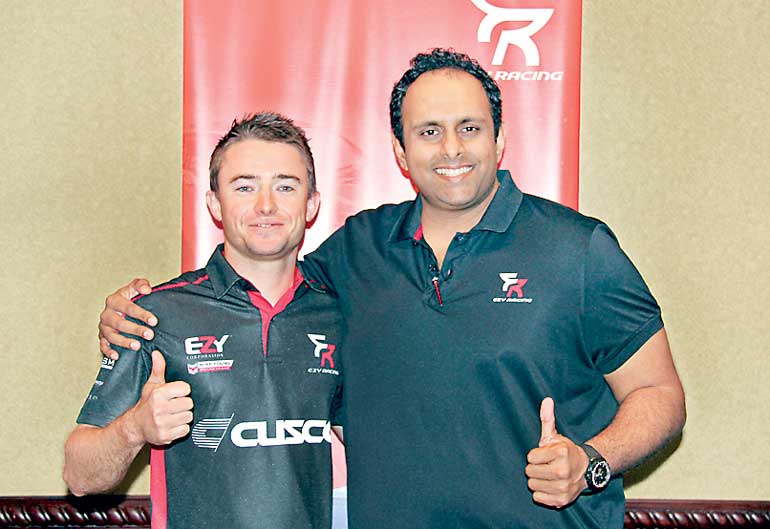 Asia Cup Japan Winner Mike Young and EZY Racing CEO Shafraz Hamzadeen – Pic by Bhanuka Kirinde
By Malik Gunatilleke

EZY Racing's Kiwi driver Mike Young, who recently brought glory to Sri Lanka by delivering its first-ever FIA-sanctioned race win after claiming victory in the Japanese Rally leg of the Asia Cup, promised to help make Sri Lanka an international racing destination.

The 22-year-old driver's affiliation with EZY Racing has only been four rallies long but has already begun to yield positive results securing podium finishes in all the races it has completed except for the Malaysian Rally during which an accident knocked them out of the running.

"I'm happy I was able to provide Sri Lanka with its first international win in an FIA sanctioned event. I hope this will be the first of many. I also hope that we will finish the Asia Cup strongly," he said at felicitation held in his honour at Hilton Colombo Residences yesterday.

Sri Lanka now sit in second spot in the Asia Cup with two rallies left to go – one in China at the end of this month and the final rally in India in December – and are in a strong position to contest for the overall championship.

"We are currently positioned very strongly to compete for the Asia Cup Championship. We will go all out for it and hopefully by December when we complete the last leg of the APRC for 2015 in India, I will be able to give Sri Lanka its very first FIA Championship," he said.

The young driver has been rallying for five years before joining up with EZY racing. Claiming to have inherited his father's passion for racing, Young started on the go-karting circuits. He is a four-time Junior APRC Champion and the 2013 Asia Cup Champion and joined up with Sri Lanka's EZY Racing earlier this year after being identified as the right man to take forward Sri Lanka's racing brand.

"After our initial experiences with international rallying we realised that we didn't have the right partnership between the driver, co-driver and technical team. With Mike we knew we had identified a driver with the right experience along with a young aggression," said EZY Racing Founder and CEO Shafraz Hamzadeen who hosted the event.

He also stated that Young's star was rising rapidly in Sri Lanka as well as the rest of Asia, stating that there was an emergence of thousands of fans from around the region. Young's visit to Sri Lanka is also part of EZY Racing's plan to provide fans with the opportunity to meet the Kiwi driver. Today, Young will meet with a few lucky Sri Lankan fans, who won the chance to have lunch with the champion driver.

"Just last month, around 40,000 Bangladeshi fans and around 30,000 other fans from around the world joined our Facebook page. This is why we felt that it was important that the fans get to interact with Young a little more," Hamzadeen said.

EZY Racing's dream of putting Sri Lanka on the world's racing map has been an international endeavour with the Sri Lankan racing brand having partnered with a driver from New Zealand and Japan's Cusco. In fact, Hamzadeen highlighted Cusco's contribution to EZY's success stating that its engineering capabilities completely transformed the Sri Lankan team into real contenders. Representatives of Cusco are also visiting Sri Lanka to explore possible avenues of furthering their partnership with the EZY Motor Racing Corporation.