Reuters: This year's Wimbledon singles tennis champions will receive 2.2 million pounds ($ 2.84 million) each – a hike of 200,000 pounds for both the men's and women's winner, organisers said on Wednesday.

Tournament chiefs unveiled the increased winners' cheques among a larger total prize pot of 31.6 million pounds, up from 28.1 million pounds last year.

The bigger pot benefits players throughout the draw, with first round singles losers set to walk away from the All England Club with 35,000 pounds.

In percentage terms, first round losers benefit the most - their prize being almost 17% higher than last year, reflecting the club's commitment to the lower reaches of tennis.

"We are proud of the important leadership role that Wimbledon plays locally, nationally, and internationally, and are committed to continuing to invest to secure the future of The Championships, and of our sport, for the years to come," club chairman Philip Brook said.

The winners' cheques for the men's and women's singles has doubled since 2011.

Brook said the club had "taken into account" exchange rates, but that the "Brexit effect" had not been instrumental in their calculations.

"Exchange rates go up and go down over time," he said. "In my time with the club I think all four grand slam tournaments have led on prize money, and now the US dollar is particularly strong."

The pound has fallen 14% against the dollar since Britain's vote to leave the European Union last June.

The US Open has yet to announce its 2017 prize money while this month's French Open recently announced that total prize money had risen 12 percent from last year's levels to 36 million euros ($ 39.27 million).

Both the men's and women's singles winners at Roland Garros will receive a cheque for 2.1 million euros ($ 2.29 million).

The grass-court grand slam tournament takes place on the fringes of south-west London from 3-16 July - the latest start for the tournament since 1895.

Organisers said work to install a roof on Court One - the second-biggest showcourt after Centre Court - was on schedule and would be completed in time for the 2019 championships.
---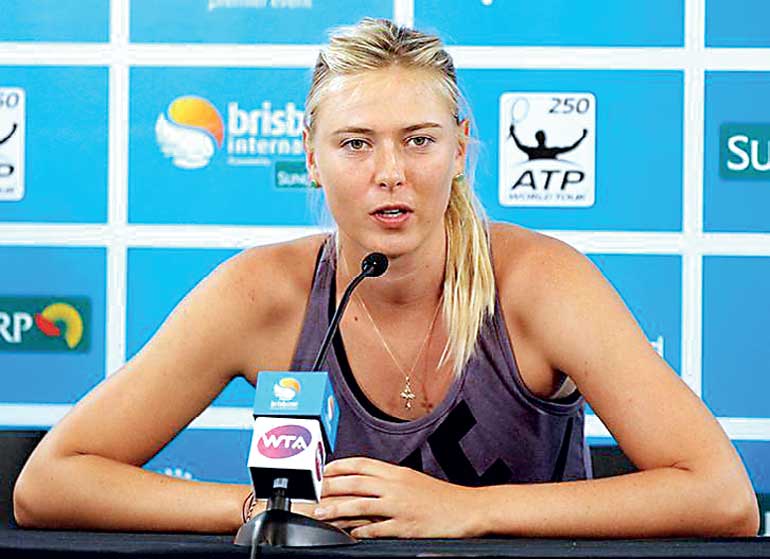 Wimbledon keeps Sharapova guessing on wildcard entry
Reuters: Former champion Maria Sharapova's hopes of playing at this year's Wimbledon championships could hinge on a 20 June meeting of tournament organisers unless the Russian hits form in forthcoming events in Madrid and Rome.

Sharapova, who returned last week after a 15-month ban for an anti-doping violation, could still climb high enough in the WTA rankings to earn a spot in the main draw or Wimbledon's qualifying tournament at Roehampton the week before.

Failing that the 2004 champion's participation would be at the mercy of the Wimbledon wildcard committee.

"We have a long-standing tried and tested process (for awarding wildcards) in the week before qualifying and this year is no different," All England Club chairman Philip Brook said at a news conference on Wednesday.

"First we will see if Maria applies for a wildcard and if so we will consider her case alongside everyone else's.

"It will be a decision for the group on the day."

Sharapova reached the semi-finals in Stuttgart last week as a wildcard entrant, playing her first tournament since her ban for taking the prohibited substance Meldonium at the 2016 Australian Open. Her world ranking rose to 262.

The cut-off date to get back around the top 100, which usually ensures direct entry into the main draw, is 22 May, the day after the conclusion of the Rome tournament in which Sharapova has been handed another wildcard. If she falls short of the main draw, Sharapova could still climb high enough up the rankings to make Wimbledon's qualifying event. The cut-off date for that is 5 June, in the middle of the French Open.

A strong performance from the former world number in Rome, and in Madrid the week before where she has also been handed a wildcard, would spare the All England Club a tough decision as she could return to Wimbledon on merit.

Her return has riled several players, including former world number one Caroline Wozniacki and former Wimbledon runner-up Eugenie Bouchard, both of whom have criticised tournament organisers for handing five-times grand slam champion Sharapova wildcards into their events.

Reigning men's Wimbledon champion Andy Murray has also questioned whether Sharapova should receive special treatment and on Tuesday said he believed tournament chiefs would be "hoping they don't have to make the decision".