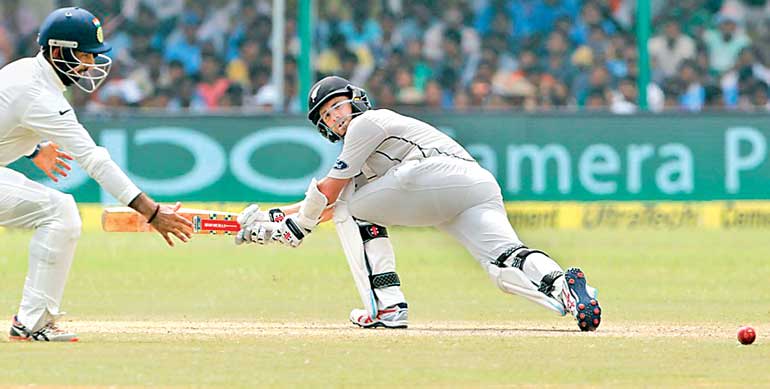 ESPNcricinfo: An unbroken century stand between Tom Latham and Kane Williamson led New Zealand's response to India's first-innings total of 318, moving them to 152 for 1 before rain washed out the final session of day two. But New Zealand's position was still far from secure, with the spinners getting the ball to turn and jump with increasing frequency as the day wore on.

A light rain began just before the players went off for tea, and intensified during the break to become a heavy shower. The rain stopped at roughly 3.15pm, but the umpires decided, after an inspection at 3.45pm, to call off further play.

From the start of their partnership halfway through the first session until about an hour after lunch, Williamson and Latham looked mostly untroubled against R. Ashwin and Ravindra Jadeja. Both batsmen looked to stay on the back foot as much as possible and use the slowness of the Green Park pitch to their advantage. Williamson did this to great effect, manoeuvering the ball into gaps through the leg side and behind point.

Both used the sweep frequently. Latham got in trouble on a few occasions when he swept from a stump-to-stump line, but the shot also brought him a fair proportion of his runs. Williamson was a little more selective, playing it only off balls that were going down the leg side or, more commonly, getting his front leg a long way across to balls pitching outside off – effectively negating lbw – and lapping or paddling behind square.

But as they neared their half-centuries, things began to happen. Ashwin seemed to find the right pace for the pitch, tossing it up a little higher and slower to entice the batsmen forward. Williamson, stretching out to defend, took a blow to the helmet as the ball dipped on him and bounced disconcertingly.

A couple of overs later, Virat Kohli threw the ball to M Vijay, bringing on the part-time offspinner to change his main spinners' ends. In the space of three balls, Vijay beat Latham's edge with a sharply spinning offbreak and had an lbw appeal turned down after hitting his pad on the full with a ball that may just have been angling down the leg side.

Ashwin had another lbw appeal turned down in the next over, when a ball spun sharply back as Williamson tried to defend it off the back foot. It probably struck him outside the line, but it was no longer so easy for the batsmen to sit back against the spinners. Then came the two big moments of the session, both off Jadeja's bowling. On 47, Latham swept Jadeja onto his boot. The ball popped up to short leg, where KL Rahul grabbed the ball on the juggle, but replays – initially called for to check whether the ball had hit the ground after hitting the boot – suggested it had made contact with the strap of his helmet while he took the catch, contravening Law 32.3. The relevant clause says: "it is not a fair catch if at any time after having been struck by the bat and before a catch is completed the ball has touched a protective helmet worn by a fielder."

Then, five overs from tea, Richard Kettleborough shook his head when Jadeja implored him to give Williamson out caught behind. Replays picked up a noise when the ball passed Williamson's bottom-edge as he went back to cut, but Ultra Edge did not show any deviation at that point.

India's only success came in the first session, via Umesh Yadav, who struck with a full, straight ball that Martin Guptill, rather than playing down the ground with a straight bat, looked to work into the leg side, across his front pad. He missed, and ball struck pad in front of middle stump.

It was the end of an edgy innings from an opener still trying to find a method to succeed in Test cricket. He hit Jadeja for two fours, one a straight hit over the top that he didn't quite middle, but also looked troubled by the left-arm spinner, surviving an lbw shout thanks to an inside-edge and nearly losing his off stump while leaving one that went with the arm.

In the morning, Jadeja and Umesh added 27 to India's overnight total, stretching their last-wicket partnership to 41, before Neil Wagner brought their innings to a close at 318. Jadeja went after the bowling, particularly the left-arm spin of Mitchell Santner, which he hit for two fours and a big six over long-on in three overs, and ended unbeaten on 42 off 44. Umesh survived 15 balls before gloving a short ball from Wagner down the leg side to the wicketkeeper B.J. Watling.