Reuters: Former world champions Williams hope their new FW38 Formula One car, presented online last week, will address last year's problems and be quicker on the slower tracks and in wet conditions.

Williams finished third overall last year in the constructors' championship for the second season in a row but again failed to win a race.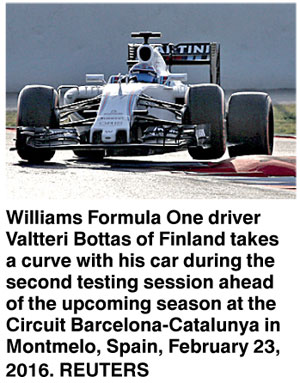 The British-based team, whose last world championship title was with Canadian Jacques Villeneuve in 1997, have not won a grand prix since Venezuelan Pastor Maldonado triumphed in Spain in 2012.

With Brazilian veteran Felipe Massa and Finland's Valtteri Bottas, Williams took four podium finishes in 2015.

Team founder and principal Frank Williams said retaining third place would be a challenge but the aim was to return to the ranks of race winners in a series dominated by engine partners Mercedes for the past two years.

The season, with a record 21 races scheduled, starts in Australia on 20 March.

Deputy principal Claire Williams said the team had started design work earlier than usual and the car launched on Friday would have further updates before racing in Melbourne.