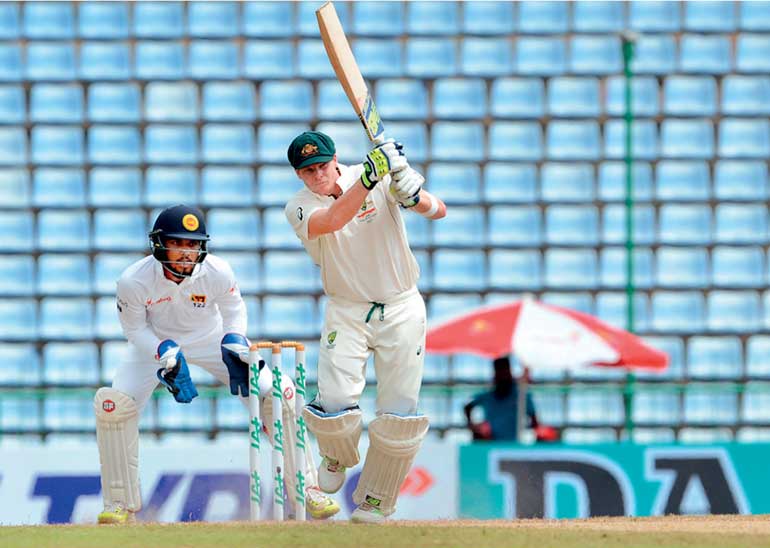 Steven Smith plays towards mid-on, Sri Lanka v Australia, 1st Test, Pallekele, 4th day,

July 29, 2016 - AFP
ESPNCricinfo: Australia's captain Steven Smith ranked a surprise hiding at the hands of Sri Lanka among the most deflating results of his career, after pledging his leadership would be focused upon improving the national team's record in overseas territory.

The 106-run defeat in little more than three days of actual playing time has put Australia's No. 1 ranking at risk, being their seventh consecutive loss in Test matches in Asia and first to Sri Lanka in 17 years. Meanwhile a hamstring injury to the left-arm spinner Steve O'Keefe means Smith will be relying on the ability of the Victorian spinner Jon Holland to hit the ground running when he links up with the squad in Galle for a match on what is expected to be an even sharper spinning pitch than that seen in Pallekele. A task considered well within the team's capability ahead of the series now looks exceptionally steep.

Familiar Australian weaknesses against spin bowling were laid bare by Rangana Herath and his wrist-spinning offsider Lakshan Sandakan, as they shared 16 wickets between them. At the same time batsmen like David Warner and Usman Khawaja were put to shame by an extraordinarily composed innings of 176 from the 21-year-old Man of the Match Kusal Mendis. Smith, too, had reason for self-recrimination, as his charge down the track at Herath's first ball on day two had effectively swung the match.

"It is disappointing," Smith said. "I said before the game that we haven't played well in subcontinent conditions for quite a while now. It's something that under my captaincy I want to change. There were glimpses throughout this game that we've improved in some aspects but I think we just let ourselves down a lot as well.

"I generally play spinners quite aggressively. I've hit that ball for four or six several times throughout my career. I got beaten on the inside of the bat. It's just summing it up and making sure I play with a straighter bat if I'm trying to go over the top. I know it looked ugly and it probably didn't look great. For me, it's about making sure I still have that intent to score."

In expressing sorrow for O'Keefe's exit, particularly after he had fought bravely alongside Peter Nevill to try to delay defeat on the final afternoon, Smith also spoke optimistically about the skills of Holland. The pair were fellow academy inductees nearly a decade ago, and will need to find quick rapport as captain and spinner to help bring Sri Lanka's batsmen to heel.

"Galle is the biggest spinning place here in Sri Lanka, or so we've been told so it's going to play a big part again," Smith said. "Jon Holland is a class bowler, he's done pretty well in state cricket and having a left-arm orthodox bowler in these conditions is a must. He's accurate, he hits a good area and hopefully we can see some of the same as what we saw from Steve and Rangana, with some balls spinning and some balls skidding. It's incredibly hard to play against and I'm looking forward to him getting here and having a couple of days' preparation with us.

"He and I went to the academy together so we know each other reasonably well and I'm sure he'll fit in well around this group. There's always challenges when you're playing international cricket, especially away from home. He's going to have to get a game plan and the speeds that he needs to bowl together pretty quickly. We'll be working with him to make sure he gets that in and I'm really excited for him to join us."

Holland for O'Keefe is likely to be the only change to the Australian side, with Smith looking for his team to atone for their missteps in Pallekele.