Reuters: Australia's Shane Watson attracted the top bid of $ 1.4 million for the next edition of Indian Premier League Twenty20 tournament while uncapped spinner Pawan Negi sprung the biggest surprise by becoming the costliest domestic player at $ 1.2 million, as auction concluded recently.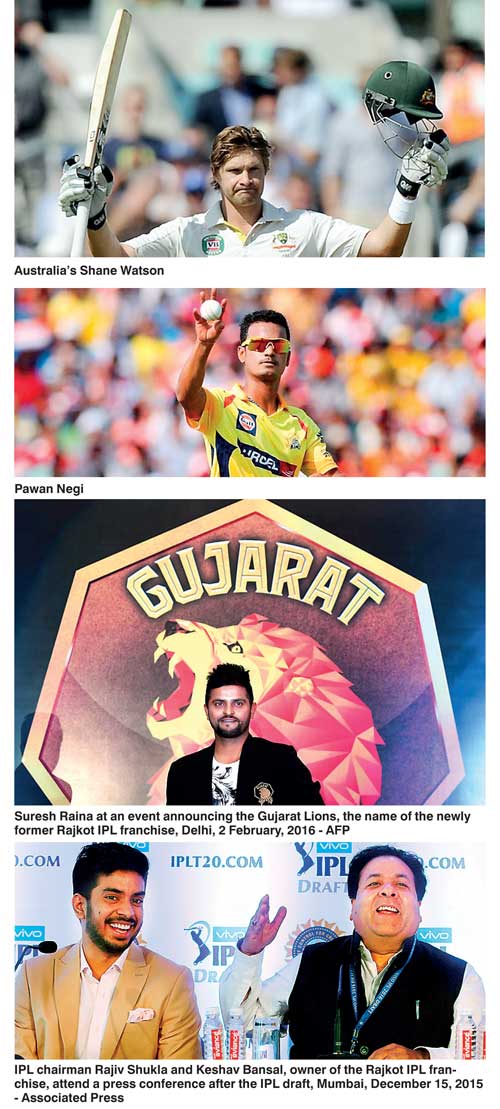 All-rounder Watson was in high demand in Saturday's auction for the cash-rich tournament, the ninth edition of which will be played from 9 April to 29 May.

Watson will join team Royal Challengers Bangalore boasting power-hitters Chris Gayle, AB de Villliers and Virat Kohli as well as Australia fast bowler Mitchell Starc.

IPL chairman Rajeev Shukla said a total of 132 players went under the hammer on the first day of the auction but some remained unsold.

"Today's auction is over and total 94 players were sold in today's auction. Out of which 23 are overseas players and remaining were Indian players and total spent was 136 crore (rupees 1.36 billion or nearly $ 200 million). The auction went off very well," said Shukla in southern city of Bengaluru.

Negi, who was named in India's World Twenty20 squad on Friday (5 February), attracted the highest bid among Indians and was bought by team Delhi Daredevils for 85 million rupees ($ 1.25 million).

India all-rounder Yuvraj Singh will play for the Hyderabad franchise after being bought for 70 million ($ 1.03 million).

"They performed well in domestic circuit. All those players have been picked up that was the beauty and certain players who come from very humble background like Nathu Singh – few years back he couldn't afford a pair of shoes - and today he was picked up for 4.5 crore (rupees 45 million or $ 662,937); Pawan Negi for 8.5 crore (rupees 85 million or $ 1.25 million) – highest Indian player," added Shukla.

Team Mumbai Indians, which bought nondescript speedster Nathu Singh, was happy with the bid.

"Very happy with the buys and I think it could be good for the season," said Akash Ambani, co-owner of Mumbai Indians.

Aaron Finch, Australia's captain in the shortest format, went unsold in the first round but was picked up by team Gujarat Lions at his base price of 10 million rupees ($ 147,000) after being invited back in the auction.

In-form New Zealand opening batsman Martin Guptill was also unsold in the first round of auction for marquee players.

Team Rising Pune Supergiants, to be led by India's limited-overs captain Mahendra Singh Dhoni and coached by former New Zealand skipper Stephen Fleming, outbid fellow newcomers Gujarat Lions to land former England skipper Kevin Pietersen for rupees 35 million ($ 515,618).

Team Rising Pune Supergiants and Gujarat Lions were unveiled as the new teams in the Twenty20 competition, replacing Chennai and Rajasthan who were suspended for two years for their role in an illegal betting scandal.
---
Dhoni

on painful switch from Chennai Super Kings to Rising

Pune

Supergiants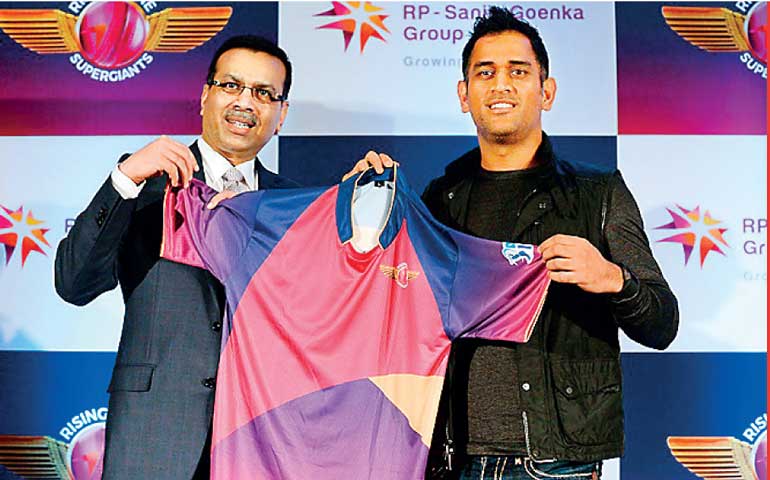 Owner Sanjiv Goenka and captain MS Dhoni unveiled the Rising Pune Supergiants jersey, New Delhi, 15 February.AFP
ESPNCricinfo: MS Dhoni has admitted to feeling "a little different" when asked about the prospect of representing a new franchise in the IPL after eight years of association with Chennai Super Kings.

"I would be lying if I say I have moved on," Dhoni was quoted as saying by PTI at the jersey launch of his new team, the Rising Pune Supergiants. "That is the special part of being a human being. There has got to be an emotional connect after eight years (with CSK). After eight years of IPL, it feels very different to play for any other team.

"All of a sudden if you want me to say that I am very excited to play for a new team, don't give credit to CSK and the fans for the love and affection they have given us, it will be wrong. But as a professional, I would like to thank the Pune team for taking me. Of course there will be added responsibility as captain but as a professional we are supposed to do the job with more than 100% commitment. And that is what we will try to do."

The one relationship he is happy to continue from his days with the Super Kings, though, is his working partnership with Stephen Fleming, who was named head coach last month. "The life becomes slightly easy with him around. We know each other for long time," he said. "He is a fantastic coach. His management skills are very good. What I really like is that he is calm like me. It is good to have him and hopefully it will work for us." Dhoni said while he would miss playing alongside his core group of players like Suresh Raina, Ravindra Jadeja and Brendon McCullum at Pune, the two new teams had to put that behind them and quickly get into their groove with the new set of players to negate the settled advantage the six existing franchises possess.

"There are a lot of players we will miss," he said. "We were together for eight years, our core group was the same. We were so consistent and our strength was that we played as a team. We have taken some former CSK players but then at the auction, the two new teams were expected to do most of the buying. If you look at the six other franchisees, they have a settled lot. Therefore, the pressure will be on the new franchise."

As the questions drifted towards a few of his own personnel, Dhoni said every player in the setup will be given a role, even as he deflected suggestions over having difficulties in managing a player like Kevin Pietersen. "Every player will have a role in the team. There is a basic way every cricketer plays," he said. "KP is fantastic, somebody who is aggressive and expressive on the field. Not only has that, he like other seniors, had an added responsibility to groom the youngsters."