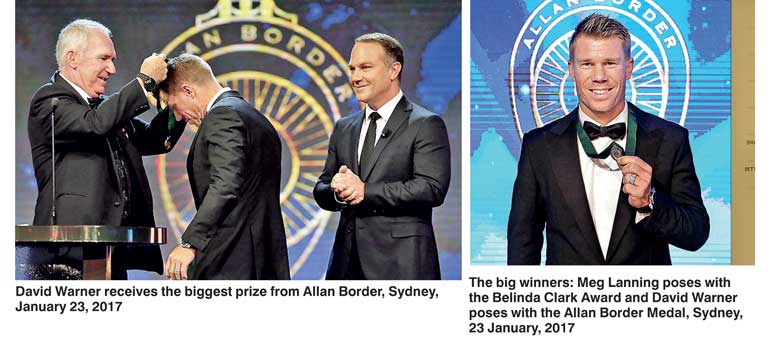 AFP: Australia's prolific opening batsman David Warner fought off a strong challenge from his captain Steve Smith to become just the fourth player to win back-to-back Allan Border Medals on Monday.

Only Ricky Ponting, Shane Watson and Michael Clarke have previously won consecutive medals in Australian cricket's prestigious annual awards.

Thirty-year-old Warner recorded 269 votes over 248 for Smith and 197 for fast bowler Mitchell Starc.

Fellow players, the media and umpires vote for player of the year.

The Australian vice-captain also took the one-day international player award, while Starc was crowned Test player of the year despite missing half the period with injury.

Shane Watson lifted the Twenty20 medal for a record third time thanks to 298 runs at a strike-rate of 150.51 as well as nine wickets.

Warner only emerged from what was a lean spell by his lofty standards towards the end of the voting period, which ran from from January 8 last year to 7 January 2017.

But he made up for lost time by smashing consecutive hundreds against Pakistan in Melbourne and Sydney this southern summer.

Warner blasted the fastest Australian Test half-century off just 23 balls at his home ground, the Sydney Cricket Ground.

His 1,388 one-day runs was a world-high for the period and he scored 2,420 runs in total across all three formats.

"Thanks to my team-mates and Steve Smith - without you all I wouldn't be here, as it's a team game," the left-hander said at a glittering ceremony in Sydney.

"To the fans: we love the support you give, we love entertaining you and I think the game's in a great state at the moment."Starc is the first bowler to win Test player of the year since Brett Lee in 2008, with a total of 52 wickets.

Western Australian all-rounder Hilton Cartwright was named Bradman young cricketer of the year after making his Test debut against Pakistan earlier this month.

Previous player of the year recipients include Glenn McGrath, Steve Waugh, Adam Gilchrist and Smith himself.