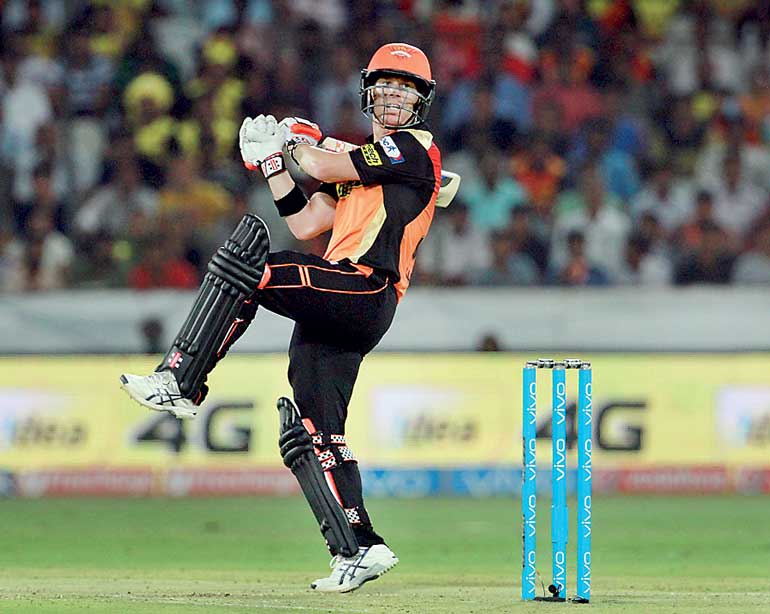 ESPNcricinfo: Win the toss, restrict your opposition to a manageable total, and bat through the chase to win it for your team. Everything went to plan for David Warner, whose unbeaten 59-ball 90 steered Sunrisers Hyderabad to their first win of the season after their bowlers had kept Mumbai Indians to 142 in conditions that led to a well-matched contest between bat and ball.

It had rained in Hyderabad on the eve of the match, and the residual humidity made the new ball swing appreciably. Both the Sunrisers' opening bowlers exploited this, but Mumbai's seamers, apart from Tim Southee, did not. They bowled too short and suffered the consequences on a deck that was otherwise excellent to bat on, and against a batsman, Warner, who loves to cut, slash and pull. All of Warner's boundaries against the quicks, apart from a big six down the ground off Jasprit Bumrah, came against the short ball.

Southee kept Mumbai in the game with three well-timed wickets, starting with a late-swinging yorker to Shikhar Dhawan, but Mumbai kept feeding Warner a steady supply of release balls, which he put away merrily. He ended the game with two sixes in three balls, flat-batting Mitchell McClenaghan over mid-off and pulling him over deep square leg, and Sunrisers were home with 15 balls remaining. Mumbai's defeat was their third in four matches.

Warner had hoped, while opting to bowl, that his seamers could exploit the initial freshness on a green-tinged surface. It only took four balls for Bhuvneshwar Kumar to strike, though it was swing rather than seam that did the damage. With Kieron Pollard out due to food poisoning, Mumbai had brought in Martin Guptill, and his debut innings in the IPL was terminated by a perfectly pitched outswinger that kissed his edge through to the wicketkeeper.

Guptill's inclusion meant Mumbai had to rejig their batting order, and Rohit Sharma demoted himself, rather than Parthiv Patel, to accommodate the New Zealand opener. Parthiv looked distinctly uncomfortable against the swinging ball, playing and missing repeatedly before he was bowled by a back-of-the-hand slower ball from Barinder Sran that jagged in like a left-arm wristspinner's googly. Then came a self-inflicted wound - Rohit, who came in at No. 4, running himself out while looking for a suicidal single. When Jos Buttler, surprised by extra pace from Sran, gloved an attempted pull in the 11th over, they were 60 for 4 and going nowhere.

At the crease now were Ambati Rayudu, who had been promoted to No. 3, and Krunal Pandya, who had been promoted to No. 6 ahead of his brother Hardik, who had batted at No. 3 in all of Mumbai's previous matches. All the meddling with the batting order indicated a muddled think-tank, but Rayudu and Krunal made the most of their opportunities.

They had to bide their time initially, with Moises Henriques and the left-arm spinner Bipul Sharma varying their pace cleverly in the middle overs. But Bipul, who had gone for only 14 off his first three overs, hadn't bowled much to a left-hander. Only three balls. The next four yielded 18 runs as Krunal swung him away for three successive sixes in the 14th over. Rayudu stepped out and hit one himself, and Bipul finished with figures of 0 for 40.

The momentum seemed to be with Mumbai, with six overs to go, but Sran, Bhuvneshwar and Mustafizur Rahman proved too difficult to get away, changing their pace astutely and executing the yorker perfectly. The three quicks shared the last three overs, and gave away only 19 runs while picking up two wickets.