Sebastian Vettel would have to be as lucky as a lottery winner to clinch this year's Formula One championship after another dominant display by Mercedes at the weekend, according to Ferrari boss Maurizio Arrivabene.

With five races left and a maximum 125 points to be won, Ferrari's German driver is 59 adrift of reigning champion Lewis Hamilton who chalked up his eighth win of the season in Japan on Sunday.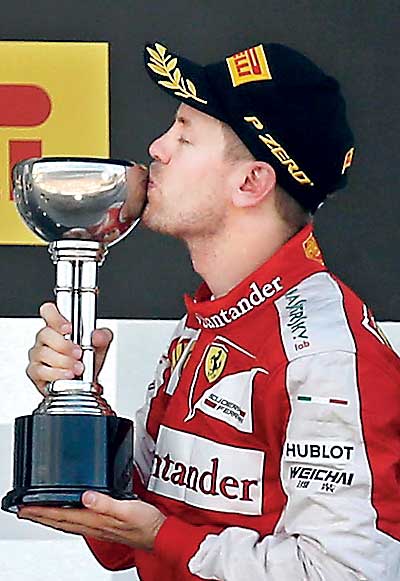 "If you win the lottery, you become a millionaire," Arrivabene told reporters when asked whether Vettel still had a chance of a fifth career title this year. "To win the lottery you need to be lucky.

"So if we are lucky, yes. But we need to be really lucky," he added.

Vettel, who won his four titles with Red Bull, has won three races so far in his first season with Ferrari and hopes rose that he might have an outside chance after Mercedes slumped in Singapore.

However, Suzuka showed the reigning champions were back to their old ways, with Hamilton leading closest rival and team mate Nico Rosberg in a one-two finish after locking out the front row in qualifying.

Hamilton now has a 48-point advantage over Rosberg and is heading for his third title and second in a row.

Vettel was under no illusions about his chances, even if he was not giving up all hope until mathematically ruled out.

"It's not done until it's done," said the man who won his first title in 2010 despite not leading the championship at any point until the final race.

"The chance is there - and what kind of racing driver would I be if I stopped believing?

"Of course I know it's difficult because the opponent is very strong...but you have to keep believing otherwise I guess it's pointless rocking up and trying to fight.

"Being realistic I think it will be very, very difficult but who knows what's going to happen? We have to do our thing and that's the maximum we can do. Everything else is not in our hands, it's probably in their hands."

Second placed Ferrari are 169 points behind Mercedes in the constructors' standings with a maximum 215 still to be won.