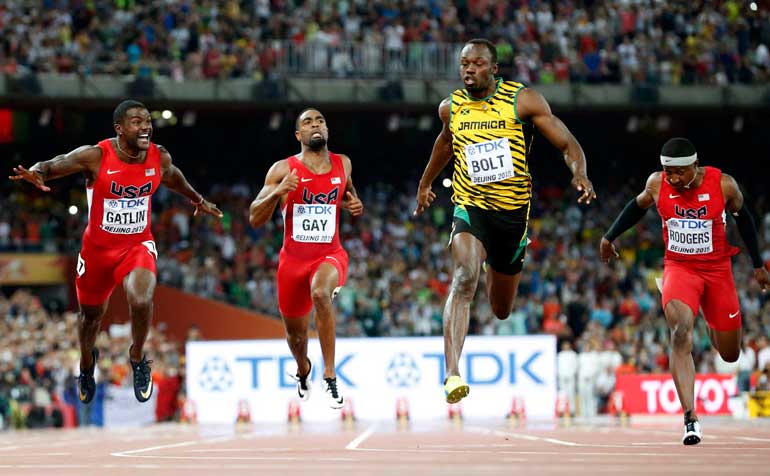 Justin Gatlin of the U.S. (L) and Usain Bolt of Jamaica (2ndR) cross the finsih line in the men's 100 metres final during the 15th IAAF World Championships at the National Stadium in Beijing, China August 23, 2015. REUTERS
Usain Bolt once again produced his best when it mattered most to retain his 100 metres world title and reassert his status as the number one sprinter on the planet at a rocking Bird's Nest Stadium on Sunday night.

The Jamaican had struggled for form and fitness all season, stumbled his way through the semi-finals and got nowhere close to the times that his rival Justin Gatlin had been posting.

Back at the arena where he first exploded onto the world stage at the 2008 Beijing Olympics, however, Bolt surged past the in-form American over the last 30 metres and crossed the line in 9.79 seconds, his fastest run of the year.

"I came out here, relaxed, no stress and brought it home. My aim is to be number one until I retire and therefore I am pushing myself and pushing myself," said the 29-year-old after striking his trademark "Lighting Bolt" pose.

"It is all about running the race and getting it done. You can call that race rusty. I could have run faster. This title means a lot to me. It has been a long season with me coming back from injury."

Gatlin finished second in 9.80 to take silver as he did at the world championships in Moscow two years ago, while young guns Andre de Grasse of Canada and American Trayvon Bromell finished together in third place in a time of 9.92.

They will both be awarded bronze medals after running identical times down to a 1000th of a second.

"I am speechless, all I can say is wow!" said de Grasse, whose time was a personal best.

American Mike Rodgers was fifth in 9.94 while Tyson Gay, Asafa Powell and Jimmy Vicaut were sixth, seventh and eighth in 10 seconds dead.

Su Bingtian, who received the loudest cheers at the start of the race as the first Chinese to reach the final of the blue riband sprint at a global championships, finished last in 10.06.