By Shamseer Jaleel

Unbeaten Trinity College and Zahira College, the dark horses of the Singer Rugby League Under-20 Division I, will move forward for their round 2 matches commencing on 29 April.

Both Trinity and defending Singer league champions Isipathana College ended on top of their respective groups. Trinity College, Wesley College, S. Thomas' College, Zahira College, Isipathana College, Royal College, St. Joseph's College and St. Peter's College will move to round 2 of the cup championship.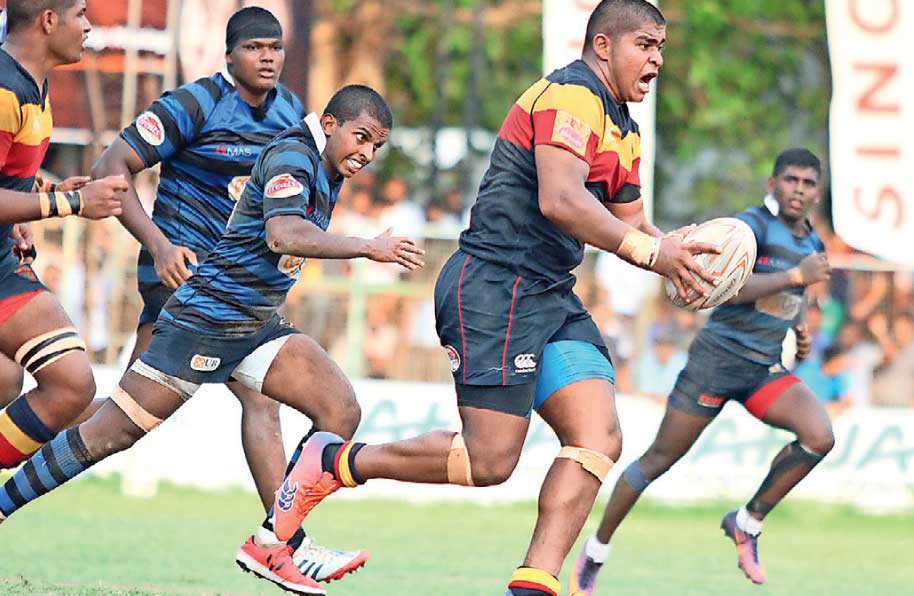 Trinity forward Shaveen Ekanayake


Trinity kicked off the league under Number 8 Nathan Yee, who was originally a hooker from the Under-12 age group onwards but sacrificed his position on the team's behalf. Since then he has led the side well from the front, maturing into a very good leader willing to make tough decisions. The team is well supported by their Head Coach former New Zealand Sevens sensation Lote Raikabullah, who changed the outfit into a well-drilled, balanced and fit outfit which can withstand the full 80 minutes of play. They beat Wesley College 64-24, Science College 52-7, Zahira College 34-26, S. Thomas' College 29-14 and Prince of Wales College 94-9.

In the other group, defending champions Isipathana lead, beating Dharmaraja College 18-12, the Joes 39-32, St. Anthony's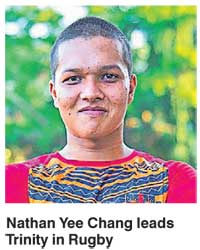 Katugastota 43-35 while losing to St. Peter's 15-32, which was a major shock in the season as the lads from Bambalapitiya played well only in this game while performing poorly in the rest of the four matches. The Green Shirts won the Major Milroy Fernando Trophy when they edged out Royal 22-17, before dispatching last-placed D.S. Senanayake 69-13.

Zahira College is coached by former Isipathana and Sri Lanka Sevens star Shamly Nawas and Mohamed Mushtaq. They look very dangerous and St. Peter's and St. Joseph's could be their next targets heading into round 2. They almost beat the two top teams in their group, Wesley and Trinity. Their winger Yuzraan Lantra a is class act and ended round 1 as the top try-scorer by planting nine of them followed closely by Trinitian Diluksha Dange (8).
First week matches commencing on 29 April
Trinity College vs. St. Peter's College at Bambalapitiya
Royal College vs. S. Thomas' College
Isipathana College vs. Zahira College
Wesley College vs. St. Joseph's College