Paris (AFP): Jo-Wilfried Tsonga beat fourth seed Tomas Berdych at Roland Garros on Sunday, winning 6-3, 6-2, 6-7 (5/7), 6-3 to show the way into the quarter-finals for a five-strong French contingent.

Played in cold, damp conditions, Berdych looked out of sorts from the start, allowing Tsonga to dominate rally after rally with his powerful serve and shot-making.

The Czech player rallied briefly in the third set as Tsonga's level dropped, but after a brief scare at the start of the fourth set, Tsonga won five games in a row to move through.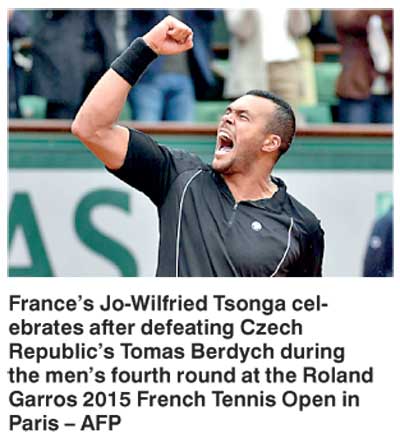 The 14th seeded Frenchman will next play Japanese fifth seed Kei Nishikori for what would be his second ever appearance in the French Open semi-finals after that of 2013.

"I was into the match from the start, but he is a great champion and stuck with it," Tsonga said.

"I had a little bit of a concentration lapse and I had been talking to my coaches about that.

"And that's what helped me win in four sets. That's the best match I have played in some time."

With menacing dark clouds overhead sending down drops of rain there were doubts that the match could get going at all, but when it did Tsonga immediately looked the stronger, breaking in the fourth game to take a 3-1 lead.

Two games later the rain grew in intensity and there was a delay of a few minutes that confused both players and had the umpire working overtime pondering what to do next.

But they all stuck it out courtside and on the resumption Tsonga duly pocketed the opening set.

He then broke again to start the second and clearly had Berdych on the back foot, struggling to deal with the sheer power of the Frenchman's shots.

A third break of serve for Tsonga in the fourth game effectively took care of the set and there looked no way back for Berdych, who had a 1-5 five-set win-loss record at Roland Garros coming into this year's tournament.

The third set though was more evenly balanced with Tsonga failing to serve out for the win at 5-4, and he paid the price in the ensuing tie-breaker letting slip a 3-0 lead to allow Berdych a way back into the match.