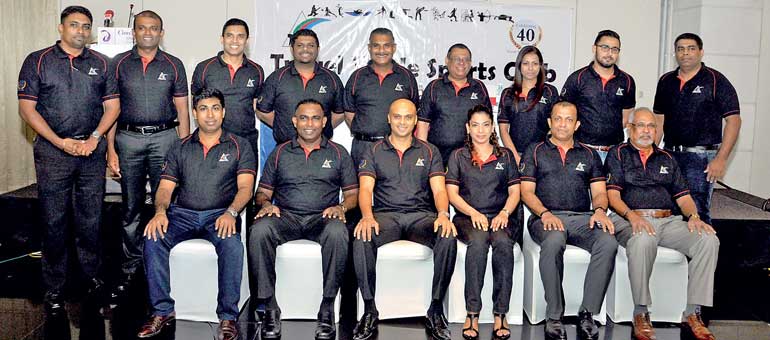 By Anton B. Francis

The Travel Trade Sports Club celebrated its 40th anniversary with a media press conference to spell out their future plans at the Cinnamon Cedar Room recently.

The TTSC with a membership of 147 firms consisting of hotels, travel agents (inbound and outbound), airlines and global distributors, reached its milestone under the 20th President, Prabath Harshakumar, versatile sportsman from Trinity College, Kandy and Vice President, John Keells Group, Head of Business Development, Asia Region, Walkers Tours Ltd.

Sports Commentator Tyrone Perera, who has been associated with the club since 1988 for 12 years in an honorary capacity, representing Hotel Ceylon Inter-Continental and from 2000 onwards as a professional, briefed the media on the history of TTSC.

Perera said that he was proud to have served the club for the past 28 years, as TTSC is the only body that singlehandedly conducts 12 or more multi-sports events, plus the gala dinner dance in a single calendar year (February to January).

When the TTSC got the show on the road under the Presidency of Neville Anolda from Bobby Anolda Associates, it was designed only for two sports, namely Hardball Six-a-Side Cricket and Seven-a-Side Soccer.

It remained so under successive Presidents, Wilmot Jayawardena from Air Ceylon, Kumar Mather from Aitken Spence Travels, Palitha de Alwis from Hotel Lanka Oberoi and Lal Liyanage from Hotel Ceylon Inter Continental.

In the late eighties, the TTSC opened its doors on a wide-scale and introduced softball cricket, tennis, badminton, hockey, volleyball, swimming, athletics, motor rally, rugby football and the gala dinner dance.

The Presidents then at the helm were Aloy Peter from UTA French Airlines, Trevor Rajaratnam from Ceylon Carriers, Sunil Peiris from Ramada Renaissance, Terrence Fernando from Mackinons Travels and Ajit Jayemanne from Confifi Group Hotels.

In the above period, the Club embarked on four overseas cricket tours, all to the Middle East, namely to Doha, Dubai and two to Muscat Oman, all under the captaincy of Bernard Wijetunga.

The 19th century endured with Jayantha de Silva from Confifi Group Hotels in the chair. The Millennium President was Dirk Grigson from Hem Tours; Grigson was given an extended Presidency, as TTSC celebrated its Silver Jubilee in 2001.

Devendra Senaratne from Serendib Leisure came in next, he was succeeded by the Aitken Spence duo, Keethi Jayaweera and Prasanjith Perera.

Chris Quyn, Hotel Lanka Oberoi, and Gerard Victoria from BOC Travels were the next two Presidents before giving over to the first woman President, Dushy Jayaweera from Malaysian Airlines; her husband Keerthi was the President in 2004.

By this time, TTSC concentrating on our famous golden beaches introduced beach rugby, beach volleyball and beach football and also brought in bowling, carom, pool, archery and table tennis.

Denesh Silva from Amaya Resorts & Spa and The Kingsbury was the last President before giving over to Prabath Harshakumar.

Harshakumar in his keynote address spelled out the blueprint for the next five years; he would endeavour to increase the current membership from 147 to 200. Senior Vice President, Bonita Odayar proposed the vote of thanks.

TTSC will stage the following events for the calendar year 2015/2016.

Soccer Sevens (January 2106), Beach Volleyball (6 February 2016), Carrom (30 April 2016), Archery (10 June 2016), Soccer Sevens (29 May 2016), Bowling (July 2016), Pool (August 2016), Badminton (4 September 2016), Table Tennis (4 September 2016), Softball Cricket (11 September 2016), Motor Rally (October 2016), Tag Rugby (October 2016), Beach Volleyball (January 2017) and Field Volleyball along with the networking social events the Travel Trade Dance (8 October 2016) and the Members Evening.
---
TTSC Archery Championship kicks off today
In the absence of the defending Champion, SriLankan Airlines, Serendib Leisure "A" is tipped to win the 2nd Travel Trade Sports Club Archery Championships 2016, sponsored by Yenesha Travels Ltd., Seeduwa once again, to be held on Friday 10 June at the Colombo Archery School, CR&FC, Longdon Place, Colombo 7, commencing at 5 p.m.

Close on the heels of Serendib Leisure "A" will be Aitken Spence Travels "A" and Walkers Tours "A" ; altogether 18 teams will be taking part; the rest of the teams are – Walkers Tours "B" & "C", Green Holidays "A", "B" & "C", Serendib Leisure "B" & "C" Aitken Spence Travels "B" & "C", Emirates "A", "B" & "C" and the newcomer, Ella 90 Acres.

The contest will be on a team championship basis; in the opening round, each team composed of three archers, who will be given four arrows, 12 shots for scoring (3x 4); a team can be composed of men, women or combined.

The team score will be calculated out of 120 points and the individual score will be from 40 points

The eight top scoring teams will advance to the elimination round, and in this round the three archers will be given six arrows (2x3).

The two special awards on offer are for the Best Archer/Male and Best Archer/Female.