Dinesh Chandimal's manic 162 gave Sri Lanka a near-impossible win in a year when many easy victories slipped out of their grasp - AFP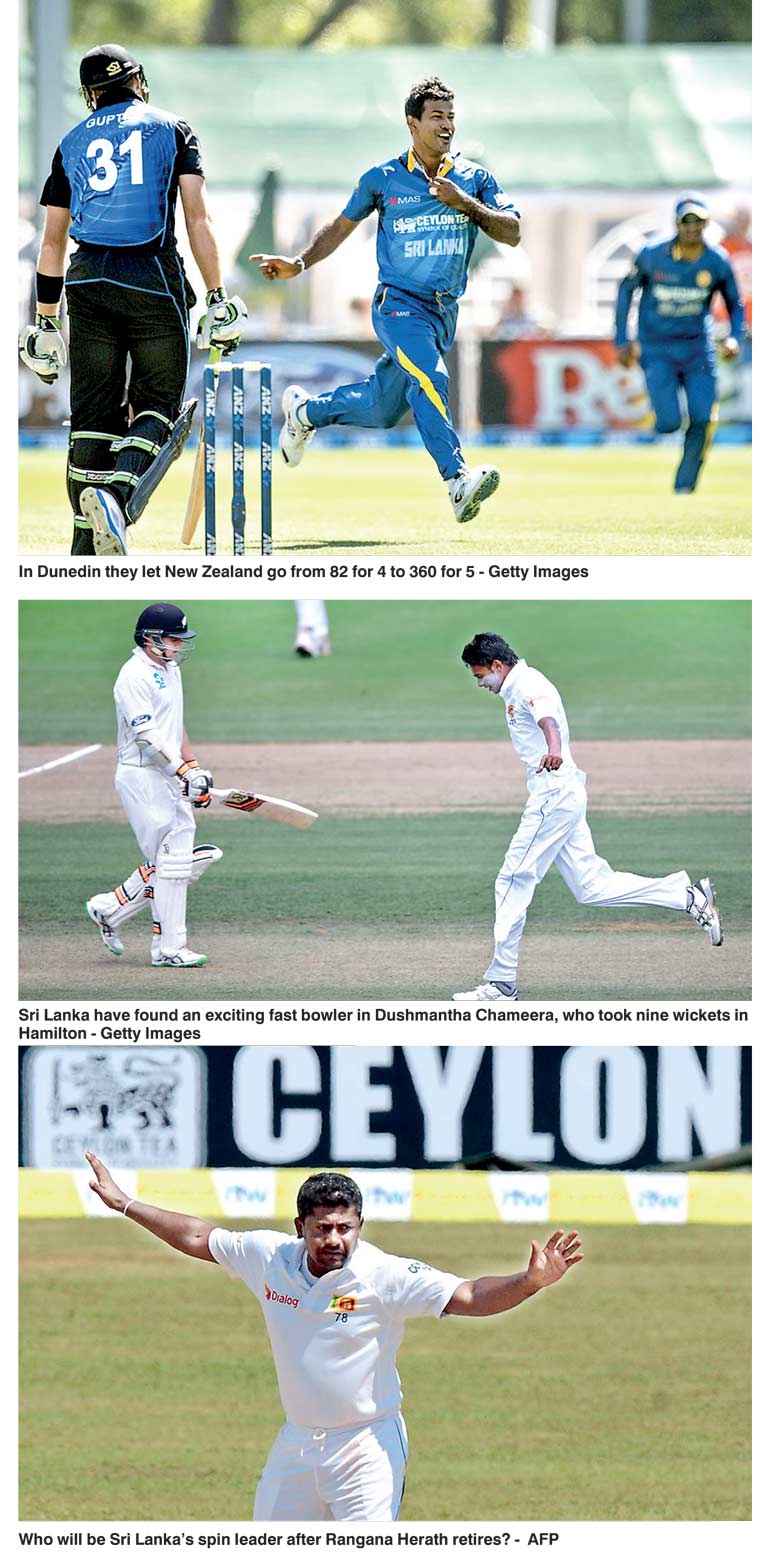 By Andrew Fidel Fernando

ESPNCricinfo: The old middle-order stars now gone, 2015 was the year in which Sri Lanka's young men struck out on their own, traversing unfamiliar terrain, braving uncertain waters. The expedition has had a few setbacks. Kusal Perera was laid low by a poisonous weed. Tharindu Kaushal - Sri Lanka's next great spin hope - had his doosra bitten off. The fast bowlers seem to be on an iron-clad injury roster. And though the top order occasionally suggests it is capable and well equipped, it keeps routinely charging into upright objects and knocking itself out cold. When Sri Lanka won the World T20 last year, Colombo had a three-day party. Two thousand fifteen has been a year-long hangover.

Angelo Mathews has had the unenviable task of turning graduates from a comically inept domestic system into world-beaters, and so far, his captaincy has been defined as much by conservatism as by his own solo excellence. It's not difficult to sympathise. Sri Lanka play like they now believe they can lose from any position, because in 2015, they did.

There was the soapy-fingers Test to begin the year, in Wellington, when, having reduced New Zealand to effectively 24 for 5 in the second innings, Sri Lanka let Kane the Uncatchable steal the game away. They wound up losing by 193 runs. Then there was that impotent fourth innings in Pallekele in July, when, having set Pakistan 377 for victory, the hosts' attack went deplorably limp. Pakistan eased home by seven wickets. To end the Test year, Sri Lanka moved themselves into a good position in Hamilton, then put on the collapse-spectacular of a lifetime - all 10 wickets falling as a result of short deliveries.

In between there were limited-overs surrenders as well. There was the record 267-run stand for Luke Ronchi and Grant Elliott in a Dunedin ODI in January, after New Zealand had been 93 for 5. And in July, they were burgled by Anwar Ali and Shahid Afridi in a Khettarama T20.

The explanation for much of this has been that "Sri Lanka have many inexperienced players". This is unquestionably true. The worry is that in some cases, failing inexperienced players are replaced with players of even less experience, who then go on to fail. If this trend continues, can we expect an opener in the Central Colombo Under-12s league to be tapped on the shoulder by the national selectors sometime soon?

It might be tempting to suggest that Sri Lanka's cricket is heading the same way as West Indies' (who, by the way, were the only opposition Sri Lanka won trophies against this year), but there is surely too much talent around for that. Milinda Siriwardana's emergence, Dinesh Chandimal's resurgence, and the increasing breadth of Dimuth Karunaratne's batting have all been the source of some hope. There is also a sense that Sri Lanka will eventually dig through to the light again, because that is the way it has always been. There was Arjuna and Aravinda after Duleep and Roy, no? And Mahela and Sanga to follow them? Herath after Murali? Dilshan to cover for Sanath? There are the strands of a decent future team among the present lot, but they will take some weaving together to form a stronger cord.

Off the field Sri Lanka Cricket has been run by forward-thinking and frugal folk who seem to have achieved more in their nine months at the helm than previous boards would have in decades. Work has begun on indoor net facilities in three international stadiums (given Sri Lanka's climate, can you believe they didn't have them already?). Finances have been handled with transparent sense; the desperately needed domestic overhaul has been ordered; and an ACC centre of excellence has been set up in Dharamsala, thanks largely to the vision and efforts of SLC. Even the mandatory annual sacking poaching resignation of the head coach went as smoothly as it could have done.

If this sounds too good to be true in this golden age of cricket maladministration, that's because it is. SLC's interim committee will have been dissolved by the end of the year. The January 3 election features candidates with chequered histories, to say the least. Chaos may resume shortly.

High point

In a year of losing unlosable matches, Sri Lanka's winning of an unwinnable game stands out. After some initial good fortune, Chandimal's strapping, reverse-slapping 162 not out, while an election rally raced on between him and the raging sea, was quintessentially Sri Lankan mayhem. Then Rangana Herath body-slammed India's chase, proving that though his belly is a little large, it is his heart that is really oversized. He took 7 for 48 after having been dropped for the previous Test.


Low point

For sheer comedy, that 13.3 over collapse in the second innings in Hamilton is almost impossible to beat. The batsmen found increasingly creative ways to get out to the short ball. The match was squandered in an hour either side of lunch. That the openers had just put on the team's best first-wicket partnership of the year made the capitulation even more bizarre.


New kid on the block

In a seven-over spell on day two of that Hamilton Test, Dushmantha Chameera bounced out Kane Williamson, Ross Taylor and Tom Latham to crack the match open for his team. He would eventually finish with 9 for 115, the best away figures for a Sri Lanka seamer since Chaminda Vaas' returns in Napier in 1995. Fast, energetic and keen to learn, Chameera may well hope that, like for Vaas, this breakthrough New Zealand tour will be the beginning of a long, fruitful career.


Fading star

Herath still turns matches for Sri Lanka, but he has said he will contemplate retirement after the World T20. With the next spin-bowling generation short of experience, for now, Herath may prove difficult to replace.


What 2016 holds

There is the World T20 defence in March and April, which, at this stage, does not look promising for Sri Lanka. The bowling formed the spine of last year's victory, but in the time since, the attack has had problems. Lasith Malinga's career threatens to be overcome by fitness and injury issues. Nuwan Kulasekara seems to have lost some of his inswing. And the reformed Sachithra Senanayake is not as effective as he had been with that bent arm.

There is a huge Test year ahead as well. Sri Lanka visit England for three Tests in May and June, then host Australia for a major home series in August. At the end of the year, a South Africa tour also looms.