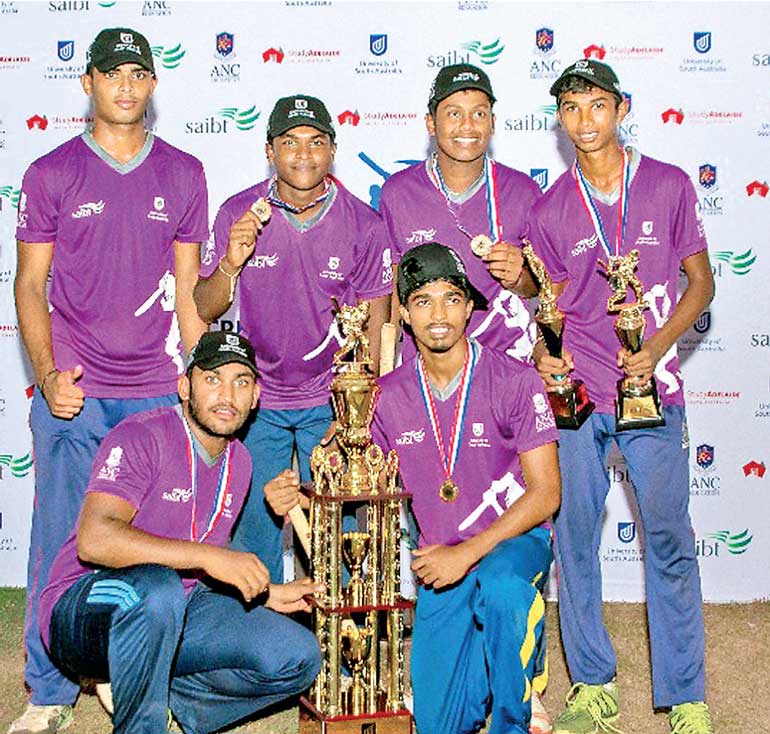 The champions
Thurstan College defeated D.S. Senanayake College by two runs on the final day of the two-day six-a-side cricket tournament, organised by ANC Education in collaboration with the University of South Australia and the South Australia Institute of Business Technology, to claim the competition's championship in a thrilling finale yesterday.

Eleven school cricket teams - Royal College Colombo, D.S. Senanayake College Colombo, Zahira College, Thurstan College, St. Peter's College, Belvoir College, Leeds International School, Stafford International School, Colombo International School, Wycherley International School and Gateway International School - battled it out to win the championship at the Colts Cricket Club grounds.

"Education and sports should nurture character and enhance social skills. In Sri Lanka, we rarely see students from government-run schools and private schools play on the same field. It was with great pride and joy that we organised this cricket tournament. We were happy to facilitate this encounter and give students a chance to build lasting relationships while playing the game that they all love with a sincere passion," commented ANC Education CEO/Executive Director Dr. Punarjeeva Karunanayake.

The two action-packed days featured a series of close encounters. The first eventful semifinals saw Thurstan College beat Wycherley International School by 85 runs while D.S. Senanayake College defeated Gateway College by nine runs in the second semifinals.

In the first quarterfinal Gateway College beat Zahira College while Thurstan College won the second quarterfinal beating Royal College. D.S. Senanayake College and Wycherley International School won the third and fourth quarterfinals, defeating Leeds International School Panadura and St. Peter's College respectively.

"Driving excellence in sports education is something we have taken up as one of our core focus areas. This tournament is part of a series of events that we plan to organise around the globe to celebrate our 25th anniversary. Through this joint cricket tournament we hope to communicate our commitment to grassroots sports in line with our involvement in the sports arena at the university in terms of physiotherapy education, sports science and even health-related programs. We've launched a range of new scholarships in these areas and we hope to encourage young students to take an interest in majoring in one of these disciplines," commented University of South Australia UniSa International Associate Director Rishen Shekhar.

Founded in 1991, the University of South Australia provides undergraduate, graduate and doctorate level degrees in a wide variety of disciplines starting from business, education, medical sciences, mathematics, accounting and finance, arts, architecture, aviation, health science, occupational therapy, media relations, psychology, urban and regional planning, visual arts, etc.

Commenting on the tournament, Lakshmi Attygalle, former Principal of Royal College, stated: "This was a unique experience for all involved. Organising a tournament of this scale with a foreign university is no easy feat but with enthusiasm and sincere commitment ANC and all the other parties involved managed to organise a successful event. I am grateful to the principals of the six schools and the coaching and teaching staff for their support. The children and staff enjoyed meeting the representatives of the University of South Australia and SAIBT including pro-vice-chancellor Professor Robert Vink."

Zahira College Vice Principal M.T.A Rauf and Royal College Senior Games Master M.A.M Riyaz, who were present at the tournament also expressed their gratitude to all the organisers for giving schoolchildren an opportunity to mingle, build relationships and enjoy themselves.