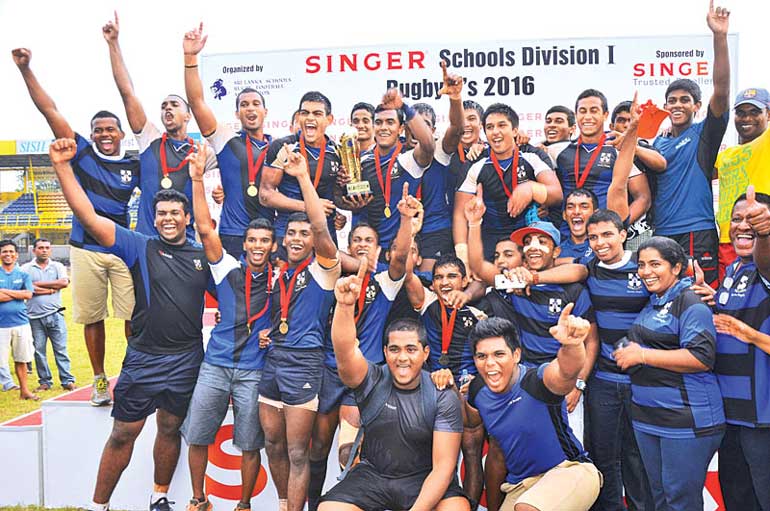 By Shamseer Jaleel

The Thomians, led by Naveen Henakankanamage, clinched the Singer schools Under-20 Sevens title, after a lapse of 22 years, at the Royal Sports complex last weekend.

The last Sevens championship side was led by Nalin Wijegunawardena in 1994. In the cup finals they edged out the much-fancied Isipathana 19-14 in a tense battle after Pathana took the first half 7-0. Science College won the plate beating St. Peter's College, while Dharmaraja took the bowl defeating Lalith Athulathmudali MMV. The second Kandy school to walk away with the trophy was Vidyartha when they took home the shield defeating Maliyadeva.

Former Kingswood, Kandy SC, Navy SC and Sri Lanka Sevens player and Isipathana Head Coach commended the great performance by the Thomians. "We never expected them to do so well in the finals. We thought our main opponent were the Joes, who we beat without much difficulty. We went for the hit instead of finding the gap and tiring the opponents, I think we got the wrong option in the final." Thomian skipper Naveen Henakankanamage said: "We had this in our mind to pull it off at the Sevens. This will give us a lot of confidence for the fifteen-a-side rugby season, which will be kicked off next month. Our teamwork is great which will take us places this season."

Former Kandy SC player and Head Coach of Havies and CR&FC, and current Thomian Coach Laga said: "I am very happy for the great start the boys had which will boost the morale of the team this year. It is a fitting win for the school having a long tradition for rugby football in the country and playing the shorter version of the game. This win will boost more young players to get in to the oval-shaped ball game."

Final results: Shield – Vidyartha beat Maliyadeva 46-7, bowl – Dharmaraja beat Lalith Athulathmudali MMV 52-5, plate – Science beat St. Peter's 24-7, cup – S. Thomas' beat Isipathana 19-14.