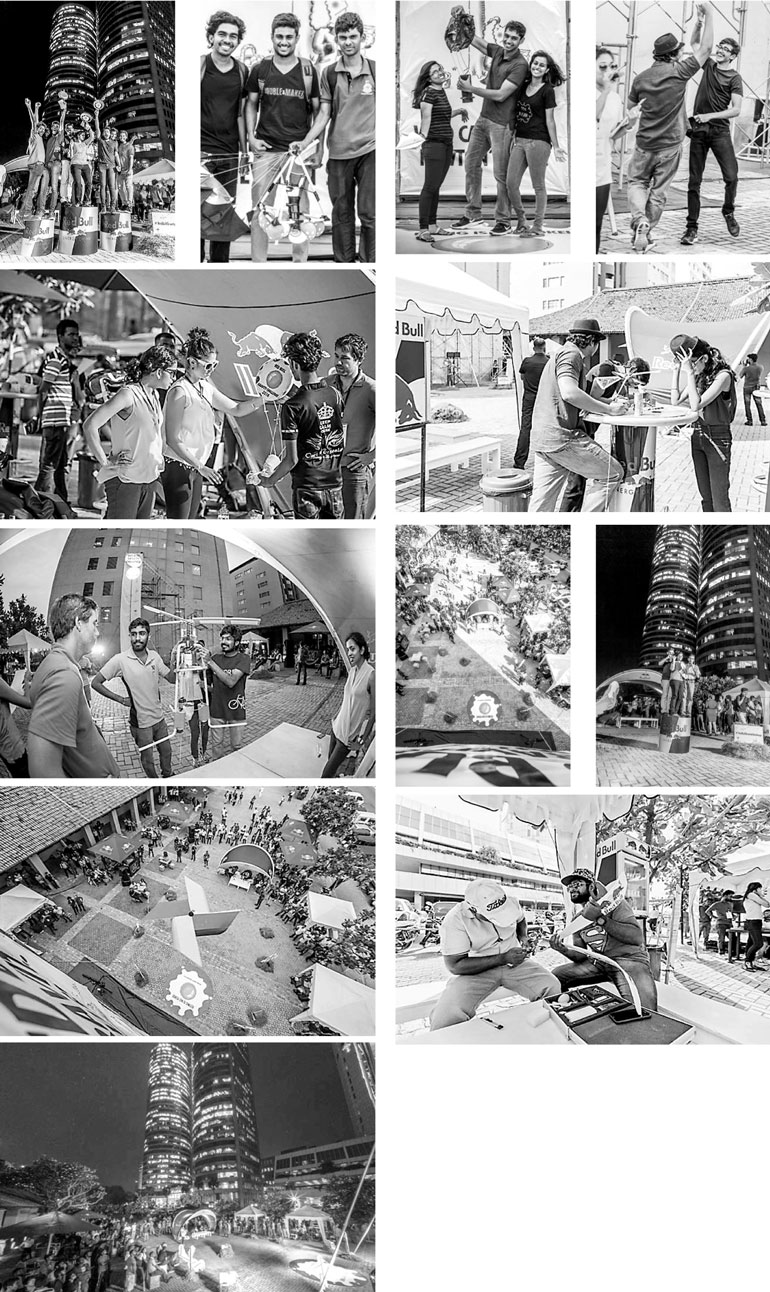 By mixing technical skills and creativity, students spent an exciting day at the Red Bull Gravity Challenge where Team Sony, a group of friends from various universities, emerged victorious from 192 teams when they outwitted gravity and showed Newton posthumously how it's all done on 25 November at the Dutch Hospital Shopping Precinct.

Teams Sony, ABCX. Kude Kudu and Team Empire scored the highest points out of the 192 competing teams but with the creativity at an all-time high and their technical savvy egg-landing device dropping to the ground in a perfect manner, Team Sony clinched the first place with 45 points and won Rs. 125,000, followed by Team ABCX with 44 points winning Rs. 75,000 and with an equal score of 42 points, Team Kude Kudu and Team Empire tied for third place, walking away with Rs. 25,000 per team.

"We are so happy to win the Red Bull Gravity Challenge. We tried out so many different designs before sending our sketch in and after we got a green light from the organisers. We practiced this drop a couple of times at college. Seems like practice makes perfect," said Darmeega Selvarajah, captain of Team Sony.

The Red Bull Gravity Challenge took place at the Dutch Hospital Shopping Precinct and attracted 242 teams with over 1,000 spectators. Not all the teams managed to get their eggs landing safe and sound but some defied nature and dropped it unscathed from 15 metres without being damaged.

Each team of three was given one minute to climb the 15-metre platform and drop their device. An independent jury evaluated their creativity and the idea behind the egg-landing device. The jury consisted of Lee Bazalgette - Director of Colombo Design Studio, Anjuli Flamer-Caldera - CEO of Agency Sri Lanka (Talent Management Firm) and Savindri Talgodapitiya - Co-founded Field Travels Company and a recent start-up focusing on teaching Mathematics. Points were awarded to each device on a 1-20 points scale.

Being a part of this event required the team to submit a sketch of their egg-landing-device with a weight of no more than 5 kgs and a size no more than 1 cubic metre.

Check out photos from the event at the Facebook page - Red Bull Gravity Challenge or on Instagram at @redbull_sl.