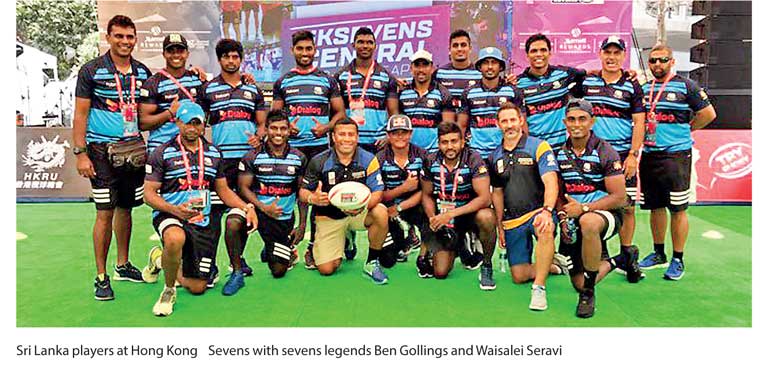 Sri Lanka ended the World Series Qualifier in Hong Kong in a disastrous way by losing all their three games in the group stages. Out of the 12 teams only eight moved forward to the next round where the World Series Qualifier and the World Series took place at the Hong Kong Stadium. Hong Kong Sevens celebrated its 42nd year after the initial tournament took place in 1976 with eight teams.

Many rugby fans in the country think that we should have organised the local club rugby calendar after considering the Asian rugby schedule. At the end of the day, if rugby is to be taken to the next level in the country we should move forward competing in Asia and against similar ranking teams in the world. The other 8-10 teams that participated at the World Series qualifier in Hong Kong were above our standards and their physicality and thinking of the game was at a higher level. Sri Lankan Rugby authorities should firmly think about having two separate teams for the sevens and fifteens which will allow both teams to concentrate rather than switching from one to another. Even the coaching staff is left in the lurch when injuries occur to these players.

With the Asian Sevens to be kicked off in September this year, it will be good for Sri Lanka Rugby to keep these sevens players and add a few more after organising the Club Sevens and Mercantile Sevens which could give more talent to the national rugby outfit. Next month, will see the national fifteens taking part in the Asian Rugby Championship Division 1 in Malaysia. This is a longer version of the game for which the team should be selected from a different bunch of players rather than overusing the same players from the sevens squad.

Peter Woods said that he hopes a separate set of players would be considered for the Fifteens event to have the sevens lads ready for Asian Sevens. This will help the Sevens players to concentrate more on the shorter version of the game. More Sevens events should be organised locally as well as in the Asian and similar ranking teams around the world. This will take them to the next level in Sevens rugby. Further, an invitation tournament in Dubai will have a good foundation for the tight Sevens schedule next year for the Sri Lankan team. We will have the Commonwealth Games, Asian Games and Asian Sevens series which will have three stopovers.
World Series – Hong Kong Sevens

Winner – Fiji

Runner up – South Africa

Third place – Australia

World series 2017/2018 qualifier – Spain