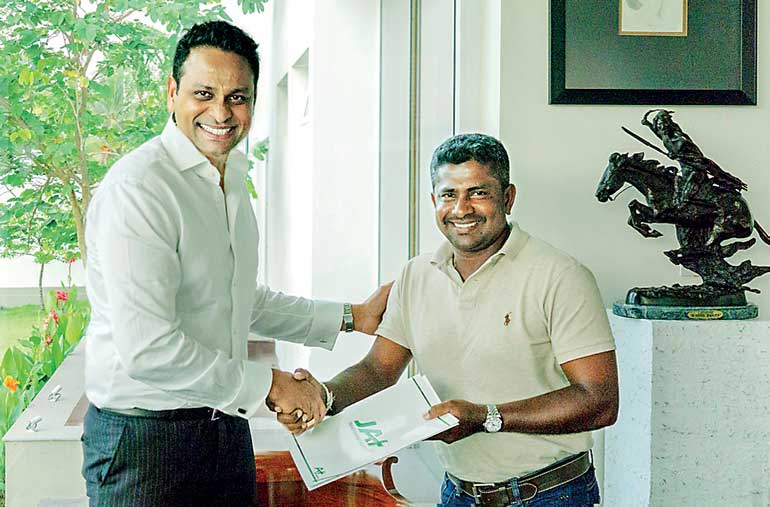 JAT Holdings, Sri Lanka's undisputed leader in the furnishing and finishing industry recently signed on Rangana Herath as its Brand Ambassador. The 39-year-old, left arm, spin bowling all-rounder will henceforth be the 'face' of JAT Holdings thereby enhancing JAT's image as a dedicated patron of the game.

"Rangana Herath has proved his mettle as a sportsman and is a cricketing great in his own right. His track record enriches itself with every match he plays; making him a formidable force to reckon with in contemporary Sri Lankan cricket. We are delighted to welcome Rangana as our Brand Ambassador and are confident of playing many an innings ahead," said Managing Director of JAT Holdings Aelian Gunawardene.

Replacing the vacuum left by legendary Muttiah Muralitharan, Rangana Herath has proved his brilliance by being named Sri Lanka's principal wicket-taking bowler in Tests as well as one of the best left-arm spinners in world cricket. His diligence in maintaining pinpoint accuracy during grueling, long bowling spells is just one of his many attributes.

Cricket has always been the pinnacle of JAT's mainstream sporting sponsorships. 'JAT Paints Cup' and the Sri Lanka vs. Australia Test matches held in July last year, to name a few. The brand name, 'JAT' was given centre stage around the international cricketing arena through its dynamic ground branding at many prestigious international cricket tournaments such as the Masters Champions League Cricket in Dubai and Sharjah, India vs. Sri Lanka T20 Cricket Series and Asia Cricket Cup 2016.

As Sri Lanka's undisputed leader in the furnishing and finishing industry, JAT has gained an international reputation for its keen interest in sponsoring and promoting many facets of sports in this country at all levels; both professional and novice.