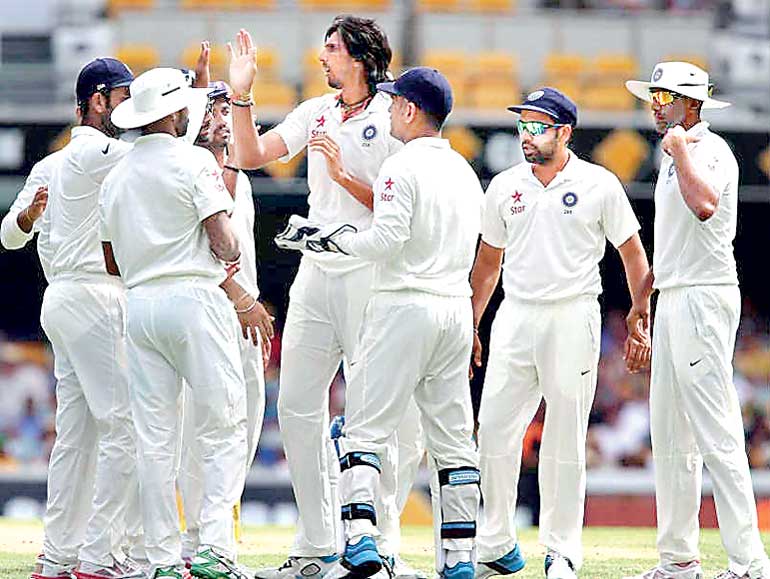 By Anupam Pratihary

Reuters: Weaving a half-baked theory after one innings is a cardinal sin, but a handful of cricket writers did just that when India collapsed at Galle for 112, losing the Test by 63 runs on Aug. 15.

Evidently, the collapse hadn't gone down well with a section of Indian media, and the knives were out. The abject batting in the fourth innings had to be analysed. What followed was over-analysis. And India was blamed for shifting from tradition spinning tracks to pitches that assist medium pacers.

A week later, in the very next test match at Colombo, Team India came roaring back, defeating Sri Lanka by 278 runs. And now the theory that held good for India's defeat in the first test match has been conveniently discarded. Our fraternity of sports writers must wield the keyboard with responsibility and restraint.

What happened at Galle was incomprehensible, for a team after dominating six sessions of the match had a complete meltdown.

In their first innings, India scored 375, with Shikhar Dhawan and Virat Kohli scoring a century each and Wriddhiman Saha a half-century.

In their second innings, they were bundled out for 112. But that's the pressure of test cricket, and clearly the young batting side, where the senior most batsman, Virat, has played only 36 tests, had failed to bat with patience and purpose.

The Colombo victory will settle a lot of nerves, both in the Indian dressing room, as well as the press box.

The fact that the young Indian team recovered quickly from a humiliating defeat and scripted a victory in the next test match will forge greater self-belief in them. At the highest level, sport is a lot about self-belief. What the team has successfully managed to achieve is to quickly extricate itself from all the negativity of a defeat, regroup and then outplayed the opposition.

Under a new captain, this maiden Test victory will always remain special, something to look back to and draw inspiration from. Just as defeat leaves its mark, so does victory. And the emphatic win at Colombo must have certainly left its impact on Virat and his boys.

They have learned a crucial lesson of how to pick up the pieces after a shattering defeat and transform themselves into a winning team. Yet the nature of sport is such that it guarantees nothing. Victory will still be elusive and hard to earn and failure easy to come by. And this challenge should further spur the team to achieve greater excellence.

The batting that inexplicably crumbled under the pressure of fourth innings at Galle exonerated itself in the both the innings at Colombo. The spin duo of Rangana Herath and Tharindu Kaushal, who tormented them at Galle, were negotiated with caution and confidence. But it doesn't follow that the batting won't fail again. Consistency neither comes easily nor in quick time.

Indian fast bowlers (at last we can call them "fast bowlers") may not have created mayhem the way James Anderson, Stuart Broad and Steven Finn did against the Aussies in the recent Ashes series, but they showed reasonable aggression and discipline and provided crucial breakthrough.

Both Umesh Yadav and Varun Aaron have impressed the likes of Andy Roberts and Glenn McGrath with their sheer speed, but accuracy and discipline still elude them. What they lack in experience — both have played less than 15 tests — can be made up for if the Indian cricket board hires an experienced fast bowling coach such as Wasim Akram, Shaun Pollock, Courtney Walsh or McGrath.

Even the 64-test veteran Ishant Sharma, who thankfully has age on his side, hasn't quite led India's pace attack the way Mitchell Johnson and Stuart Broad have. He could become a far more reliable and potent fast bowler under a great bowling coach, which India clearly lacks. The trio has the potential to become one of the best fast bowling units in international cricket.

This talented Indian side needs two things – coaches of eminence and a long rope.