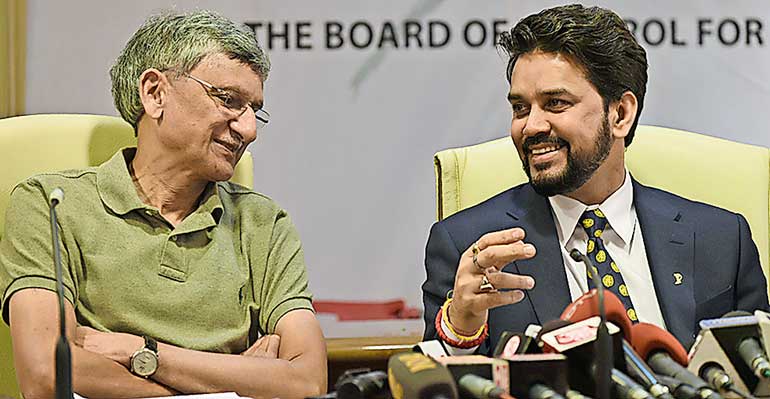 BCCI Secretary Ajay Shirke and President Anurag Thakur have been asked to meet the Lodha Committee – AFP
ESPNcricinfo: The Supreme Court of India has passed an order that limits the BCCI's financial freedom and power until the board and its state associations comply with the Lodha Committee's recommendations.

The court directed the BCCI not to distribute funds to its state associations until they submit affidavits stating compliance with the recommendations to the court and the Lodha Committee in two weeks. It also asked the BCCI President Anurag Thakur and Secretary Ajay Shirke to meet the committee before November 3; the next court hearing is scheduled for December 5.

The court directed the Lodha Committee to fix a limit on the value of contracts the BCCI can enter into; all contracts above the limit should go through the committee. The next major contract for the board is the broadcast rights for the IPL, set to be finalised on October 25. The court also said the committee should appoint an independent auditor to scrutinise the BCCI's accounts.

The developments took place in Delhi on Friday, when the court released the order it had reserved on October 17. The order was in response to the Lodha Committee's status report, which had recommended that the BCCI office bearers be "superseded" and a panel of administrators be appointed because the board was impeding the implementation of the court-approved recommendations.

The court had said then that replacing the BCCI office bearers would be an "extreme measure" and had asked the amicus curiae Gopal Subramanium to recommend additional measures to ensure compliance. Subramanium had asked for all funding to be stopped to states that refused to comply and that future BCCI contracts go through the Lodha Committee.

The BCCI's position has been that it cannot implement the Lodha Committee's recommendations without a majority of its state associations agreeing to do so. The key recommendations the board said the states were reluctant to accept were the one-state-one-vote policy, the age cap of 70 for administrators, and the limit of three, three-year terms with cooling-off periods in between for office bearers.