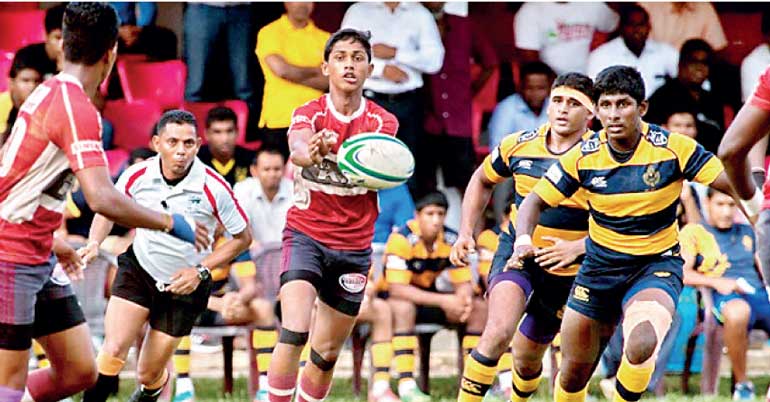 Science scrum half Hashan Madumadawa passing the ball to fly half Nishard Niranjan, both under 16 players
By Shamseer Jaleel

Science College Mount Lavinia, the "dark horse" of this year's schools league and knock-out rugby lived up to their expected high standard when they knocked down Royal in the semi-final of the Milo Trophy played last Monday.

Science hit top gear when they outclassed St. Peter's in the league encounter, later on they repeated with another win in the knock-out over the same school.

Their skipper LasinduIshan was a star leading the team from front. He being outstanding in attack with some ghosting moves. In defence too he was very sound allowing no one to creep through him. He was ably supported by scrum half Hashan Madumadawa and full back Sachintha Dilshan.

Science who accumulated a healthy lead substituted with six of their bench players who got a grand opportunity to represent their school in the game against Royal.

With this performance Science heads in to the knock-out final for the very first time in history of schools rugby in Sri Lanka, this was the second win over Royal. Two years back they humbled Royal in their own den when Richard Dharmapala's outfit beat the Reid Avenue side in a high scoring encounter.

Both Science and Isipathana will lock horns in the Milo President Trophy Final on 12 July at the Royal Sports Complex. This will be the very first time Science qualified for the Milo Knock-Out finals in the history of Sri Lankan rugby.

Science Rugby Committee Member Janaka Wimalananda told the Daily FT: "Science after taking in to rugby, earlier known as Sathisara MahaVidyalaya, produced the best ever rugby season in 2015. This success should be attributed to focus, determination and love for the game at school level, our old boys and sponsors. At Science College we run on a very low budget development program built on a solid foundation with special attention to junior levels. This season we played a relatively young team with only four leaving the side at the end of the Isipathana game next week. This will result in a crack side next year with nearly 18 of them at Under 18 level and four of them as young as 14 years of age."

Janaka thanked the sponsors this season, TVS Lanka and George Steuart's Medicals, parents, school authorities and old boys.