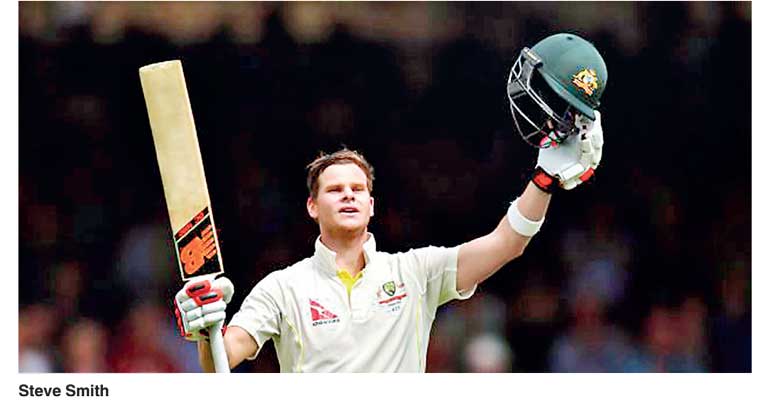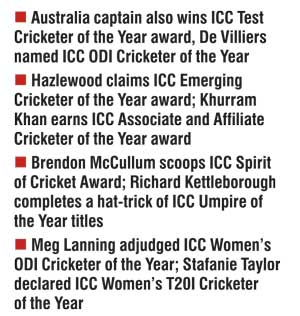 Steve Smith has become the fourth Australia player and 11th player overall to win the prestigious Sir Garfield Sobers Trophy after being named as the ICC Cricketer of the Year 2015.

Smith follows in the footsteps of Ponting (2006 and 2007), Mitchell Johnson (2009 and 2014) and Michael Clarke (2013) to lift the coveted trophy since the inception of the awards in 2004.

Other recipients of the Sir Garfield Sobers Trophy include Rahul Dravid (2004), Andrew Flintoff and Jacques Kallis (joint-winners in 2005), Shivnarine Chanderpaul (2008), Sachin Tendulkar (2010), Jonathan Trott (2011) and Kumar Sangakkara (2012).

The top-order batsman was also adjudged the ICC Test Cricketer of the Year, which has made him only the seventh cricketer after Dravid (2004), Kallis (2005), Ponting (2006), Sangakkara (2012), Clarke (2013) and Johnson (2014) to bag the two coveted prizes in the same year.

During the voting period, which ran from 18 September 2014 to 13 September 2015, the 26-year-old from New South Wales finished as the leading run-scorer in Tests with 1,734 runs in 25 innings of 13 matches at an average of 82.57. This included seven centuries and six half-centuries. In 26 One-Day Internationals, Smith scored 1,249 runs at an average of just under 60 with four centuries and eight half-centuries. He was a member of the Australia side which won the ICC Cricket World Cup 2015 in Australia and New Zealand earlier this year.

Earlier this month, Smith was also named in the ICC Test and ODI Teams of the Year, which were picked by the ICC selection panel that was headed by former India captain and Chairman of the ICC Cricket Committee Anil Kumble.

Reacting to the news, a delighted Smith said: "Given that there are so many great players around the world, I'm incredibly honoured to receive these awards. While team success is always my number-one motivation, awards like this are very special. I'm thrilled and very proud to receive them.

"I will look back on 2015 with mixed feelings. Winning the ICC Cricket World Cup at home was a career highlight, and being appointed captain is a great honour, but the disappointment of losing the Ashes remains.

"To be the best team that we can be, we have to become better at winning away from home, and that remains our motivation heading into 2016.

"I'd like to thank my teammates and my family for their support over the year. I'd also like to thank the voting panel for this recognition, which is very humbling."

ICC Chief Executive David Richardson congratulated Smith, saying: "I would like to extend my congratulations to Steve on winning the ICC Cricketer of the Year and ICC Test Cricketer of the Year awards.

"His consistent performance during the voting period in varying conditions and against all opposition has been exceptional. His skill and determination to succeed at the highest level has been an inspiration to all.

"I would also like to take this opportunity to congratulate all the other winners, including Richard Kettleborough for completing a hat-trick of ICC Umpire of the Year titles. They are all well-deserved winners."

South Africa's ODI captain AB de Villiers has been named as the ICC ODI Cricketer of the Year for the second successive year. He had also won this award in 2010. In the voting period, de Villiers scored 1,265 runs in 20 innings at an average of just over 79 and a strike-rate of 128.4. He hit two centuries and nine half-centuries. Earlier this month, de Villiers was named as the captain of the ICC ODI Team of the Year.

A delighted de Villiers said: "It is an honour to be named as the ICC ODI Cricketer of the Year for 2015. It's certainly been a memorable year with many highlights but a lot of disappointments as well.

"If I was to look back, the century I scored against the West Indies at the Wanderers will probably go down as the most memorable knocks of the year. In saying that, centuries count for nothing if the team isn't winning, so hopefully in the future I can contribute to many more Proteas wins."

De Villiers' team-mate and South Africa's T20I captain Faf du Plessis has won the ICC T20I Performance of the Year award for his 56-ball 119 against the West Indies in the second T20I in Johannesburg on 11 January 2015. Du Plessis had clubbed 11 fours and five sixes in his swashbuckling innings.

Reflecting on that innings, du Plessis said: "That was definitely one of the most exciting matches that I've been involved in as a T20 player. Even though I scored a century, I still ended up on the losing side, but it was special to be part of it all, the fans were given a treat with two centuries in a T20 match.

"I certainly felt 'in the zone' walking to the crease and luckily managed to middle most of the deliveries I faced after getting in in the first over. It was definitely a special innings, made even more special by the electric atmosphere at the Wanderers. "

Australia women's captain Meg Lanning has been named as the ICC Women's ODI Cricketer of the Year, while West Indies women's captain Stafanie Taylor has won her maiden ICC Women's T20I Cricketer of the Year award.

Lanning was the top women's batter in the voting period when she scored 531 runs with two centuries and three-half centuries in seven ODIs. She is the third Australia women's cricketer after Karen Rolton (2006) and Shelley Nitschke (2010) to win the highest women's award. Last year, Lanning had won the ICC T20I Women's Cricketer of the Year award.

A happy Lanning said: "This is a great honour. It's been a wonderful year for the side and it was a massive highlight to defeat a strong England team on its own soil to bring home the Women's Ashes.

"It's also a privilege to be a part of a growing momentum in women's cricket and public support for women's sport in general – especially in Australia – and I hope other girls can take inspiration out of seeing what we've been able to achieve and dream they can do the same too."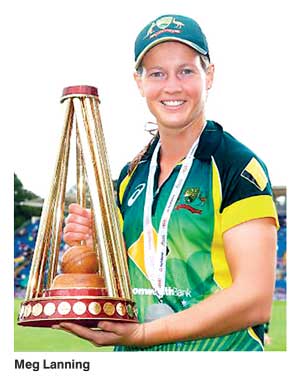 Stafanie Taylor, in the voting period between 18 September 2014 and 13 September 2015, scored the most runs by any women's batter in the shortest format of the game – 340 in nine matches. Taylor has previously won the ICC Women's ODI Cricketer of the Year awards in 2011 and 2012.

Taylor said: "I'm delighted to be the winner again as I wasn't expecting to win this year. For me, it is an early Christmas gift, so I have something extra to celebrate.

"Winning an award is an added motivation to do better. It's great to win awards but my aim is to get better, do better for the team and try to lift West Indies cricket.



"I would like to dedicate this award to my team-mates, who have been very supportive of me throughout my career. I took over as captain earlier this year and they have been absolutely amazing with their support."
Australia fast bowler Josh Hazlewood has won the ICC Emerging Cricketer of the Year award. Hazlewood, who played alongside Steve Smith in the ICC U19 Cricket World Cup 2008 and won the same event two years later in New Zealand, took 40 wickets in nine Tests in the voting period at an average of 21.75 with his best figures being five for 38 against the West Indies at Sabina Park. In the 10 ODIs in the same period, he took 16 wickets with five for 31 against South Africa in Perth as his best figures.

Hazlewood was also a member of the Australia side which won the ICC Cricket World Cup 2015. The last Australia player to win the ICC Emerging Cricketer of the Year award was Peter Siddle (2009), while Shaun Tait won in 2007.

Hazlewood commented: "It's a genuine thrill to be recognised in this way. Throughout the year, my aim has been to really cement a position in the Australia Test and one-day international teams, to prove that I belong at that level.

"So, to earn a regular spot in the Test side and to be a part of a World Cup winning team has been a dream come true. My goal is to really build on this positive start and turn it into a long and successful career."

Former United Arab Emirates captain Khurram Khan has been named as the ICC Associate and Affiliate Cricketer of the Year after he finished as the leading run-scorer with 425 runs in nine one-day matches. This award serves to recognise and reward the efforts in all international matches of the outstanding cricketers from the teams outside the 10 Test nations.

Khurram said: "I feel honoured to be named as the ICC Associate and Affiliate Cricketer of the Year. To be the first UAE cricketer to win this award makes it even more special. This award is for all the UAE players I played with as well as for the Emirates Cricket Board, which gave me the opportunity to fulfill my childhood dream of playing in an ICC Cricket World Cup."

New Zealand captain Brendon McCullum has won the ICC Spirit of Cricket Award for inspiring his side to play the game in its true spirit. This was clearly evident throughout the ICC Cricket World Cup 2015, and in particular in the semi-final where McCullum showed humility and exemplary sportsmanship by inviting de Villiers and his side to the New Zealand's dressing room after a closely-fought match.

McCullum said: "The team has loved how the New Zealand public and cricket fans from around the world have responded to the way we've played our cricket in the last 12 months.

"I think the Spirit of Cricket is hugely important and I feel extremely honoured to have received the award. It does take buy in from the entire team though and the rest of the BLACKCAPS squad needs to be recognized for this as well."

Richard Kettleborough of the Elite Panel of ICC Umpires has won his third successive David Shepherd Trophy for the ICC Umpire of the Year. He is the third umpire to a complete a hat-trick of titles after Simon Taufel (2004 to 2008) and Aleem Dar (2009-2011).

Kettleborough said: "I feel honoured and humbled at being voted by my peers as the ICC Umpire of the Year for the third successive year. "I am privileged to be part of an outstanding and world-class group of match officials, who give nothing less than their best each time they step on to the field. I would not have won this award if I had not received their continuous support and guidance. "I would also like to thank my family for all their support, which has allowed me carry on and enjoy what I love doing most."

The player awards were judged by a voting academy, which was entirely independent of the ICC. The voting period ran from 18 September 2014 to 13 September 2015:

The full list of ICC Award 2015 winners is:

ICC Cricketer of the Year (Sir Garfield Sobers Trophy) - Steve Smith (Australia)

ICC Test Cricketer of the Year – Steve Smith (Australia)

ICC ODI Cricketer of the Year – AB de Villiers (South Africa)

ICC Women's ODI Cricketer of the Year – Meg Lanning (Australia)

ICC Women's T20I Cricketer of the Year – Stafanie Taylor (West Indies)

ICC T20I Performance of the Year – Faf du Plessis (South Africa) (119, 56 balls, 11x4, 5x6 – 2nd T20I vs West Indies, 11 January 2015, Johannesburg)

ICC Emerging Cricketer of the Year – Josh Hazlewood (Australia)

ICC Associate/Affiliate Cricketer of the Year – Khurram Khan (UAE)

ICC Spirit of Cricket Award – Brendon McCullum (New Zealand)

ICC Umpire of the Year (David Shepherd Trophy) – Richard Kettleborough
​