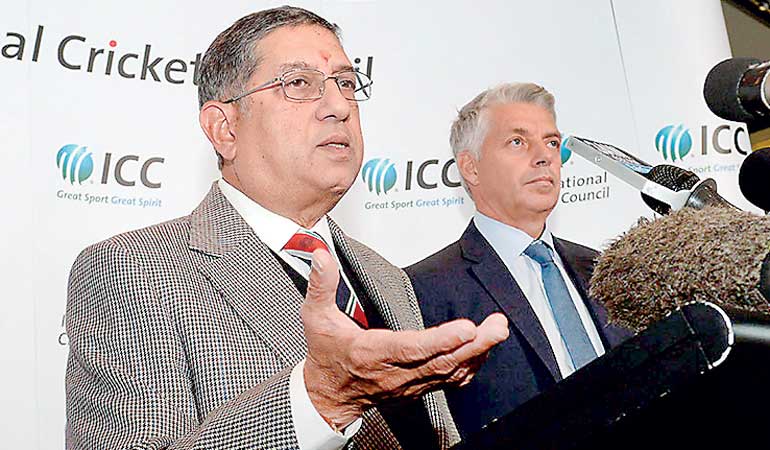 ESPNCricinfo: N. Srinivasan's decade-long regime as a high-profile cricket administrator may come to an end next Monday, as the BCCI, at its annual general meeting, is likely to replace its former chief as ICC chairman with current president Shashank Manohar.

Since the restructuring of the ICC last year, Srinivasan has been at the helm of its affairs as the BCCI's nominee. However, given his controversial stint as BCCI chief ended earlier this year after the Supreme Court of India barred him from seeking re-election, a majority of the BCCI members feel it would be inappropriate to have Srinivasan continuing as the ICC chief.

Most of the BCCI members have expressed their desire to remove Srinivasan to Manohar, who had stepped up the drive to stamp out conflict of interest issues – one of Srinivasan's main stumbling blocks - in Indian cricket since taking over as president. It is understood that Manohar is willing to take up the additional responsibility as ICC chairman besides dealing with the BCCI affairs. In fact, according to a Manohar aide, he had expressed his desire to be elevated to ICC chairman even before the special general meeting in October that was necessitated by Jagmohan Dalmiya's death.

Srinivasan had taken over as BCCI treasurer in 2005, then served as secretary from 2008 to 2011 with Manohar as president. In October 2011, he was appointed as the president and subsequently also took charge as the Asian Cricket Council chief. Despite his son-in-law being involved in the 2013 IPL corruption scandal, he controversially took over as the ICC chairman in June 2014. He will continue to serve as Tamil Nadu Cricket Association chief.