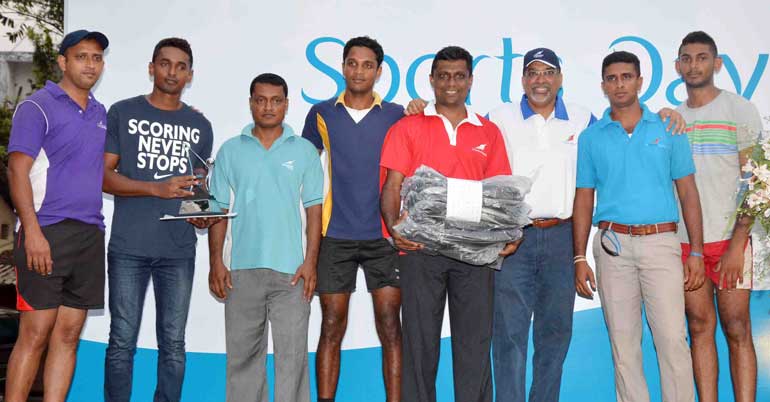 SriLankan Airlines CEO Captain Suren Ratwatte with the winning team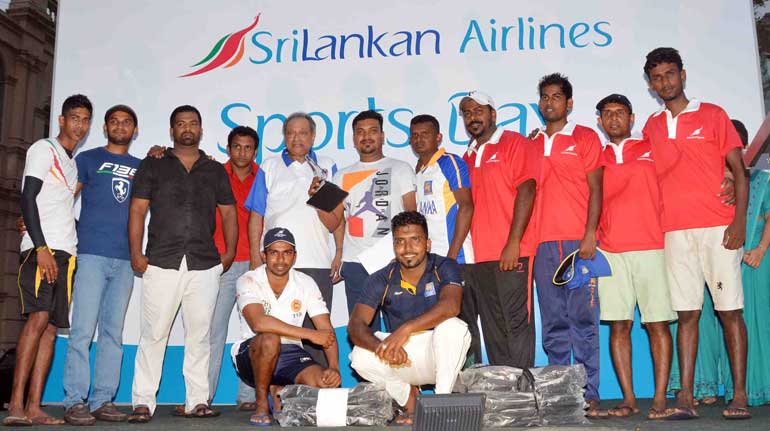 SriLankan Airlines Chairman Ajith Dias with the winning team
Hundreds of employees of SriLankan Airlines gathered at the company's annual sports day at the St. Joseph's College ground on 10 January to demonstrate their sporting prowess, teamwork and harmony.

Chairman of SriLankan Airlines Ajith Dias was the chief guest, while CEO Captain Suren Ratwattewas the guest of honour. The event was declared open by SriLankan Airlines Director and Patron of the SriLankan Sports Council Col. Sunil Peiris.

Chairman of SriLankan Airlines Sports Council and Head of Human Resources Pradeepa Kekulawala said: "The annual sports day was indeed an important event this year in the context of bringing the members of the SriLankan Airlines family together to create a spirit of togetherness, at a time when we are all working to turn the fortunes of the national carrier towards profitability." The airline's different departments battled for victory in more than a dozen different sports, cheered on by their colleagues. The semifinals and finals of most sports were held on the sports day, with preliminary rounds being held earlier.

Among the departments which excelled were Inflight Service, which was crowned champions at basketball and netball; Airport Service Delivery emerged champions in soccer and swimming; Security & Investigations won the athletics relay both open and veteran; Engineering won at chess and table tennis; Airport Service Support (Ramp) won the cricket and carom tournaments; and a combined team from Cargo and Commercial won at badminton. The airline's subsidiary, SriLankan Catering, won the volleyball tournament. Among the more popular events was the Managers' Tug-O'-War with employees cheering on their managers.

The event was a family affair with a large number of children thoroughly enjoying themselves throughout the day, especially during the children's race. A carnival atmosphere was created by a papare band, deejay, and plentiful food with lunch being provided by SriLankan Catering.

Prizes and certificates were presented to the winners by the Chairman, Members of the Board, and the CEO. The event also drew a number of other corporate sponsors including George Steuart Health, Jafferjee Brothers, Turnip Lanka, Amadeus, Nawaloka Hospitals and Aquafresh.